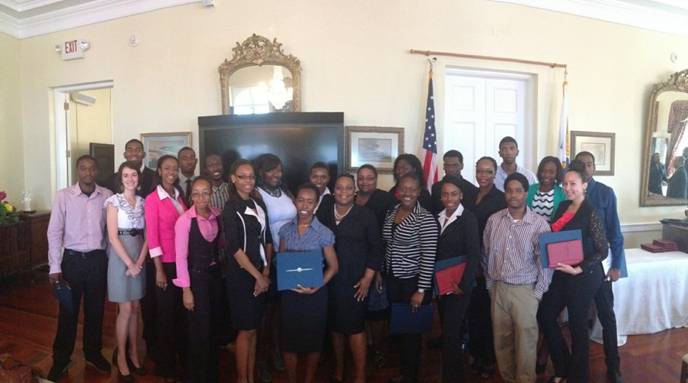 On Friday, Aug. 2, Labor Commissioner Albert Bryan Jr., Assistant Commissioner Arah C. Lockhart, various staff members and a representative from the Office of the Governor, Richard Evangelista Esq., recognized 27 interns who have participated in the department's Labor Investing for Tomorrow (LIFT) summer internship program at a reception at Government House on St. Thomas, according to a press release issued Tuesday by the V.I. Department of Labor.
The reception highlighted the history of the LIFT program and focused on the past and present leadership of the department in the establishment of this very successful internship program that has served over 500 college students since its inception in 1989. The interns were inspired by the words delivered by LIFT alumna Oran Bowry, who is currently the senior vice president and manager of Region Operations and Administration for Banco Popular de Puerto Rico. Bowry reminded the interns that "this is just the beginning of wonderful opportunities to come."
At that ceremony the interns had the opportunity to showcase their experiences as LIFT interns. They were presented with a certificate of participation and a small token of appreciation for their dedication to the program. The employers who supervised and worked closely with the interns were presented with certificates of appreciation for their valuable contribution to the success of the program.
The interns recognized from St. Thomas were: Halimah Blanc, Shakeem Bryan, LaAsia Campbell, Alvinus Charles, Aniqua Dessout, Aquila Dorsey, Nicole Doumeng, Gabriel Ible, Sierra JNO-Lewis, Britney Jones, Whitney Jones, Ranisha Mascole, Shenice Sebastien, Micah Thomas and Shaniqua Thomas; the interns recognized from St. Croix were: Luz Aguilera, Kristina Chardon, Kevin Dixon, Kwame Garcia, Marcel Lindsey, Rashema Lubin, Devon Pelle, Shantelle Peters, Melanie Romain, Tyrone Sackey Jr., Kalim Ventura and D'Lisa Williams.
Special recognition was given to St. Thomas intern Aquila A. Dorsey for her exemplary service as "team captain." She was responsible for facilitating and overseeing various workshops for high school students.
Participants were placed in various agencies throughout the territory such as: the Charlotte Kimelman Cancer Center, Department of Finance, WTJX, Department of Justice, V.I. Housing Finance Authority, V.I. Port Authority, Office of the Governor , Planning and Natural Resources, St. Thomas East End Medical Center, Roy Lester Schneider Medical Center, the Economic Development Authority, Camp Wesleyan, Bolongo Bay Beach, the 4-H Program, the Bureau of Internal Revenue, Frederiksted Health Clinic, University of the Virgin Islands, Office of the Delegate to Congress, the V.I. Legislature, Juan Luis Medical Center, Division of Personnel, Innovative Companies and the V.I. Department of Human Services.
The program gives interns the chance to apply what they have learned in the classroom to real life situations. This year, 65 applications for the LIFT summer internship program were received by DOL.
The program, now in its 24th year, provides currently enrolled college juniors, seniors and graduate students with meaningful work/internship experience in their chosen career field. Interns must have a minimum GPA of 2.80 on a 4.00 scale and be between the ages of 18 – 25. A 250 word essay is also a requirement.
Information is available on the department's Web site at www.vidol.gov for those individuals who may be interested in participating in LIFT. Applications are accepted during the month of February with an application deadline of mid-April.
For more information about the program, contact DOL at 776-3700 on St. Thomas or 773-1994 on St. Croix.