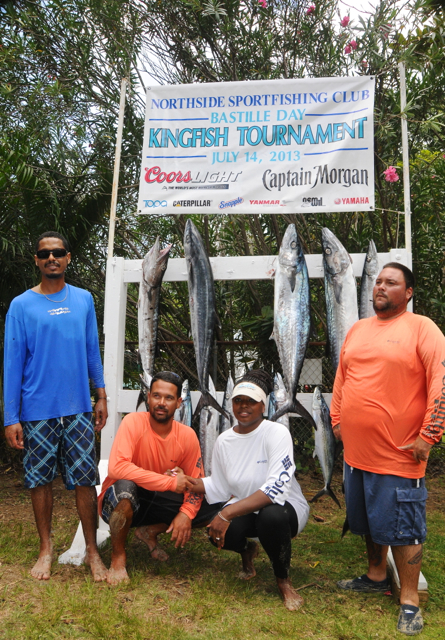 Skill and luck are hard to beat, and they proved a winning combination for St. Thomas angler Matthew Laban.
When the official weigh-in was complete at the 25th Anniversary Bastille Day Kingfish Tournament, held July 14 at Hull Bay Hideaway, it was Laban who reeled in the largest kingfish, a 34.26-pounder, aboard the Calypso 34 Emanuel.
Laban was one of 211 anglers, including 39 junior anglers, on 55 boats taking part.
"I caught the big one early in the morning. It was our second bite of the day," Laban said. "I knew it was a big one by the way it tore off line, making the reel scream."
Laban said there were two secrets to his success.
The first is bait. "We use big bait to catch big fish – horse ballyhoo," Laban said, adding, "Anyone serious about winning this tournament, like us, spends the entire day before rigging baits, checking reels, checking hooks and making sure everything is ready."
The second is a lucky well-worn, long sleeve dark blue shirt.
"I've worn this shirt in all the tournaments I've fished in so far this year," Laban said.
Wearing that lucky shirt, he has landed the fourth and fifth largest dolphin in the Virgin Islands Game Fishing Club's Dolphin Derby in April, the first and third largest fish in the Frenchtown Father's Day Tournament in June, and now the largest kingfish, for which Laban pocketed $2,000 in cash.
The prize for the second largest kingfish went to Gina Bengoa, aboard Absolutely, who caught a 33.98-pounder and won $1,000 in cash.
"We saw a big one, over 60 pounds, very early, but then lost it," said Bengoa, who fished in the tournament for the first time Sunday, although she fishes regularly in tournaments hosted by the Golden Hook Fishing Club on her home island of St. Croix. "It was fun to catch such a big fish."
Tamika Turbe, fishing aboard Emanuel, reeled in a 30.27-pounder to win the $850 prize for the third largest kingfish.
With 14 fish totalling 132.42 pounds, Captain Joel Questel aboard Feel Good I won the award for Best Boat, taking home $1,000.
The catch of six kingfish weighing a combined 67.09 pounds earned Captain Adam Turbe of Ocean Jem the Best Captain award and $1,000.
Laban's catch of six fish weighing a total of 96.91 pounds earned him the title of Best Male Angler and a $725 cash prize.
Tamika Turbe reeled in seven fish totalling 70.86 pounds, giving her the title of Best Female Angler and a $725 cash prize.
The Best Junior Male title and $325 cash went to Adrian Turbe, who caught six fish weighing a total of 67.09 pounds. Nicole Berry won the Best Junior Female prize and $325 cash with the catch of four fish weighing a total of 24.79-pounds.
Although the tournament is focused around kingfish, other species earned anglers $525 cash each. Paul De Lyrot caught the largest jack, a 12.13-pounder, from aboard Feel Good I. Junior angler Joshua Laplace reeled in the largest barracuda, a 31.46-pounder which set a new tournament record. The largest bonito was caught aboard Sea Wessel by Flame Gonzales and it weighed 3.32-pounds. Finally, Tim Spofford reeled in the largest mackerel, a 7.93-pounder, from aboard C-Hawk 222.
Winners also received overnight stays at local hotels, dinners for two, and a variety of luxury gifts and excursions all donated by the Virgin Islands' business community.
Judges Herman Richardson and Kevin Laplace, Sr., officially weighed in the catches.
After weigh-in, the fun continued onshore at Hull Bay Hideaway. Oliek Ledee and Cool Session Brass entertained throughout the afternoon. Later, crowds gathered inside Hull Bay Hideaway for the 8 p.m. awards ceremony, where Lashing Dogs entertained.
In celebration of the tournament's Silver Anniversary, a $500 prize was awarded to each of five randomly drawn registered boats that did not reel in any prize-willing fish. Similarly, all 39 registered junior anglers were eligible for a special $1,000 "Catch in the Hat" award. In this award, sponsored by Red Hook Agencies and Offshore Marine, 18 names of registered junior anglers are randomly drawn from a hat and awarded $50 cash, while the 19th name selected receives $100 cash.
More than $16,000 was awarded in cash and prizes this year.
The 25th Bastille Day Kingfish Tournament is sponsored by Coors Light, Captain Morgan and Snapple, distributed by Bellows International; Offshore Marine, the Yamaha and Yanmar distributor in the Virgin Islands; NEMWIL, managed in the USVI by Red Hook Agencies, Inc., providing homeowners and business insurance in the USVI for more than 20 years; and TOPA Insurance Services Inc.
First organized by the Northside Sportfishing Club in 1987, the tournament has become one of the highlights of French Heritage Week July festivities.
The tournament benefits the Joseph Sibilly School, St. Thomas Rescue and Nana Baby Children's Home. In addition, seven students received a combined total of $6,500 in scholarships for post-high-school education. The students are Adam Berry, Shanelle Brin, Jakesha DesCartes, Joshua Ledee, Alexander Querrard, Gabrielle Querrard and Bianca Sibilly.
Additional information is available by sending email to nssfcvi@gmail.com or calling 1-340-998-0854.