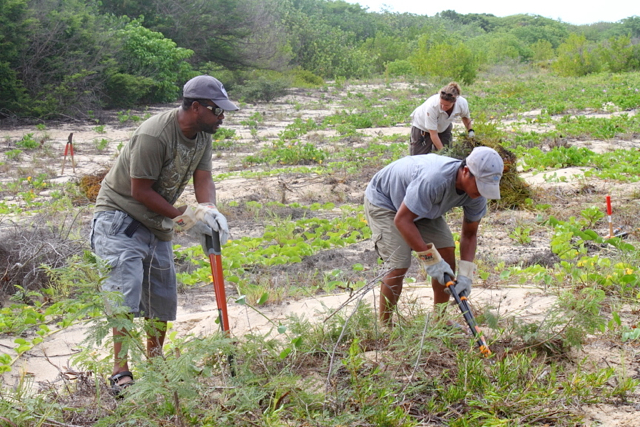 Despite low turnout, volunteers cleared a large section of Sandy Point beach of invasive plant species, making nesting easier for the sea turtles that frequent the nature reserve.
Claudia Lombard, a wildlife biologist for the U.S. Fish and Wildlife Service, said attendance at the event was down from the previous year, likely due to thunderstorms that struck the island earlier in the morning.
In total, only three volunteers joined Lombard and one of her co-workers, but the small crew made a significant impact.
"I've had 30 people come and gotten less done," Lombard said.
The volunteers were targeting two plant species that had taken hold on the beach, a bright orange vine known as dodder and the ubiquitous tantan tree found across St. Croix.
Lombard said tantan is one of the few plants that grows well in sandy areas. Across the beach two-foot-tall saplings were clumped together in thick stands. Volunteers pulled out the smaller trees by hands and cut the larger plants down with sheers.
Lombard said removing the tantans was a proactive move. If left unchecked, they could take over the beach, leaving turtles no place to nest.
"If you leave the tantan like that, it's going to spread and reproduce and become a beach forest in an area where beach forest usually wouldn't exist," she said.
The dodder is a parasitic vine that can often be found growing over trees. On the beach the plant's long, almost florescent tendrils crisscrossed over the dunes from one clump of vegetation to the next.
Volunteers used hoes to hack at the vines and then roll them into large bales that were left to bake in the sun.
Lombard said that hatchling sea turtles could get caught in the vines while making their march to the ocean. She explained that hatchlings lack the ability to move backwards, so once they're caught there is little chance for them to escape.
Again, she stressed the need to stay ahead of the infestation or else the beach would turn into an "orange carpet."
The volunteers worked throughout the morning. Vincent Calhoun, who moved to St. Croix from New York, said he heard about the cleanup and decided to come out because he'd never been to Sandy Point.
He said held out some hope of spotting a sea turtle, but knew it wasn't likely during the day. He said he would definitely come back for one of the turtle nesting watches hosted by USFWS during the summer.
Lombard said she did not plan any additional cleanups this summer. Turtle watch tours can be scheduled by calling USFWS at 1-340-690-9452.