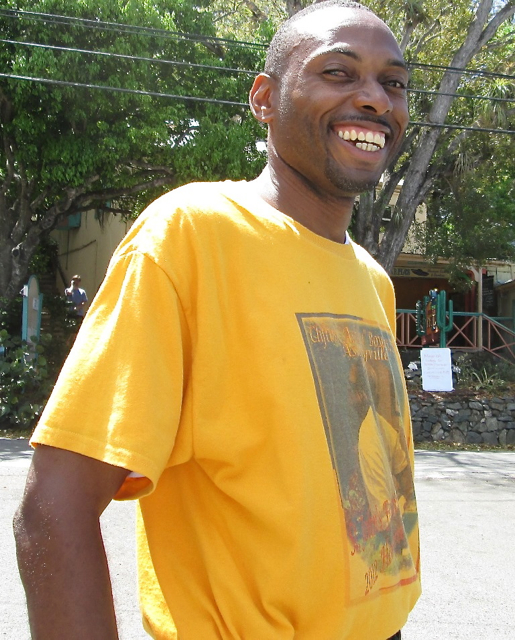 St. John Rescue member Lloyd Prince wishes more born-in-the-Virgin-Islands folks would follow in his footsteps and volunteer.
"It's important that we locals help out," he said.
Only about four out of St. John Rescue's 15 active members qualify as native, with the rest transplants mainly from the U.S. mainland. Prince said he thinks that's a shame. He said it's important to know that if you need St. John Rescue's services, someone whose face is familiar will show up to help.
And he said he knows he's making a difference.
"We're saving lives," he said.
Qualified as a first responder, Prince gave high praise to those who keep the organization well organized, the teamwork superb and the training top notch. The training is ongoing, and Prince said he was initially surprised at how St. John Rescue is able to fill in the gaps left by the government's Emergency Medical Service.
Unlike St. John Rescue, the Emergency Medical Technicians don't have the equipment to rappel down cliffs to rescue people, he said.
"We are the ones to go through the bush to reach people," he said.
St. John Rescue also has a boat, and Prince is a licensed captain who until recently plied the ferry route between St. John and the British Virgin Islands. While a captain's license is not necessary to operate the St. John Rescue boat, his knowledge of the waters off St. John is a big plus, he said.
"He's devoted to the boat," St. John Rescue training officer Bob Malacarne said.
He said Prince is in charge of the organization's marine division.
Prince, 39, was born on St. Thomas to St. John parents because there is no hospital on St. John. His parents are the Rev. Ralph Prince and Rosalind Prince, and he has three sisters who now live on the mainland – Lucia, Lesia and Lynellen.
He went to Julius E. Sprauve School before heading across Pillsbury Sound to Eudora Kean High School. After graduation, he moved to Detroit to get an associate's degree in business management from Baker College.
While in school, he started working in a bank. He said he took the job because when he arrived in Detroit, the wind was howling and it was already cold.
"I knew I had to work inside," he said.
He stuck it out in Detroit for 10 years, honing his volunteer skills by working in youth groups at his church. In 2010, he was tired of the cold and the economy was going south so he decided to return home to St. John.
He was looking for a job when a friend suggested he join St. John Rescue so he could network to make possible job contacts.
He's a family man, with wife Verneice, children Shaylah, 5, Isaiah, 3 and I'Yanah, two months, still living in St. Clair Shores, Michigan. He hopes they'll join him on St. John after he gets reestablished.
He now drives a taxi, and in his spare time plays the alto saxophone with the Gospel Tunes and Sax and Strings. The Gospel Tunes play at St. John Methodist Church and Sax and Strings at such events as the January non-denominational service at Our Lady of Mount Carmel Catholic Church for the incoming Legislature.
"And I'm always working at the church," he said.
More information on St. John Rescue is available online at www.stjohnrescue.org.