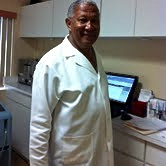 It's hard not to notice the African motif that permeates the Dermatology and Wellness Center. It's the stamp of Dr. J. Fletcher Robinson, founder and principal health care provider in the practice.
"I always wanted to live in Africa," Robinson said. He got the chance when a Peace Corps recruiter visited Howard University College of Medicine during Robinson's last year of medical school. After he got his new degree, Robinson spent two years in Tanzania volunteering his services. That was more than 40 years ago.
Since then he's traveled many times to various parts of Africa, sometimes as a tourist, sometimes as a consultant.
Not all Peace Corps experiences are good, Robinson noted, but his was excellent.
"Mine was a life enhancement forever."
So was his decision to specialize in dermatology. That came after the Peace Corps and led to a thriving practice in Washington, D. C.
Along about 1978, Robinson took another life-changing leap. A former classmate recruited him to work in the Virgin Islands.
"Roy Schneider asked me to come down," Robinson said. Later governor, Schneider was Health commissioner at the time, and the territory needed a dermatologist. He lured Robinson with a government job and the promise that he could also set up a private practice.
"He said, 'Come on down and try it,' and I came on down and tried it, and I never left," Robinson said. "I love the tropics. I like the pace. I like the work."
For many years, he saw patients two days a week on St. Croix and two on St. Thomas. Once a month he would fly back to D.C. and spend a week seeing patients there. At one point, he set aside one day a month to work in Tortola.
He's scaled back on the traveling, but he's expanded his services to add cosmetic dermatology, including microdermabrasion, chemical peels, laser hair removal and Botox fills. Although he's certified for many of the procedures, he relies on his son William Robinson to handle most of the cosmetic work.
"That doesn't hold my interest," he explained. "The challenge is in skin problems."
The type of things he sees in the Virgin Islands is pretty much the same kind of things he used to treat in Washington, he said.
Although it's small, Robinson said "St. Thomas is a global metropolis" drawing people from all over the world, and with them come their diseases. "You just gotta be on your toes" because you may see pathologies that aren't common to this area.
What is common here? Pretty much the same things that are common throughout the mainland U.S., including acne, fungal infections, eczema and psoriasis, he said. When he first moved to the territory, there were a handful of old cases of Hansen's disease (leprosy) but Robinson said it's been about five years since he last saw a case on St. Thomas, and it was in a patient who had come from another island.
Skin health is important to the overall health of the body and the psyche, he said.
"The largest organ of the body is the skin," Robinson said.
When something goes wrong on the surface of the skin, it sets up the rest of the body for trouble. Besides, skin problems are often indicative of infections or imbalances within the body. He works in tandem with other doctors to identify such situations.
After more than 30 years in the V.I., Robinson has built a lot of professional relationships.
"I feel like the senior diagnostician," he laughed. But he has no plans to slow down. "I like what I do and fortunately my health is very good."
Part of "a big family, very tight, very close," Robinson said, "I have five sons. I had two daughters; I lost one to breast cancer." He also has nine grandchildren.