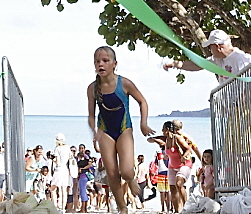 Now in its third year, the Rotary Sunrise Kids Triathlon has quickly become an active tradition in the local community, and this weekend's event at Magens Bay pushed youngsters who initially came out just for fun the first time around to really compete and do their best on the course.
Taber Helton, for instance, who won in the 9-11 age group for boys, said he first wanted to participate in the event because he liked sports – and because his mom, Susan MacFarland-Helton is a member of the Rotary Club of St. Thomas Sunrise. The clubfounded the event.
"This year I was excited to be coming out of the younger kids age group, and I really wanted to do better with the older kids," said Taber after the race. Last year he took first place last year in the males 5-8 group.
"My mom helped me to train a little bit, she brought me down to the beach to practice swimming, biking and running, and that helped, too. So winning today was really kind of cool – I hope I can do it again next year."
The "swim, bike, run" triathlon splits its participants into three age groups of 5-8, 9-11 and 12-15 year olds, which are also divided by gender. The youngsters can also compete in relays or as individuals.
Coming in first place in the 12-15 relay were Avery Joseph and D'Ajahni Estrada-Petersen, who along with Ahmed Joseph, made up team "D-A-A." Speaking before the competition started, Avery Joseph said he was anxious to tackle his first triathlon, while Estrada-Petersen said he was looking forward to topping his first- and second-place scores from the previous years.
"I did everything we needed to do: got a good night's sleep, did practice runs, made sure my bike worked and that the tires were aired up properly – everything I knew I needed to do for today," Estrada-Petersen said. "I want to best my time, and I think I can. That's what this event really does – it is a way of showing kids that they can do more every year, and I think it's a good idea because many teens our age have never been to a triathlon before. It's a fun thing to do."
And fun they had – both the young participants and their parents, who cheered, whooped, applauded, screamed and hugged their children as they came in. This year's triathlon had 143 participants from 15 schools across St. Thomas, one school on St. John, various home schools and even Colorado. According to the final count, the V.I. Montessori School and Peter Gruber International Academy had the biggest showing, with 55 students participating, while Antilles School and Ulla F. Muller Elementary came in second and third, respectively, with 27 ad 16 participants.
Every year, the triathlon also brings out a wide range of local volunteers who lend their expertise to the training and event process. Scott Fricks, for example, is the president of the Virgin Islands Triathlon Federation and at a recent clinic held in preparation for the event, said that he has been involved since the get-go, helping instill love of the sport into the young athletes.
"We want all parents to get their kids out there, competing and participating because triathlon is a lifelong sport," Fricks said recently. "More people get into it and stay into it more than any other sport in the world, and it teaches kids a lot of good habits, including lifetime fitness, teamwork, partnership, and achieving goals."
Competition is one goal, but Rotary Sunrise members have also said that teaching kids about healthy eating, exercise and discipline is also part of the message they hope is delivered each year, both through the practice sessions and the actual event, which has them swimming, biking and running around Magens Bay Beach.
"It's definitely because of this positive message that Scotiabank got involved as a sponsor," Lawrence Aqui, the bank's vice president and country manager, said as he took a short break from directing some of the runners.
"Scotiabank is involved in a Bright Futures Program that supports kids all over the world, and we thought this in particular was a good program, one that gets kids into sports ad being healthy. It's been great to see such tremendous participation – there are more kids coming out each year from schools all over the island – and I think what's even better is that we're seeing more kids swimming competitively. It's very much worth it."
Other sponsors included: The V.I. Source, Fortress Self-Storage, Theodore Tunick & Co., Glacial Energy, Choice Communications, and Virgin Islands Orthopaedics & Sports Medicine.
This year's winners are:
Age 5-8 Individual Male
1st Place – Tristan Fedderson (8:41) Antilles School
2nd Place – Kendon Ryan (8:44) Antilles School
3rd Place – Christian Belcher (9:04) Antilles School
Age 5-8 Individual Female
1st Place – Audrey Moore (9:20) Antilles School
2nd Place – Kaia Anspacher (9:49) VI Montessori School and Peter Gruber International Academy
3rd Place – AShukamayah Phillips (10:07) Joseph Gomez Elementary
Age 9-11 Individual Male
1st Place – Taber Helton (13:08) VI Montessori School and Peter Gruber International Academy
2nd Place – Amayoa'ah Phillips (14:04) Joseph Gomez Elementary
3rd Place – Skyler Anspacher (16:21) VI Montessori School and Peter Gruber International Academy
Age 9-11 Individual Female
1st Place – Karen Gauriloff (14:16) VI Montessori School and Peter Gruber International Academy
2nd Place – Rose Whitter (17:04) Antilles School
3rd Place – Michele Olive (17:11:06) Sts. Peter and Paul Catholic School
Age 12-15 Individual Male
1st Place – Ashawn-taedo Phillips (27:00) Joseph Gomez Elementary
2nd Place – Logan Barnard (33:52) Antilles School
3rd Place – Sunil Benjamin (39:21) Addelita Cancryn Jr. High School
Age 12-15 Individual Female
1st Place – Britany Leonard (34:30) Ulla F. Muller Elementary School
2nd Place – Julia Schwentor (38:52) Home School
3rd Place – Tova Benjamin (46:01) Addelita Cancryn Jr. High School
RELAY TEAMS
Age 5-8
1st Place – Blue Torpedos (Rohan Nagi, Paschal Bryan, Thomas Brunt) (8:53) VI Montessori School and Peter Gruber International Academy
2nd Place – Fasties (Sakari Clendinen, Eliza Walker, Eleni Bernier) (9:11) Ulla F. Muller Elementary School, All Saints Cathedral School, VI Montessori School and Peter Gruber International Academy
3rd Place – Black Jets (Maximillian Wilson, Ronan Dodson, Zakary Jablonsky) (9:23) VI Montessori School and Peter Gruber International Academy
Age 9-11
1st Place – Torpedos (Zahra Jablonsky, Ammiel Maynard, Drake Nemeth) (12:00) VI Montessori School and Peter Gruber International Academy
2nd Place – Yellow Jackets (Sean Godfrey, Alexander Wilson, Quinn Farrell) (12:42) VI Montessori School and Peter Gruber International Academy
3rd Place – Coconuts (Christian Freyn, Haley Jennings, Madison Wyatt) (13:16) Joseph Sibilly Elementary/Sts. Peter and Paul Catholic School/VI Montessori School and Peter Gruber International Academy
Age 12-15
1st Place – "D-A-A" (Avery Joseph, D'Ajahni Estrada-Petersen, Ahmed Joseph) (27:32) Addelita Cancryn Jr. High School
2nd Place – "007" (Seidon Nemeth, Silas Wisehart, Grant Farrell) (28:37) VI Montessori School and Peter Gruber International Academy
3rd Place – Pink Pandas (Alex Whitter, Maya Ethridge, McKinley Ott) 28:38 Antilles School