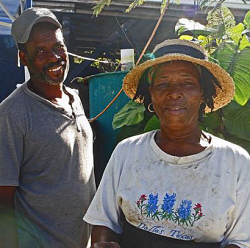 Every square inch of the bountiful ¾-acre lot that is Drina's Farm serves a purpose – there is no waste. Drina and Simon Anthony tend their plants as carefully as if they were children. And, in a way, they are.
The North Side farm is a world of carefully hewn paths circling a terraced hillside filled with fruit trees – pomegranate, French cashew, papaya – a small nursery filled with seedlings, while kale, arugula, carrots, eggplant, green onions, mint, basil, beets and spinach sprout from the hillside lot. It's a heady walk.
The front of the farm holds beds of bouffant lettuces, surrounded by a fence dripping with string beans.
Two young sheep whose eyes never leave Simon or Drina as they hike around the Estate Dorothea property, the sheep sounding off as they approach. All manner of poultry fill a packed henhouse — guinea hens, fat white roosters, a brood of chickens and a pet peacock named "Thomas."
We circle back to the potting shed, where Simon pulls out chairs. Drina settles as much as she ever does, knocking some dirt off her boots. "I'm always in these boots," she laughs. "You can't get around here without them. "
As we relax, they trace their journey from their native Dominica 12 years ago. Though Drina claims farming is in her genes, Simon came to it somewhat reluctantly, though now he is well pleased with his decision to abandon construction for farming.
Drina – short for Alexandria – was raised on a farm in Dominica. "We had an estate, 100 acres," she says. "I grew up farming, and I started Drina's Organic Farm. You have to love it," she says. "It's hard work."
As she talks, Drina is tending to a couple dishes of sprouting wheatgrass. Neither Simon nor Drina sits still for long. That is simply not in either one's genes.
Simon's father was a farmer, but Simon was more interested in construction. "It took us 15 years to make the decision to move here," he says. "I worked in construction when we first got here, until a few years ago when the recession began to hit…." He saw the writing on the wall and hit the dirt. "I love farming now," he says.
The satisfaction the two share gives palpable life to the afternoon, just like the bounty sprouting all around them. These are happy, welcoming people, anxious to share their knowledge. Drina is pretty, almost petite, but just get her hiking on the hillside and she's on her game, loping around picking plants like a mountain goat.
Sitting in the shade, Simon continues, "You make up your mind what you want to do. You have to work every day to organize things properly. You have to have a plan, do it the right way."
It took a while for Drina to realize her dream. She was persistent. She got a farmer's license and prevailed on the Department of Agriculture for a government lease, but to no avail. "Finally," she says, "after Louis Petersen became Agriculture commissioner, I got my ¾ acre." That was in 2007.
Drina now had her hard-earned dream, but they were faced with creating a working farm on a neglected hillside filled with garbage. "It took weeks and weeks to clear the debris, lots of work, even with a backhoe," Simon says.
"In Dominica, we plant most anything and it comes up," Drina says. "With the soil here, we have had to experiment. We plant and see what comes up." So far, their green thumbs have provided a rewarding bounty which they market every week.
As we are hiking around the property, a smiling cotton doll peers out of a French cashew tree.
"She was supposed to keep away the thrushies, like a scarecrow," Drina says, shaking her head. "But, she doesn't."
Oh, the sheep. Their manure is for fertilizer. Aside from the friendly scarecrow, Drina says they protect the crops only with Neem, the organic insecticide.
Drina is more than happy to share what she learned growing up. "I teach the basics of planting, and we cook. For instance, I show them how to make what we used to call 'one pot hold all,'" she says. "We start from scratch, with an iron cook pot. You put in water, then fill it with tania, yam, dasheen and grated coconut for milk. Then you grate plantain and mix it with flour for a nice dumpling.
"After you finish a bowl," she says of the delicious results, "you can't walk."
Drina concentrates on the old ways of doing things, especially teaching the youngsters how to fend for themselves without modern kitchen gadgets. "Every week I do something different," she says. "I used to teach in Dominica, and it's my dream to help young people, to help keep them from following bad company."
Her informal little sessions have extended by word of mouth. "We even have some fathers," Drina says. "I am trying to get the schools involved." She welcomes any group. Her number is 228-0749.
Drina and Simon sell their produce every Saturday morning at Emancipation Garden, and Fridays from 4 until 7 p.m. at their stand between Fort Mylner and PriceSmart.