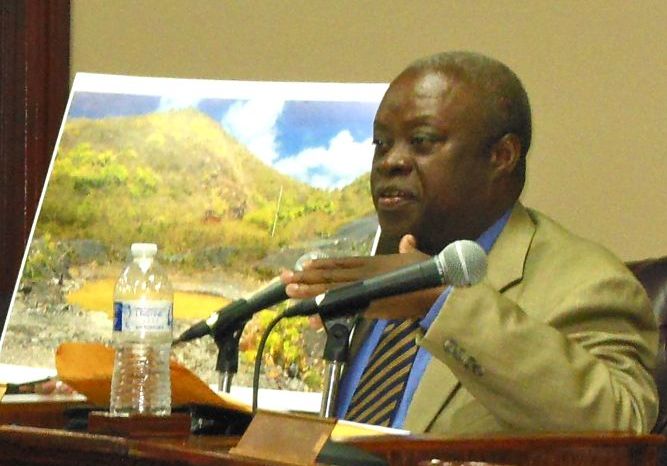 Aggregate Inc., Ann Abramson's quarry north of Frederiksted, should stay open, agreed V.I. regulatory agencies, environmental activists, concerned neighbors and the quarry company during Senate hearings Monday, but the quarry needs to become fully compliant with zoning and environmental regulations.
Sen. Craig Barshinger invited company representatives, neighbors, concerned residents, and officials from the Departments of Planning and Natural Resources and Licensing and Consumer Affairs to testify before the Energy and Environmental Protection Committee about complaints of environmental and zoning problems at the quarry.
There are two broad areas of concern: that Aggregate is in violation of a variety of regulations and permit conditions, especially affecting runoff into Caledonia Gut; and that Aggregate's location is in violation of its zoning and a 2003 zoning waiver was improperly granted.
DPNR Commissioner Alicia Barnes outlined the history of Planning's actions regarding the quarry, starting with granting Aggregate Inc. a zoning waiver in 2003 to allow it to get a business license.
Barnes testified that in November 2012 she wrote the Licensing Department saying she had concluded "the waiver had been incorrectly granted," rescinding the waiver and recommending revocation of the business license.
Barnes also met with Aggregate Inc. representatives and recommended they apply for a use variance or a zoning change, she said. But to date, it has not made a zoning application, she testified.
The property is zoned R-1, residential – a category that does not include rock quarries. In V.I. law, a business, like a quarry, that existed before zoning laws were enacted in 1972, is grandfathered in and can continue to operate.
However, V.I. law limits that grandfathering to businesses that continue to operate and continue the "nonconforming use," and explicitly rejects grandfathering if the nonconforming activity ceases for one year.
It says, in relevant part: "Any nonconforming use of land or building which has ceased by discontinuance or abandonment for a period of one year shall thereafter conform to the provisions of this subchapter."
DPNR has also inspected Aggregate and found a number of environmental violations, Barnes said.
While DPNR has an obligation to enforce environmental regulations and ensure compliance, the department does not want to shut Aggregate or any company down, Barnes said, adding that "it has been the posture of the department to work with Aggregate to bring them into compliance."
Diane Beresford, who lives near the quarry, spoke on behalf of the Committee to Save the West End, a group of west end residents concerned about the quarry. Beresford showed photos of what appeared to be heavy dust, gravel, damaged historic structures, silt-filled runoff, coral damage and other alleged evidence of environmental destruction from the quarry.
But despite her concerns, Beresford said "the west end community is not seeking to close the quarry but rather to bring it into compliance by adhering to all local and federal laws."
"The west end community at this time is appealing to DPNR to address the major infractions that have allowed aggregate to continue to destroy our environment," she said.
St. Croix Environmental Association Executive Director Paul Chakroff testified that his organization also wanted the quarry to stay open but to come into compliance with environmental laws, as was echoed by herbalist and St. Croix resident Veronica Gordon.
Former Lt. Gov. Ken Mapp, who is acting as a consultant for Aggregate, testified that the company is working hard, in good faith, to correct every environmental violation and issue.
With a dozen or so Aggregate employees all dressed in identical yellow company T-shirts in the gallery, Mapp emphasized that closing the quarry would cost jobs and revenue and might increase the cost of gravel and concrete in the territory.
Mapp also said Aggregate disputes that it is in violation of zoning laws and that it is grandfathered in. Mapp had attorney Adriane Dudley give a legal defense of that position.
Dudley testified under oath that it was her legal opinion that the quarry was grandfathered in because it had been in existence since the 1950s.
Although the quarry ceased all operations in the 1970s and resumed in 2003, Dudley said, "In our view it has been in continuous use because it was always maintained by its owner as a quarry."
For that reason, Aggregate's position is that it does not need to file for a variance, because it is already grandfathered in, she said.
Dudley argued that even if the original waiver should not have been granted, Aggregate relied on that waiver – and numerous subsequent permits issued by DPNR – to make business investment and hiring decisions, and there is a legal principle that should require Aggregate not be harmed by its reliance on the government's earlier approval.
Barnes said the legal question of whether the waiver was improperly granted and if Aggregate is grandfathered on is currently being considered by the V.I. attorney general's office.
Barshinger directed the Legislature's Office of Legal Counsel to also prepare a legal opinion on the topic.
While Aggregate believes it does not need a zoning variance, it will apply for one if the attorney general determines it is necessary, Mapp said, adding that the company is committed to meeting all of its legal and regulatory obligations.
Meanwhile some of the concerns raised by residents about road damage from heavy trucks may be valid, but are misplaced, Mapp said.
He said Aggregate fills trucks, but the trucks belong to transport companies, not Aggregate, so those companies should be subjected to enforcement, not Aggregate.
Acknowledging that Aggregate had some violations, Mapp said Abramson hired a management company to run the company a few years ago after falling ill. But after DPNR raised issues about Aggregate during a May 2012 Senate committee hearing, Abramson dismissed the management company, took back control, "and since that date there has been a lot of effort to meet DPNR requirements," Mapp said.
Barnes also testified that Aggregate had addressed many of the outstanding issued.
Sen. Clifford Graham asked if Barnes is "pleased with the progress they are making."
"DPNR will not be satisfied until they are in compliance," Barnes said. She later said DPNR has a legal obligation to enforce local and federal environmental regulations, and could not be flexible about enforcement without risking repercussions from the U.S. Environmental Protection Agency.
No votes were taken and no action taken at the information gathering hearing.
Present were Barshinger, Graham, Sens. Alicia "Chucky" Hansen, Donald Cole, Sammuel Sanes and Diane Capehart. Also present were noncommittee members Sens. Judi Buckley, Kenneth Gittens and Terrence "Positive" Nelson.