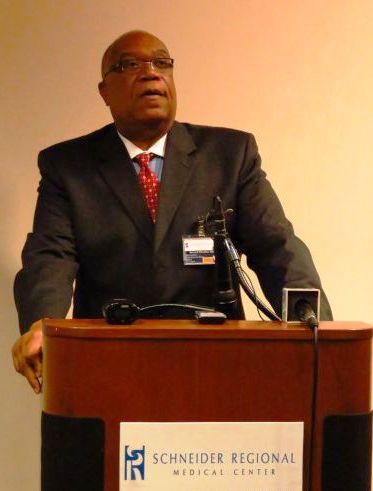 He doesn't have any cable yet, no television or phone, but Dr. Bernard Wheatley appeared Monday to already be on top of what needs to be done to really transform the Schneider Regional Medical Center into the Caribbean's "premiere" health care facility.
Wheatley started off his first official day as SRMC's new chief executive officer with a press conference that put him not only in front of reporters, but some of the center's top physicians, board members and staff.
Speaking briefly about his time growing up on St. Thomas, Wheatley talked more about how he was recruited, along with some of the challenges and issues he's observed at the hospital over the last few days.
"When I interviewed, there were obviously some clear objectives presented to me by the board in terms of Schneider Regional and taking this organization, or transforming it, to a different level," Wheatley said, "and I feel that I bring the leadership skills – over 30 years in healthcare abroad along with the educational background – to do so."
"I enjoy a challenge, and this is definitely a challenge," he said. "I look forward to taking this organization on what we call a 'journey to excellence.'"
According to press information provided Monday, Wheatley's selection was announced at a St. Thomas-St. John district hospital board meeting in February.
Board Chairman Cornel Williams explained during the press conference that Wheatley's professional background and experience in health care administration and management is what put him ahead of the pack when it came to choosing a new CEO.
"Mr. Wheatley has a wealth of experience in health care administration and management, and that's precisely the reason why he's sitting here today," Williams said, adding that he was also impressed by Wheatley's professional drive.
"He started out as a radiology technologist and his progression from there was quite remarkable from an educational standpoint," Williams said. "He definitely has a thirst for knowledge, but what is also noteworthy about Mr. Wheatley is that he is very much interested in imparting his knowledge – what he has learned and experienced – to others," Williams said.
Wheatley comes in at a time when the medical center's board members and staff have made public the hospital's financial challenges, it issues with certain medical equipment costs and utility costs. Schneider Hospital has been without a permanent chief since December 2011, following the resignation of former CEO Alice Taylor.
Speaking Monday, Wheatley said his first impressions of the facility – from the caliber of the staff to the involvement of the community – were good, but he said that SRMC, like many other health care facilities across the nation, is facing rising costs and has to look at where to cut back.
"We really have to tighten our belts here and that's the challenge for all CEO's: to operate more efficiently, remove the waste out of the organization and maximize your revenue potential, which impacts us and our medical staff," he said.
In order to grow the organization, Wheatley said he would be looking at making community assessments – which determine whether SRMC is offering the right kind of services for the local community – and helping to grow the medical center through strategic planning initiatives, such as marketing the hospital's physicians so that potential patients know that they don't always have to go off-island to receive high quality care.
Wheatley also spoke about looking into the viability of providing medical services to cruise ships – or at least treating more visiting tourists at the hospital instead of having them flown out.
Offering "new approaches to health care" is something Wheatley said he had to deal with in his previous position as vice president of operations at Athens Regional Medical Center in Georgia, which continued to see cutbacks in federal reimbursements for patient services.
Looking into implementing "new measures" that drive costs down is also a priority at Schneider, and Wheatley said he is looking forward to "getting the lay of the land" and "making the necessary assessments" as he moves forward.
While it is a business, Wheatley added that the medical center's goal at the end of the day is still to provide caring and compassion for all patients, and he pledged to work closely with SRMC's physicians and staff to help provide the equipment and other necessary tools needed for them to do their jobs.
Wheatley received his bachelor's degree in health care administration from St. Joseph's College in New York, his master's degree in business administration from the New York Institute of Technology, and his doctorate in business administration from North Central University in Arizona. Wheatley's contract with SRMC is through 2015.