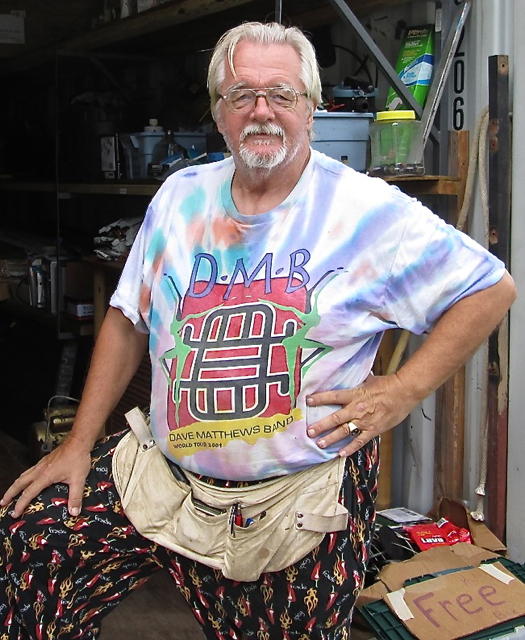 After nearly 10 of years pushing for greener building practices, particularly on St. John, Island Green Building Association has expanded its focus to include green living. A new name, Island Green Living Association, is in the works.
"Green building is a good start, but the problems are broader. It's all about being able to live on a small island with less impact," IGBA director Barry Devine said.
He said IGBA was organized during a time when there was a boom in construction, which was the most obvious polluter, but it's now obvious that there are a lot of other aspects of living on a very small island that are unsustainable. His list of issues in need of solution includes waste management, lack of recycling, cost of energy, the small area of land, and the products people use and abuse.
He likened St. John to a time bomb when it comes to the impact of bad environmental practices.
The huge number of vacation villas on St. John are among the problems. Devine said he counted 950 St. John villas on a popular website where villa owners list their properties. He said there are probably another 50, bringing the total to more than 1,000. Those villas are huge users of energy. An increasing number are fully airconditioned, and in those with only bedroom airconditioning, guests sometimes run them day and night with the bedroom doors open to cool the entire house.
Acknowledging that not all the villa owners will be receptive to greening up their properties, he said the organization has to start somewhere so reaching at least some of them will be a help.
Additionally, Devine said the island sees about a million tourists a year, which has a significant impact on the environment.
In order to effectively expand its scope, Devine said IGBA hopes to partner with other community organizations that have similar goals. The organization recently joined forces with Gifft Hill School's Education and Resiliency through Horticulture program to present its monthly Island Sustainability Seminars, known as Green Thursdays.
"Many of us are wondering how it can be that we live on this island that calls itself a green place to live, yet we don't have our recycling down," said EARTH Program Coordinator and IGBA board member Sarah Haynes. "A large part of the answer comes down to the fact that we need to start collaborating more as a whole community, and get a lot of great people working toward a lot of great results. We want the Green Thursdays to be a proactive look at what we can physically do rather than walk away thinking, 'Oh, this is such problem, what are we going to do about it?'"
In addition to partnering with other community groups to come up with solutions to island issues like waste management and energy conservation, IGBA is developing a longterm plan for an island resource center. Building off the success of the group's ReSource Depot, which has diverted and recycled more than 25,000 pounds of construction and demolition waste into productive use and out of local landfills, the center is envisioned as a place for education, recycling, agriculture, and more.
"It's just a concept now, but the Sustainable Living Center could include works from artists who use recycled materials, and we might have a thrift store as well," Devine said. "We have a need for composting and organic materials recycling and native plants; agriculture is a whole field we should be paying attention to. The idea is to try to make the most of our resources, to train people and educate the public to live in a lower impact way, and to make the island more sustainable and less reliant on outside support."
The ReSource Depot is now almost paying for itself, Devine said. He said it brings in $300 to $400 a day.
The ReSource Depot is open from 7:30 a.m. until noon Monday and Thursday and from 8 a.m. till noon Saturday.
More information is available by calling Devine at 1-340-514-3532 or online (see Related Links, below.)