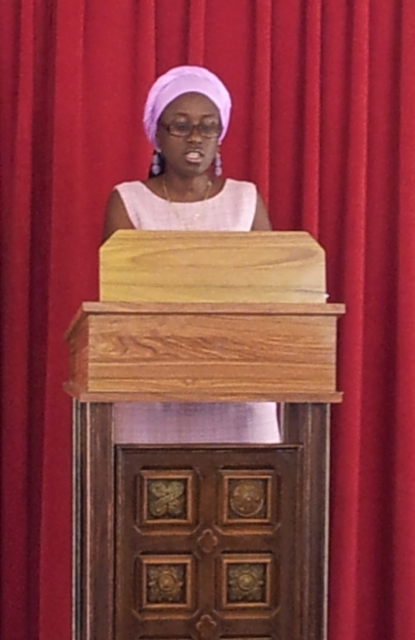 The St. Croix community gathered Sunday afternoon to honor the legacy of the late Gov. Cyril E. King, the second elected governor of the U.S. Virgin Islands, in a ceremony at Kingshill cemetery.
The event marked King's 92nd birthday. In 2007, Gov. John de Jongh proclaimed April 7th as "Cyril Emmanuel King Day." Every year, the Virgin Islands community acknowledges his contribution and his life by paying tribute and laying a wreath at his mausoleum in memory of him and wife, Agnes Agatha King, who died in 2003.
The National Guard 104 Troupe Command marched smartly up the road, their heels eachoing sharply as they approached the church near King's mausoleum, carrying the V.I. flag U.S flags, which they posted.
King was a founder of the Independent Citizens Movement and the first party member to be electe4d governor. Sen. Terrence Nelson, the only ICM member now in the legislature, organized the ceremony, which he said gave onlookers the opportunity to recognize King's services in the V.I. and his efforts for a better V.I. community.
"This day recognizes the legacy and services of Cyril King," Nelson said.
The start of the ceremony quickly began at 2 p.m. precisely, because Nelson said "King was a man of timeliness."
The Rev. Anthony Granger started the ceremony with the invocation. Stephanie Nelson sang "The V.I. March," "Lift Every Voice and Sing" known as the Black National Anthem, and a hymn which had the crowd singing joyfully with her and the chorus: "Then sings my soul, my savior god to thee, how great thou art, how great thou art."
Nelson continued the ceremony by highlighting King as a leader and one of the driving forces of the positive spirit of the Virgin Islands.
The senator recalled that in the late 1970's, Nelson and his friends would visit Government House in Christiansted to fish for guppies. He said the security officers always asked them to leave but, Nelson said, King would not chase him or his friends away. He said the governor talked to him sincerely and passionately.
Nelson said that was one of the reasons he admired King. He said he was a well-liked person in the territory because of his vision, platform and efforts to develop the territory's economy and agriculture.
He also said public, private and parochial schools held assemblies and ceremonies for King.
Nelson said he does not like the idea of kids getting older and forgetting their history. He said informing kids about their past "keeps them going and keeps them coming back."
The ceremony concluded mid-afternoon at King's mausoleum where the silk wreaths donated by Divine Funeral Home were placed.
King was born in Frederiksted on April 7, 1921, to Martin and Melvina King. He was elected governor of the V.I. in 1974 and died of cancer Jan. 2, 1978, at the age of 57.
In his 1976 State of the Territory address, King left a quote that still resonates today: "But let us continue; let us continue with the task of setting our house in order and building a better future for all residents of the Virgin Islands."