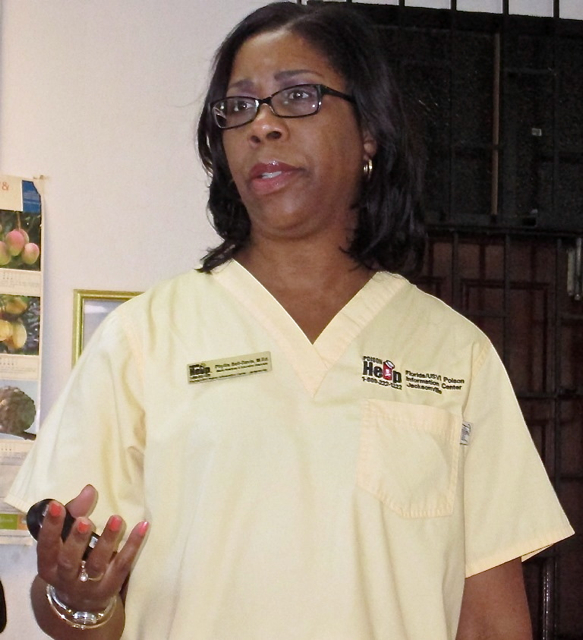 If you have a poison emergency, or need information about poison, your first call should be to the Poison Information Center at 1-800-222-1222, unless the person is having a seizure, is hard to wake up or not breathing. In that case call 911. But if it's just poisoning and the victim is conscious, call the center.
The was the message of Phyllis Bell-Davis, representing the center, in remarks Thursday to seniors at St. Ursula's Multipurpose Center on St. John.
"Sometimes a poison exposure can cause death," she said.
Bell-Davis was in the territory this week to spread the word about the services provided by the agency based in Jacksonville, Fla. Its services are free to those who call, and doctors, registered nurses and others who answer the phone can provide on-the-spot advice as to whether the situation calls for home treatment or a trip to the hospital. If a trip to the hospital is necessary, the center staff will alert the hospital to let them know you're on your way.
According to Bell-Davis, calling the center first to find out if treatment at home is a good option will save time waiting in the hospital emergency room as well as money not spent on the visit.
While some of her tips apply mainly to seniors and their myriad medications, others apply to every family.
"Comet and bleach make a gas. Never mix chemicals," she said.
While it's tempting to transfer what's left in a bottle of household chemicals to a smaller container such as a soda bottle, she pointed out Pine-Sol and apple juice look alike. Household chemicals should be stored in their original containers, she said, to avoid a mixup.
Bell-Davis told the audience about a time a 75-year-old woman drank a cup of bleach. She had put the bleach in a cup, then put the cup down to answer the phone. When she came back, she forgot that the liquid was bleach and drank it. Bell-Davis said drinking regular bleach isn't that serious, because it's not absorbed in the blood stream. However, it does burn.
Seniors are prone to leaving their medications in places that are convenient for them, but when grandchildren and great-grandchildren visit, that's a recipe for disaster if the medications can be seen and reached by children. She showed slides that clearly pointed out the similarities between Tylenol and a candy called Red Hots. Both were little, round and red, making it easy for children to think the Tylenol pills were tasty treats.
"Toddlers ingesting grandparents' medications account for 20 percent of all poisonings," Bell-Davis said.
A total of 51 percent of all poisonings occur with children younger than six years old, and 93 percent of all poisonings happen at home.
She also suggested that people lock up their medications in part to prevent teenagers to take them for a "pharm party." At these parties, teenager take an array of prescription pills found around their houses, throw them into a bowl and randomly chose one or two to ingest.
She urged seniors to read prescription labels. She said when taking medications they turn on the light and wear glasses if they need them to ensure mix-ups don't occur. Additionally, she said, if you forget to take your medications one day, don't double up the next without consulting your doctor because it could result in poisoning.
Bell-Davis also addressed the common local practice of using bush tea to treat health complaints when you're also on medication. She warned against it unless first consulting your doctor, because the combination of medication and herbal remedies can result in poisoning.
The Jacksonville center is one of 57 around the United States. She said state and territorial governments fund 85 percent of the centers' budgets, with the federal government kicking in the other 15 percent.
In 2012, the Jacksonville center got 233 calls from across the territory concerning possible poisonings. The center also provides information on subjects such as what foods can't be eaten with certain medications. Bell-Davis said the center had 38 calls from across the territory looking for information.
Her presentation was held in conjunction with AARP of the Virgin Islands. Organization spokesman Virginia Dargan was on hand to urge the seniors to sign a petition urging Congressional leaders not to change the mathematical way it calculates Medicare benefits. If it changes, Dargan said it would be financially harder for seniors to make ends meet.
More information on the proposed Congressional actionis available online at www.earnedasay.org .