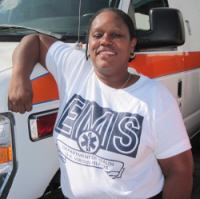 Helping people is what makes Linda LeBlanc tick.
As a paramedic with St. John's Emergency Medical Service, she said the people are the best part of the job. And since she's on St. John, she is fortunate enough to not have to face a steady stream of assault, gunshot and murder victims her counterparts on the other islands see as St. John has much less of that type of crime.
"There isn't too much trauma," she said.
With lots of beaches to tempt visitors, LeBlanc said she sees a lot of dive accidents and near-drownings. She also treats people she's gotten to know well.
"You will them to get better because you feel like a family member," she said.
She's even delivered a few babies, including three in the middle of Pillsbury Sound on board the ambulance boat. Then there was the one she delivered right at EMS headquarters in Cruz Bay and one in the parking lot at Red Hook, St. Thomas.
Such dramatic welcomes to the world occur because the island's Myrah Keating Smith Community Health Center doesn't deliver babies, and sometimes expectant mothers wait too long to head to Roy L. Schneider Hospital on St. Thomas for delivery.
Just recently, she was on the Liston "Huntie" Sprauve ambulance boat transferring a patient to St. Thomas when another boat stopped them because one of their passengers had a medical emergency. That patient was transferred at sea and the ambulance boat continued on to St. Thomas.
She said the level of emergency care on St. John is good. However, it takes the ambulance 20 minutes to get from its base in Cruz Bay to the center of Coral Bay. LeBlanc said that issue is being addressed with the training of firefighters based in Coral Bay as emergency medical technicians.
LeBlanc, 50, became an EMT in 1987, and was assigned to St. John in 1989 just after Hurricane Hugo hit the island. She became a paramedic in 1994 after completing on-island training.
She makes the commute from her home in St. Thomas twice a week for her two 24-hour shifts at EMS. Since she's assigned to St. John, she pays for her own parking fees and ferry tickets.
LeBlanc also helps keep the EMS headquarters, located at the rear of the Morris deCastro Clinic in the heart of Cruz Bay, spic and span since the government coffers don't allow for a custodian.
The EMS location isn't ideal. It's noisy, which makes it hard for the EMTs to sleep when they're on duty. The island's growing number of homeless people stop by hoping for treatment but LeBlanc said they're transported to Myrah Keating if they need help.
LeBlanc left her native Dominica in 1980, living first in Tampa before moving to St. Thomas. She likes St. Thomas because it's a melting pot of Caribbean cultures.
Two of her four children are still at home; Jhante LeBlanc is 13 and Steven LeBlanc is 16. She also has a godchild, Brucely Charles, 11, living with her. Her two older children, Maisha Augustine, 30, lives on St. Thomas, and Moses Mills, 29, is in Tampa. When she has a chance, she visits granddaughter Tamara Mills, 5, in Tampa, and Izayah George, 8, on St. Thomas.
She doesn't have much spare time but said she likes to read, with Sidney Sheldon and John Grisham among her favorite authors.
She's also traveled to Mexico, Puerto Rico, Orlando, Atlanta, and St. Croix with her sons' baseball teams. "I like trips away from the Virgin Islands," she said.