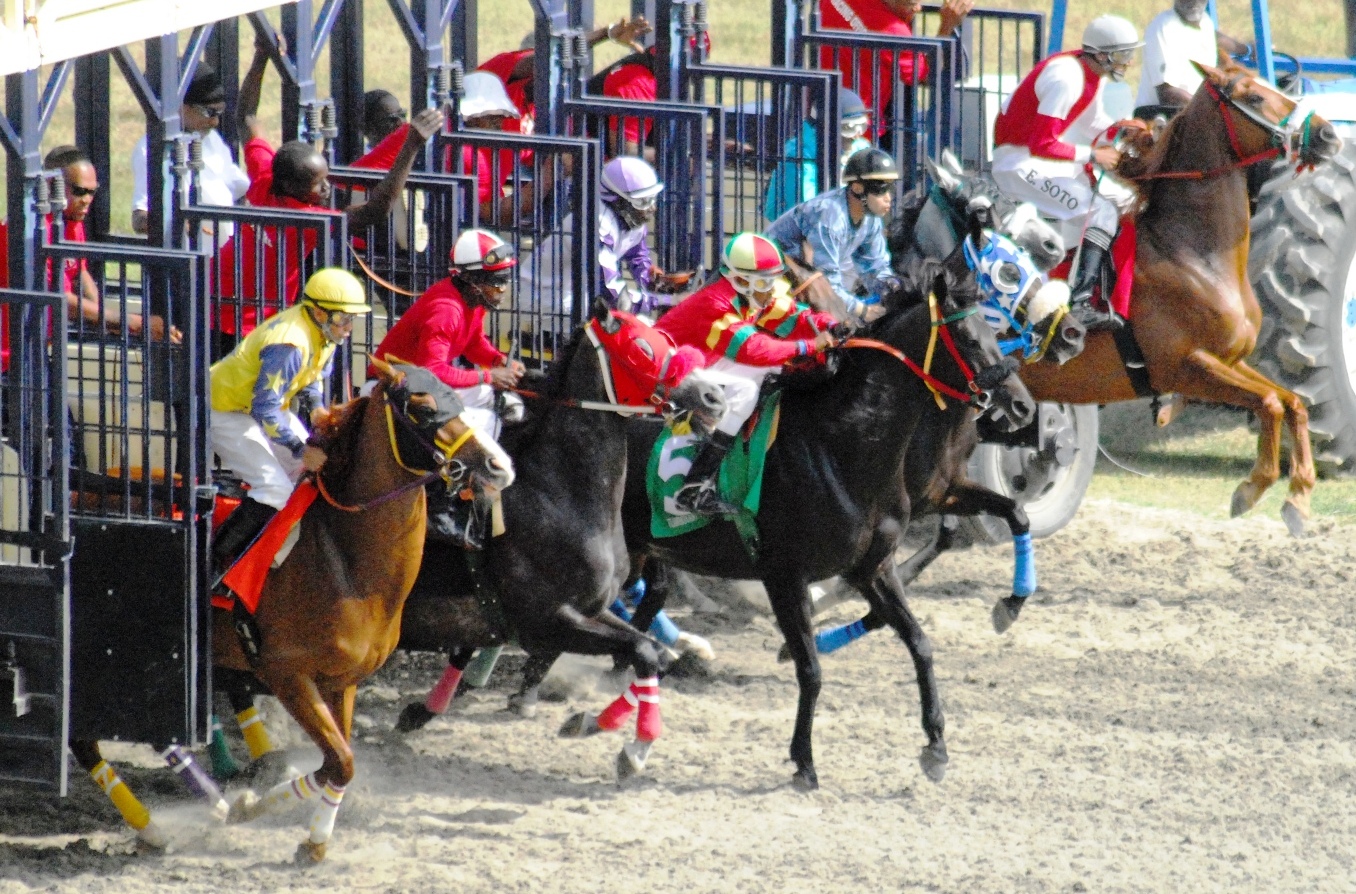 The final leg of the Johnnie Walker Triple Crown Challenge highlights Millennium Gaming's nine-race card at the Clinton E. Phipps Horse Racing Park on Sunday. Bud White's record-breaking performance at the big track on St. Croix makes him the overwhelming favorite and the one to beat in the final leg of the Triple Crown run over a distance of 1 1/8 miles.
These odds are made easier by the absence of St. Croix champion thoroughbred Slevin, who opted to skip the final leg of the Triple Crown Challenge. Slevin finished first and second respectively in the first two legs.
Bud White has proven to be a speedy horse and the big question is whether he will be able to carry the speed for the entire 1 1/8 miles. Should he falter there are several closers in this race that could make things interesting.
East End Tap of Tortola, based on his performance in the first two legs of the challenge, should go off as the second choice in this race but could easily claim the top prize if his form holds.
Running hard late in the race will be St. Thomas' Diablo's Fire, and many are picking him to pull off the upset.
Tortola's other representative, Good Prospecting, has shown that he is a top competitor, having beaten the best from his country and St. Thomas in the past.
Hoping to contest the early pace with Bud White will be speedball Political Reporter of St. Croix, a horse who seems to relish the Clinton Phipps racing surface.
Berberis, also from St. Croix, will be sitting just off the pace, hoping to make just one big run at the leaders in the stretch, a move that could carry him all the way to victory lane.
The rest of the day's card:
Race 1 Natives NW of 2 6F $3,500
1. Man From Hill (Tor) 114
2. Yahboribos Weapon (StX) 118
3. More Current 114
4. Dehroadismine 117
Race 2 Class D 6F $4,000

1. Walk the Tiger 118
2. X Pleasure 118
3. Myturntorock 118
4. Cash N Carry 118
5. Brave Reward (StX) 118
6. Tiger's Mischief (Tor) 115
Race 3 Class C & D 1-1/8M $3,200
1. Far Rumor 117
2. Johann Slew (StX) 117
3. Charlie The Runner 117
4. Paul's Gift (StX) 119
5. Spirit on Fire (Tor) 119
6. Tiger Glider 117
Race 4 Natives Handicap 7-1/2F, $3,800

1. Love City Slew 116
2. Jahlisa Rose (StX) 113
3. Prince Crystal (StX) 120
4. Supa Pop 116
5. Omayra's Pride (StX) 113
6. Creation Rebel (StX) 118
Race 5 Classes C 7F $4,500

1. Meeses Two Pieces 118
2. Khun Dan 120
3. Aircraft Intercept 120
4. Mr. Gold Prospect 116
5. Groomsman (StX) 119
6. Mick G (Tor) 116
Race 6 Class A & B 1M $6,000

1. Sweet Sight 120
2. Puerto Rican Emblem (StX) 120
3. Broken Home (Tor) 120
4. Voice of Faith 120
Race 7 Open F/M 1M-70yds $5,200

1. Sardina (StX) 120
2. Moments Away 120
3. Destiny's Arrival (StX)117
4. Finish in Style (StX) 117
5. Out of Wine (StX) 120
Race 9 Class D 7-1/2F $4,000

1. Bruno's Burst (StX) 116
2. Stop Playn' 116
3. Formally Cat 119
4. Game Winner (StX) 118
5. Eastern Seaboard 119
6. According to Jesus 117