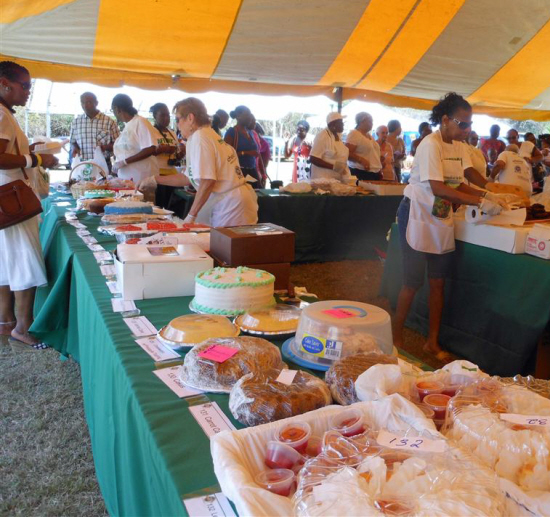 In the words of Afternoon on the Green Committee Chair Jacqueline Sprauve, "It's a big, old party." And indeed, the fanfare, food, music and camaraderie of the University of the Virgin Islands 50th Anniversary Golden Jubilee celebration truly was.
The island's largest picnic is always a thing of fun and wonder, food and music, but Sunday's celebration seemed to especially rise to the occasion: The food seemed more tempting, the smells inviting a closer look and a taste or two or10, the dancing merrier, more lively, and the crowds more abundant. Everyone seemed to know it was a special day.
"We want to show the community what we can offer," said a buoyant Sprauve. "It's for the community to enjoy with us, as we prepare for another 50 years." She expressed this year's theme: "Honoring Our Past, Creating Our Future."
Under a gaily striped yellow and white tent, all the food you could imagine was on display, with folks lining up time and again for a taste of pecan loaf, green banana and cheese pie, Filipino egg rolls, mango spice chicken, every conceivable combination of macaroni and cheese, jambalaya, "Not my Mama's Meatloaf," and the traditional West Indian favorites of sweet potato stuffing, red peas soup, kallaloo.
A groaning board of homemade desserts featured everything from pretty little sugar cookies to three-layer chocolate cakes, nut breads, cheese cakes, carrot cake, and for the more adventurous, rum and coke cake, chocolate chip and bacon cookies, and from St. Croix, hand-churned avocado ice cream.
The rolling, green Herman E. Moore Golf Course at UVI, where the picnic traditionally takes place, was a carnival of color and excitement, with folks greeting one another, renewing old friendships, making new ones. The Bertha C. Boschulte Quelbe Band started the afternoon's rhythms, followed by the spirited Salsa Dance Troup.
Everyone got into the act as troupe leader Tony T of 105 jamz, led the crowd in salsa moves.
"Come on" he instructed, "now we move sideways, now front, keep that beat," as everyone from Miss UVI contestants to pint-sized hip swingers and UVI public relations director Patrice Johnson showed their stuff.
Following the spirited salsa moment, the Mungo Niles Cultural Dancers did their lovely, practiced moves filled with their special dignified joy.
For the first time this year, automobiles were part of the entertainment. The Paradise Volkswagen Club led a motorcade of 25 vintage Volkswagen Beetles on the green, coming from the other end of the campus, where they parked to let folks inspect the immaculate little cars.
Youngsters were kept busy in Children's Corner under welcome shade trees with bounce houses, relay races, jump rope, kickball, Frisbee and table games.
This year's academic tent displayed information from each of UVI's schools and colleges, along with Access and Enrollment, the Small Business Development Center and the Cooperative Extension Service.
Reichhold Center for the Arts marketing manager Karen Gutloff and volunteer Doreen Walsh were doing a good business promoting the upcoming 2012 attractions India.Arie and the Dance Theater of Harlem.
As folks left the celebration around 2:30 p.m., a steady line of cars reaching down almost to the airport police station patiently inched its way to celebration, monitored by campus police.
Winner(s) of the 2012 Edward Thomas Service Award were to be announced later, along with the winners of day's best dishes.
Afternoon on the Green is sponsored by the Virgin Islands Council on the Arts, the West Indian Company Limited, Nausch, Hogan and Murray, Inc., Choice Wireless and Bellows International Limited.