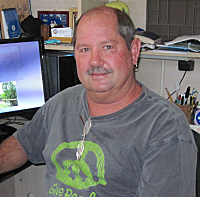 Gilbert "Gilly" Grimes is a volunteer's volunteer. He spends at least 30 hours a week with St. John Rescue, and after serving two years as chief, he's now the communications officer.
"It's nice to be with a group that can go out and administer aid in a short amount of time," he said, sitting in his home office surrounded by radios, course certificates and other St. John Rescue paraphernalia.
Grimes, 55, signed on with the all-volunteer organization about five years ago after moving to St. John in 2006. St. John Rescue currently has 29 members with 13 of them holding Emergency Medical Technician classification. Grimes is one of them, which means he can do patient assessments at the scene and ride with the ambulance.
St. John Rescue serves as the back up for the Health Department's Emergency Medical Service. There are only enough Health Department EMTs stationed on St. John at one time to staff one ambulance so when they're out on a call or transporting patients to Red Hook, St. Thomas for pick up by a St. Thomas-based ambulance, St. John Rescue fills the gap.
He said the volunteers get called out about once every 2.5 days. He said they're willing to do more but that would take streamlining efforts among EMS, the Police Department, Fire Service, and St. John Rescue.
While it continues to go out on calls, Grimes said St. John Rescue members continue to working on improving service. Finding grant money so the organization can buy an oxygen generator to fill its tanks is high up on the list. Currently, the tanks are filled with industrial grade oxygen instead of hospital grade. Grime said it isn't as pure.
"We're looking at $75,000," he said of the cost for the oxygen generator.
St. John Rescue always needs more members. The turnover is high because people leave island. Grimes said that the organization provides training. He urged anyone interested to visit www.stjohnrescue.com for more information.
He said St. John Rescue gets called for serious cases and for things as small as a tourist stepping on a sea urchin.
"You'd be surprised what people call the ambulance for," he said.
Grimes is no stranger to the Virgin Islands. He lived on St. Thomas from 1981 to 1992, where he did yacht deliveries, crewed on the fishing boat Miss Liz and served as captain on the Caribe Maid fishing boat. He also was the captain on a private 65-foot Gulfstar.
Born in Philadelphia, he grew up on Bailey Island, Maine. He joined the U.S. Coast Guard out of high school and served six years.
In 1992, he moved from St. Thomas to Florida. While living in Juno Beach, he owned a marine business and did yacht deliveries.
"I crossed the pond a few times," he said, referring to the Atlantic Ocean.
When his wife, Cheryl Grimes, accepted a job in sales with the Westin Resort and Villas, he was happy to make the move back to the Virgin Islands.
Although St. John Rescue keeps him plenty busy, he also devotes time to building his electric gate business. The number of electric gates on St. John is growing, and Grimes said the salt air takes a toll. So do people who rent vacation villas. Grimes said he's repaired gates where the guests forgot the fobs that open them so they rammed them with their car to get through.
Grimes said he doesn't have much free time, but when he does, he likes to "putz" around the house and cut bush. He's also a ham radio operator. However, it's clear that St. John Rescue work is his first choice of activities.
"I feel good doing a positive thing for the community. That's what I like best," he said.