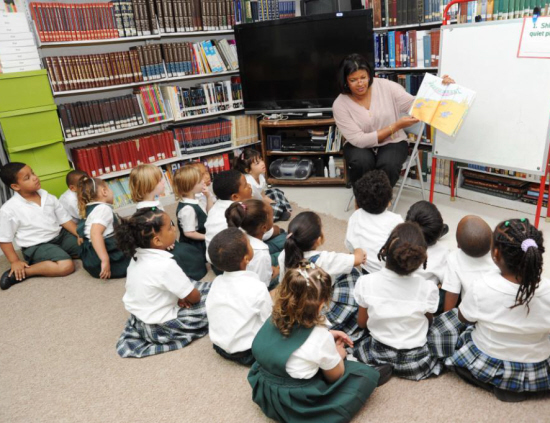 For anyone wondering what V.I. first lady Cecile de Jongh's favorite Dr. Seuss book is, "Oh, The Places You Will Go" seemed fitting – certainly for the kindergarteners at All Saints Cathedral School on St. Thomas to whom she read the book Friday.
DeJongh's visit and reading marked the National Education Association's Read Across America Day, held annually on March 2 to coincide with the birthday of Theodor Seuss Geisel, the beloved children's book author who went by the pen name Dr. Seuss. DeJongh also donated a copy of the Dr. Seuss book "The Bippolo Seed and Other Stories" to the school's library.
"Through the Reading Across America initiative, Virgin Islanders join schools, libraries, community centers and families across the nation for a special Day of Reading in honor of one of our most beloved children's book series, the Dr. Seuss collection. This national effort reminds people of all ages, but especially children and young adults, to take time to read every day and to discover and rediscover the worlds of imagination and the benefits of learning and reading," de Jongh said.
This year, Read Across America partnered with the Dr. Seuss "The Lorax" movie, currently in theaters nationwide, to raise awareness of children's literacy efforts. The Caribbean Cinemas theatre has partnered with the first lady by providing "Lorax" movie passes to those students who participated in today's reading at All Saints Cathedral School.
Various activities and events are held across the country on this day to celebrate the joy of reading, including student and educator presentations, reading pledges, book fairs, read aloud events and other observances.
For additional information on the Read Across America initiative, visit www.readacrossamerica.org/