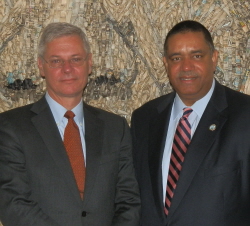 On a busy trip to Washington, D.C., and the National Governors Association winter meeting, Gov. John deJongh Jr. this past week focused on tapping into an emerging export market and ensuring V.I. children are well fed.
Before returning to the territory, deJongh met with Denmark's Ambassador to the United States, Peter Taksøe-Jensen, to discuss energy issues, the growing influx of tourists from Denmark and opportunities for broadening tourism and cultural exchange.
After a meeting with Interior Department officials, the governor attended a Southern Governors Association business meeting focusing on export markets. U.S. Trade Representative Ronald Kirk, Department of Commerce Under Secretary for International Trade Francisco Sanchez and Chairman and President of the U.S. Export-Import Bank Fred Hochberg joined the group of chief executives.
"We discussed how we can grow our economies beyond our state and territorial borders by looking at export markets that would provide new opportunities for our local manufacturers and service providers," de Jongh said. "A lot of good ideas were passed around, and when I return to the territory later this week I will make sure my economic advisors consider how to apply those ideas to the Virgin Islands. It became clear during the meeting that our territory is well-situated to take advantage of international trade opportunities."
The meeting devoted much attention to the upcoming opening of the new, expanded Panama Canal.
"The new canal will result in a tremendous amount of maritime traffic and we need to start looking at how that gives the territory, and St. Croix in particular, a strategic advantage in the area of international trade," de Jongh said.
Many port cities are planning to develop additional infrastructure to handle increased shipping facilitated by the new canal, and Governor de Jongh intends for the Virgin Islands Economic Development Authority to spearhead the territory's exploration of its own opportunities.
"We need to find a way to be a part of that," de Jongh said.
Several months ago, the Virgin Islands received a grant to study the export market and how local companies can access it. The governor noted that exporting is not limited to manufacturing—professional service providers like legal and accounting businesses, a traditional strength for the Virgin Islands, can also benefit from foreign markets. The Export-Import bank provides security and protection for companies that choose to do business with foreign countries.
Later, De Jongh attended a meeting of the Education, Early Childhood and Workforce Committee which focused on ending childhood hunger and food insecurity.
"The two meetings really go together, because to create the kind of business environment we want, we must ensure our children can learn without the obstacles of an insufficient diet and poor nutrition," de Jongh said.
U.S. Secretary of Agriculture Tom Vilsack led a conversation on the Healthy, Hunger-Free Kids Act, which provides funding for school meal and child nutrition programs, and the Obama Administration's greater efforts to ensure all children in the United States receive well-balanced nutritional meals throughout the year, including during their summer breaks.
"We are very fortunate to have a relationship with the U.S. Department of Agriculture that allows us to participate in a number of programs that help feed our children and struggling families while supporting our local farmers," the governor said.
During the meeting, de Jongh emphasized to Secretary Vilsack that it is crucial for the federal government to apply all benefits of the new law to the territories, just as they apply to the states.
"There should be no distinction between what services the Healthy, Hunger-Free Kids Act provides to all parts of the nation, including the Virgin Islands and other insular territories," de Jongh said.
As for his Wednesday meeting with Ambassador Taksøe-Jensen and Ida Heimann Larsen,
Minister-Counselor for Economic Affairs, at the Royal Danish Embassy, deJongh said they shared "ideas on issues at the local, national and international levels, including planning efforts to establish a permanent Danish archive in the Virgin Islands; the Administration's goal to decrease fossil fuel consumption 60 percent by 2025 and the role of renewable energies such as wind, solar and waste-to-energy as part of that comprehensive approach."
The discussion also touched on business development opportunities for Danish businesses in the territory, and DeJongh said planning is already under way for the 100th Centennial Celebration of the Transfer of the Danish West Indies from Denmark to the U.S. in 2017.