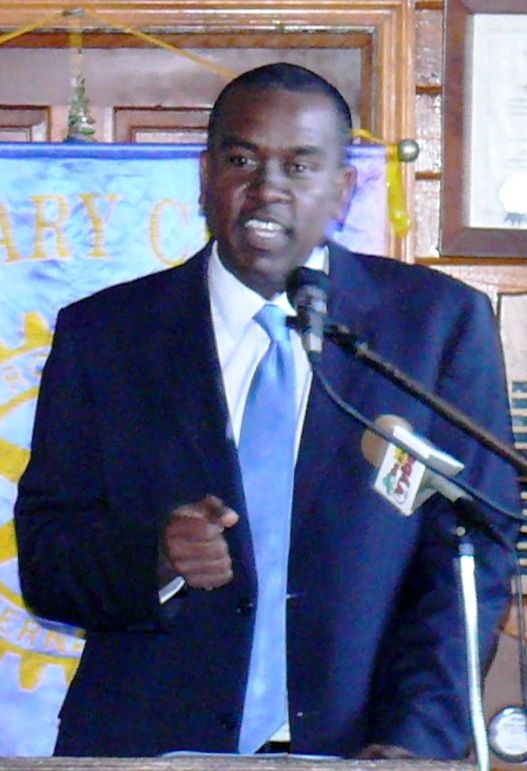 Hovensa's closing will hurt employment and business, but if some large capital projects start soon and the territory capitalizes on sports and medical tourism, expanding outside college admissions and technology industries, it will weather the transition, Labor Commissioner Albert Bryan told Rotarians at Gertrude's on Thursday.
"I think we have to be positive and remember the Virgin Islands may be facing difficulty, but still has an employment rate of 91.5 percent," Bryan joked. "St. Croix still has 90.4 percent working and St. Thomas has 92.3 percent employment," he said.
Although Hovensa recently announced it has completed shutting down the refinery, the loss of several thousand direct and contract employees at Hovensa has not yet flooded the local labor market, Bryan said. The workers still have several months of severance pay and unemployment benefits will not begin until that is exhausted.
Many may find work before their severance ends, so they do not end up using unemployment, Bryan said. But many will not.
Right now, about 1,700 people in the territory are collecting unemployment. Currently the V.I. government is going into debt with the federal government at a rate of $1.5 million to $1.7 million per month. If all the former Hovensa and Hovensa contractor workers hit the rolls right now, the territory would suddenly be borrowing $4 million to $5 million per month, Bryan said.
He said, the territory has to make payments for the first 26 weeks of unemployment insurance, but the next 52 weeks are paid entirely by the federal government, softening the damage.
"I want to be clear there is no need to worry about checks coming out," Bryan said. The federal government will continue to back the payments, but eventually the territory will have to start charging employers a levy to begin paying the federal government, he said. The Legislature repealed an employer levy to cover unemployment insurance some years ago, at a time when the fund was flush, Bryan said. If the levy were reinstated, the territory would still borrow during tight times, but would be able to pay off the debt in better economic times.
Labor is applying for federal grants for training and educational programs for the former Hovensa workers, he said. Ultimately, Labor projects about 40 percent of the former 2,400 or so employees – and their families – will leave St. Croix. Many will probably leave over the summer, before school starts, so families don't disrupt their children's school year, Bryan said.
In the medium and long run, the territory should be able to take advantage of its new technology park and access to serious broadband bandwidth at Global Crossing on St. Croix, he said. Noting many local businesses struggle to compete with online stores, and the businesses that do well tend to be for local services that cannot be shipped in, Bryan suggested that should work in the other direction too. "We should be selling our products to the world the same way," he said.
Investments in education will be critical, and the internet provides opportunities for bright, motivated, educated people regardless of location, he said.
"Anybody here ever play 'Angry Birds'? What if a Virgin Islands youth came up with the next killer app like that?" Bryan said. "It's a simple app, but 30 million people paid a dollar to download it."
Education itself can be a growth industry too, he suggested. If UVI has programs for them, the territory can attract students from the continental U.S. and all over the world with its warm, sunny Caribbean climate.
"Whole towns run on the concept of having a university setting," Bryan said, suggesting that investment in expanding UVI's offerings could bring money into the economy. Students aged 18-22 are fiscally valuable temporary residents, often getting much of their cash directly from their parents and spending it immediately on everything from laundry to groceries to night clubs, he said.
In the short run, getting any major construction project off the ground on St. Croix would be very helpful, whether it is a new sports facility in Frederiksted or work on the long-stalled proposed resort at Williams and Punch, he said.
"If we can get one of these started, it will really put a dent in unemployment," he said.