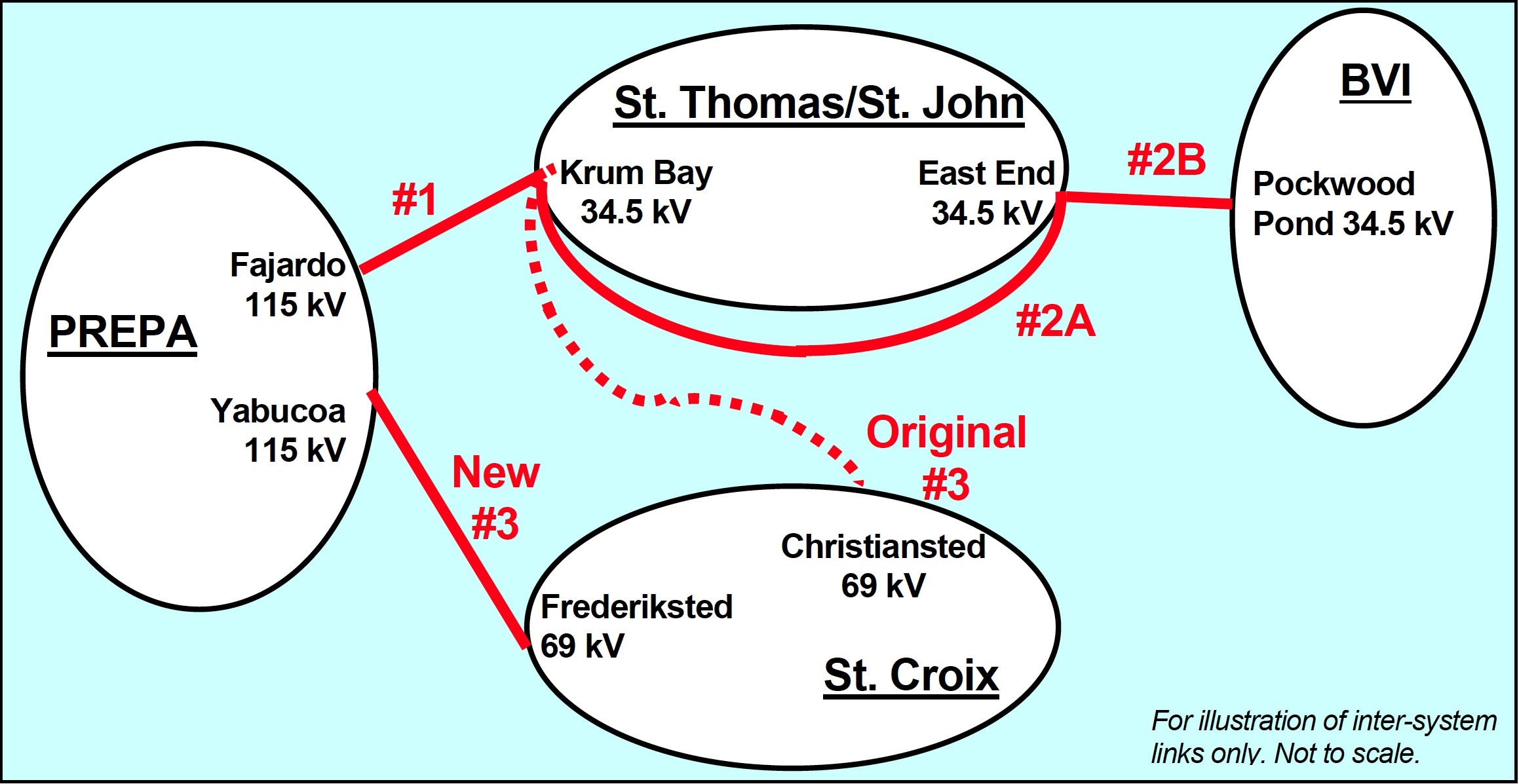 Plans to interconnect the U.S. Virgin Islands Water and Power Authority and Puerto Rico Electric Power Authority into a single grid via deep sea cables got a boost this week when the National Association of Regulatory Utility Commissioners offered a resolution in support of the project, and gave the V.I. Public Services Commission its support for the project,
The project, which has the support of the governors of both territories and officials of both WAPA and PREPA, is aimed at providing more reliable and affordable power to the Virgin Islands and allowing Puerto Rico to sell its excess capacity.
PSC Chairman Donald Cole first introduced the resolution to the utilities commissioners association's Mid-Atlantic Conference of Regulatory Utilities Commissioners, according to a statement from the PSC. After several more steps in the process, NARUC adopted the resolution supporting interconnection between WAPA and PREPA at its February winter committee meetings in Washington, D.C.
In its resolution of approval, the NARUC board of directors said it "recognizes that the Interconnection…will enhance the principles of reliability, economy, environmental protection, and efficiency in the region and therefore NARUC supports the development and construction of the proposed Interconnection between PREPA and WAPA."
This resolution will help efforts to gain federal regulatory and financial support which Gov. John deJongh Jr. and WAPA Executive Director Hugo Hodge Jr. have been seeking from the Departments of State, Interior, and Energy, as well as from Congress.
Financial assistance would be very helpful, but Hodge has said in the past that even without federal funding it may be possible to finance the cables and pay for them over time from the energy cost savings.
In August 2011, the energy technology firm Siemens finished a study that found the interconnection is feasible from an engineering perspective. The study also found that the grid would lower bills, improve reliability and cut down on pollution.
WAPA, which commissioned the study, had Siemens look at several ways of connecting Puerto Rico's electrical grid to St. Thomas, St. Croix and the British Virgin Islands via submarine cable.
The study narrows the field down to three workable interconnections: from Fajardo in Puerto Rico to the Randolph Harley Power Plant's Krum Bay Substation on St. Thomas; two sets of cables connecting St. Thomas to Tortola; and a cable from Puerto Rico directly to St. Croix.
For practical engineering reasons and because of costs, the cables would be installed in phases, starting with connecting St. Thomas to Fajardo, then the British Virgin Islands link, and St. Croix last, Hodge said.
The Fajardo-St. Thomas cable would run across 50 miles of ocean, and could be either AC or DC current, with either 100 or 200 megawatts of capacity.
The BVI connection would have two AC cables: 20 miles from Krum Bay Substation to East End Substation, then another 17 miles to Pockwood Pond Substation on Tortola.
Hodge said last fall after the study came out that it would be difficult to truly tie the entire territory into a single grid because that would require some very deep cables covering longer distances. But connecting to Puerto Rico and Tortola still has many advantages, even without tying the whole territory into one grid.
Puerto Rico electricity rates are currently 20 to 25 percent less than V.I. rates, thanks to a larger grid and a broader selection of energy sources, he said last year.
That would translate into lower savings, because of the cost of the cables and equipment and because only a portion of the power would be supplied by Puerto Rico, Hodge said. While the actual savings will depend on negotiations with Puerto Rico and other factors, a 15- to 20-percent savings would not be surprising, according to Hodge.
Aside from saving fuel and money, the interconnection would make it much easier for WAPA to overhaul its turbines because it could take them offline without stressing the rest of the system, so the entire system would become more efficient over time.
And in a similar fashion, it would make it easier to incorporate more solar, wind and other alternative power sources onto the grid because the grid will be able to adjust more rapidly to changes in power supply and demand.
It would also cut pollution in the territory. With a connection to Puerto Rico, the territory's oil-fired generators would not be called upon to run so much, which is expected to reduce WAPA's carbon dioxide emissions by about 200,000 short tons per year.
Since the territory will still have its own power generation, power will never be dependent on Puerto Rico, Hodge said.