At Dockside Bookshop we are constantly striving to meet our customer's needs. Take a look around the store and you'll notice that we rearranged a few sections to add the Teacher's Corner. This new section features many educational items like charts, maps, games, CDs and DVDs to help our students learn, grow and develop.
Dockside Bookshop – Your Caribbean Bookstore
Our new hours are Monday – Friday, 8am to 6pm
Saturday, 9am – 5pm
Sunday, 11am – 3pm
Book Pick's for the Season
"When the Killing's Done" by T.C. Boyle, Penguin Books, fiction tradepaper, pp. 369, $16.00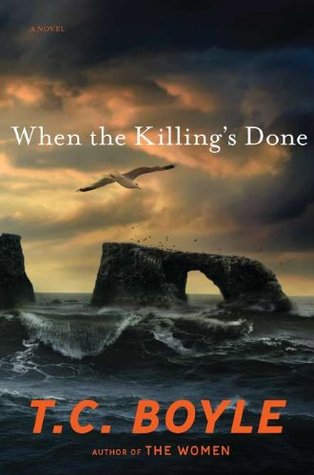 Alma Boyd Takesue is a National Park Service biologist who is spearheading the efforts to save the endangered native creatures of California's Channel Islands from invasive species such as rats and feral pigs. Her antagonist, Dave LaJoy, is a local businessman who is fiercely opposed to the killing of any animals whatsoever and will go to any lengths to subvert Alma's plans. As their confrontation plays out in a series of scenes escalating in violence, drama and danger, "When the Killing's Done"deftly relates a richly humane tale about the dominion we attempt to exert, for better or worse, over the natural world. Combining action-packed adventure with delicious irony and believable characters without one trace of sanctimony, this is one of T.C. Boyle's richest and most engaging novels.
" Dreams of Joy" by Lisa See, Random House, fiction tradepaper, pp. 400, $15.00
In her most powerful novel yet, acclaimed author Lisa See returns to the story of sisters Pearl and May from "Shanghai Girls," and Pearl's strong-willed nineteen-year-old daughter, Joy. Reeling from newly uncovered family secrets, Joy runs away to Shanghai in early 1957 to find her birth father – the artist Z.G. Li, with whom both May and Pearl were once in love. Dazzled by him, and blinded by idealism and defiance, Joy throws herself into the New Society of Red China, heedless of the dangers in the Communist regime. Devastated by Joy's flight and terrified for her safety, Pearl is determined to save her daughter, no matter the personal cost. From the crowded city to remote villages, Pearl confronts old demons and almost insurmountable challenges as she follows Joy, hoping for reconciliation. Yet even as Joy's and Pearl's separate journeys converge, one of the most tragic episodes in China's history threatens their very lives.
"Deceit and Devotion" by RM Johnson, Simon & Schuster, fiction hardcover, pp. 304, $25.00
Johnson will pull you in from the outset. When Nate Kenny convinces Daphanie Coleman to sign over custody of her newborn baby to the father, his ex-wife, Monica, vows to help the young woman. But Monica is still recovering from a gunshot to the head that put her in a coma. Daphanie hires Austin Harris to help win her baby back, but divorced and lonely, Austin falls for Monica and tries to pull her into a relationship – one she is reluctant to start.
Meanwhile, Caleb Harris, Austin's brother, must pay back a loan shark to save his family from home eviction. But debt isn't his only problem-his son has fallen deeper and deeper into crime. And as Daphanie "struggles to win back her child, she must decide whether or not she will live by the rules of a man she despises in order to stay in her child's life.
This electrifying novel features the unforgettable Harris brothers, the major players of Johnson's MillionDollar" series, in a gripping new drama of passion and revenge. "Deceit and Devotion"– a rich tapestry of family, love and loyalty — is not to be missed.
"Hilarity Ensues" by Tucker Max, Blue Heeler Books, humor hardcover, pp. 451, $25.99
This is Tucker Max's third and final book in his series of stories about his drunken debauchery and ridiculous antics. What began as a simple sentence on an obscure Web site, "My name is Tucker Max, and I am an asshole," and developed into two infamously genre-defining books, "I Hope They Serve Beer In Hell" and "Assholes Finish First," ends here.
But as you should expect from Tucker by now, he is going out with a bang — literally and figuratively. In this book, you'll learn:
·
How to live and work in Cancun, while still enrolled in law school,
·
Why Halloween is really awesome,
·
How to subtly torture a high-strung roommate until he explodes with furious anger over a misplaced condiment.
·
What really happened when a dirty pageant girl tried to sue Tucker because he told the truth
·
Why you should never accept a homemade treat from a hippie in a van, and
·
What happens when Tucker Turns sexting into a sport
He's still Tucker Max, and — for one more book — he's still an asshole.
"The Mysterious, Magical Mangroves of St. John, U.S. Virgin Islands" by Caroline S. Rogers, Ph.D., Caroline Rogers, West Indian nature paperback, pp. 126, $30.
The book is a celebration of the extraordinary biodiversity of the mangroves in Hurricane Hole. Hurricane Hole has been a haven for people on boats for hundreds of years, providing protection during hurricanes. Now it is also a haven for very diverse communities growing on the prop roots of the red mangrove trees, which are very fragile.
"The United States Virgin Islands" by Steve Simonsen and Andrea Milam, 34 Main Street Publishers, V.I. Art hardcover, pp. 128, $39.95
Ask 10 different people what they think is special about the U.S. Virgin Islands, and you'll get 10 different answers. There is much to love about this overwhelmingly beautiful collection of islands. Perhaps you cherish the whimsical beauty of the small cays that are nothing more than picturesque rises of sand peeking just high enough above the brilliant blue sea to support a few adorably quintessential coconut palms. Or maybe the majestic, looming presence of the three main islands, St. Thomas, St. Croix, and St. John, is what pulls at your heart strings, with their dominant rolling emerald hills sloping ever so gently to the sea.
Is it the beaches that you drum up in your memory during flights of daydreaming? There's certainly no shortage of those in the USVI, from the finest white powdery sands to curious blue cobblestone fringes, from action-packed stretches to sand lined with vendors and beach bars to secluded strips accessible only by long hikes.
The true spirit of the USVI is sometimes hard to quantify, but renowned island photographer Steve Simonsen somehow captures that which is intangible and shares it for all to experience. When longing for whatever it is that you find special about the islands, flip through these pages and soar in your mind's eye across St. John's breathtaking north shore, through the streets at St. Thomas Carnival, and amongst the historic ruins on St. Croix, and you will be home.