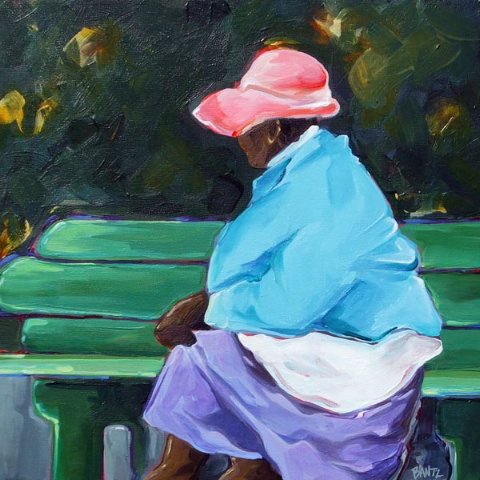 Mango Tango Art Gallery on Raphune Hill (Route 38) will hold an opening reception for the Recollection and Introspection Exhibition from 5:30-8:30 p.m. on Friday, Feb. 24. On view and for sale are the new works of painters Mercedese Bantz and Mel McCuddin.
Talented California artist Mercedese Bantz has presented her work in several group shows at Mango Tango. She is a frequent visitor to St. John where she paints and offers lessons. She feels fortunate to have made a living with a paintbrush for the over 25 years. She derives her livelihood from creating traditional paintings and humorous ones. Her whimsical works have been licensed for dinnerware, clothing, pet products, rubber stamps and gift items. A selection of her entertaining giclees on paper will be on view.
Bantz's part of the exhibition is entitled "Recollection." Her current work captures memories, both the breathtaking and the ordinary. They commemorate the moment. She explains that "I hope I'll never forget how imperative it is to put down the phone, look away from the computer, turn off the TV and get out to look and to breath! When I'm in the moment, with a brush in hand, all is right in my world. I hope you enjoy these moments I've painted."
Gallery co-owner Smokey Pratt said, "Mercedese has created a great body of work. The size of some of her engaging island scenes are as small as eight by eight inches, with two feet by two feet being the largest of her travel scenes. We enjoy the fact that our Bantz collectors join a distinguished list of collectors which include actor James Spader and musician Melissa Ethridge."
Mel McCuddin of Washington state has enjoyed several successful solo shows at the gallery. He also works with several galleries in the Pacific northwest. His division of the show is called "Introspection." His paintings range in size from 28 by 30 inches to 48 by 54 inches.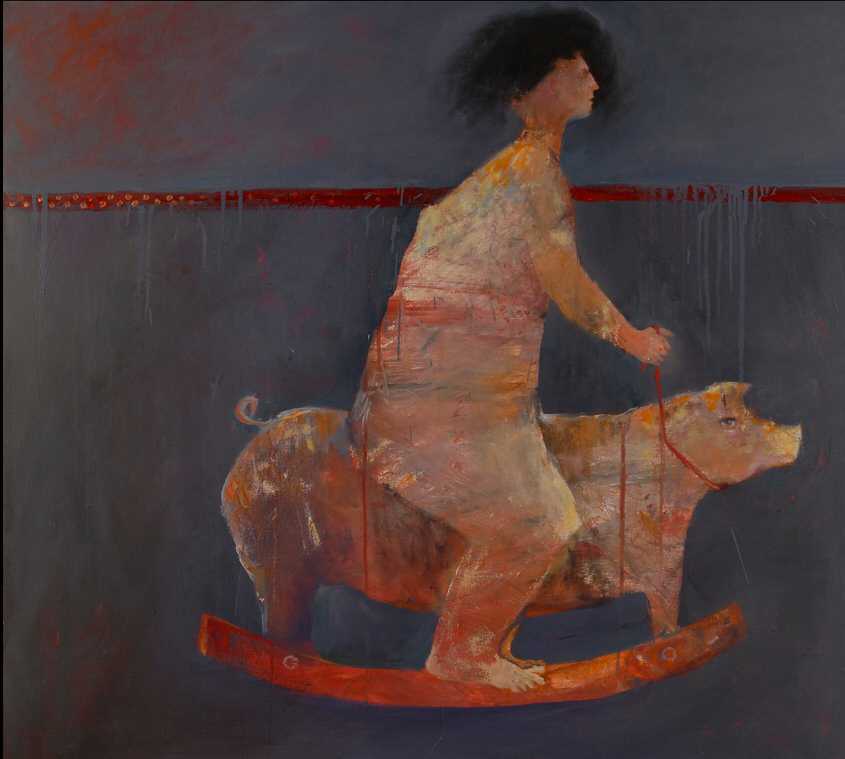 McCuddin explores the human condition in images of people and animals. His process of painting is unorthodox. He pours layers of paint on a canvas, and after they have set a bit, he takes rags, brushes, rollers and his bare hands to rub off sections. At some point during the deconstruction of the layers of paint, he will discover an image that he will develop into a painting. He notes, "I'm definitely not an artist to commission to paint something in particular. I do not begin a painting with a subject in mind."
McCuddin believes that in looking at art it is important to keep an open mind, like a child seeing an object for the first time. He explains that his goal is not necessarily to make pleasing art. He asserts that "while certain viewers may find some of my paintings distasteful, I create all of them to stimulate us, to make us think and examine ourselves and the world around us, and ultimately to enrich our lives."
Gallery co-owner Jane Coombes acknowledges the great impact that a McCuddin painting has on observers. "Viewers either love his work or hate it and they are quite vocal in expressing their opinions. His unusual creativity makes for lively conversation in the gallery."
The band 2 Blue Shoes will play interpretative blues and rock 'n' roll, as well as original tunes, during the evening's rum punch reception. Neighboring Randy's Bistro will offer $12 dinner specials, the regular menu, and a great selection of wines.
At 8:30 p.m., art lovers from St. John can enjoy a free shuttle to Red Hook and hotel guests can enjoy free return transportation.
The show continues for one month. For more information, call 777-3060.