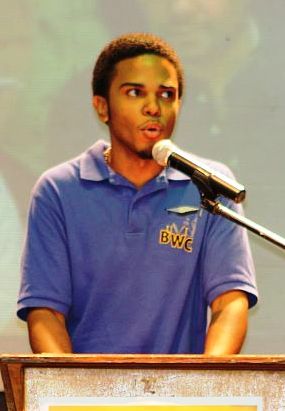 While last year's speakers focused more on money management, this year's Man Up Conference at the University of the Virgin Islands took a more in depth look at what it really takes to be a man and at handling life's responsibilities.
Organizers of this year's conference on St. Thomas said they expected to have more than 2,000 public and private school students in the audience, and while there were a few empty seats in UVI's Sports and Fitness Center, it looked like they were able to achieve that goal.
The bleachers were lined with young men dressed in their school uniforms, and many of them spoke to one another before the conference began about some of the topics they hoped would be discussed this year.
"I want to really hear the speakers talk more about some of the responsibilities we have as men, whether inside or outside of school, and how to deal with them," said Shakim Cooper, a senior at Charlotte Amalie High School. "When I think of the phrase 'Man Up,' that's what comes to mind, handling your responsibilities and working hard to become whatever it is that you want to become."
Cooper's classmate, Malik Francis, said he felt the same way, and was looking for someone to "go up on stage and empower the audience."
"There's a perception in the community about young black men and how we behave, and that is not always the case," Francis said. "I would like to hear from someone who can make us feel good about who we are and tell us how to stay grounded, how to really manage ourselves in today's society."
In an attempt to bring those kinds of lessons to the forefront, organizers of this year's conference took a different approach. Rather than fill the day with a variety of speakers, students watched a stage play entitled "Real Men Talking," in which five men, each at different stages in their lives, spoke about their life experiences, decisions they had to make, and other real issues facing African American men across the nation.
"Our focus this year is more explicitly about what it takes to be a man, and we wanted the students to have a chance to hear the conversations these individuals have about manhood," said UVI President Dr. David Hall after the conference.
"Being a man is not about how strong you are or how many women you have," Hall said, "but about how intelligent you are, how spiritual you are, how you deal with conflicts and support those around you."
Hall said this year's conference also continues to stress the importance of doing well in school and moving onto college – an experience that he said could have a major impact on a young man's life and attitude toward the future.
And while the conference is only in its second year, Hall said it appears to have made a difference in local public schools and on the UVI campus, which has seen its male population increase from 25 percent to approximately 31 percent.
"We are seeing young men who are much more engaged, who are stepping up to be leaders. They even helped us organize this conference," Hall said, referring to an all-male on-campus group called "Brothers With a Cause" that helps motivate students to stay on track and graduate.
UVI works with community organizations and government agencies such as the departments of Human Services, Education and Public Safety throughout the year on other initiatives, including a summer bridge program for seniors, which allows them to come in and improve their skills. UVI also partnered with Education on a Junior University program helping young seventh-graders that had failed their classes.
"Because they were successful in that program, they were able to go on to eighth grade," Hall said. "And it is those small but important differences that we have to keep pushing for. This is a long-term project. We're not going to turn the community around in one or two years, but any difference that we can all make would be a great thing."
Dr. Haldane Davies, special assistant to Hall, said the University is also working on a program called Sisters With a Purpose, which will be focusing on the needs of young women in the community.
Davies said new to the conference this year were adult sessions in the evening that also gave parents and community members a chance to see the "Real Men Talking" production and to give some feedback on some of its issues.
On Friday, UVI will also be giving local youth leaders, counselors and other community representatives a chance to come out and discuss various strategies with the cast of "Real Men Talking." Davies said the session has space for 70 participants and will be held in the Administration and Conference Center.
Also speaking Thursday were Ricky Andino, president of UVI's Brothers With a Cause on St. Thomas; St. Thomas-St. John Insular Superintendent Jeanette Smith-Barry; and Earl S. Johnson, director of the Office of Family Assistance under the U.S. Department of Health and Human Services, who offered a message from President Barack Obama.