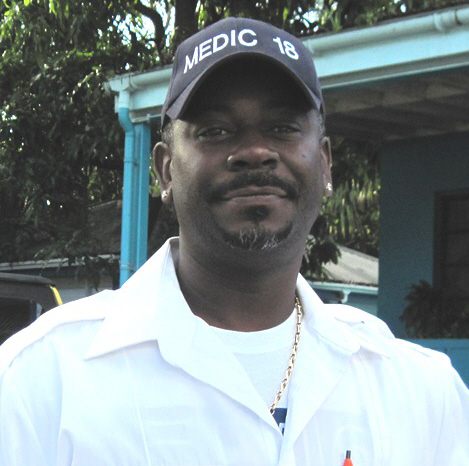 James Petty Jr.'s goal is to help others, and as a crew chief in the Health Department's Emergency Medical Service, he is definitely in the right place.
"It's a rewarding job, and I get to meet a lot of people," he said.
Petty is a paramedic, the most advanced rank of emergency medical technicians. He's able to make a diagnosis, administer medicine and do advanced procedures such as inserting airways. He's also the acting training officer, a job that gives him additional responsibilities as he works to organize training programs for his colleagues.
He's worked for EMS in the St. Thomas/St. John District for 18 years. He said EMS is understaffed due to the government's ongoing financial issues so Petty splits his time between St. John and St. Thomas.
"There are not enough people," he said.
The staffing shortage on St. John means there is only one crew of three on duty at a time. However, Petty said that if the ambulance is out on a call, the all-volunteer St. John Rescue takes over.
He said there is always a paramedic on duty on St. John, and that person gets the job of crew chief. He said that between St. Thomas and St. John, there are seven paramedics on the staff.
"The person at the highest level is the crew chief," Petty said.
However, none of those paramedics live on St. John.
Working on St. John is less hectic than St. Thomas, but Petty said when it gets busy, it all seems to come at once. He said St. John has about 500 calls a year, many of them transports from Myrah Keating Smith Community Health Center to Roy L. Schneider Hospital on St. Thomas. By comparison, he said St. Thomas gets about 3,000 ambulance calls a year.
While the outcome is not always good – some patients inevitably die – Petty said even then he feels he's made an impact on their lives. Petty said he brings new empathy for family and friends of the deceased since he lost his father, James Petty Sr., about a year ago.
"Now I can say, I know how you feel," he said.
He treks over several times a week from his home on St. Thomas to spend 24-hours shifts at the EMS home at Morris deCastro Clinic.
He took the usual path to paramedic status, starting out as a basic EMT. The Health Department offers in-house training and he took advantage of every opportunity, studied hard and became a paramedic in eight years.
He started working for the local government in 1990 as a lifeguard at Magens Bay. He was a volunteer with St. Thomas Rescue, and after more than three years at Magens Bay, he realized there wasn't any room for advancement so he made the switch to EMS.
After attending Lockhart Elementary School, he went on to what was then Wayne Aspinall School, now Addelita Cancryn Junior High School. He graduated from Charlotte Amalie High School in 1987 and attended the Institute of Security and Technology in Florida.
Petty, 42, and his wife, Angela, have been married 13 years. He is the father of Jamesha, 21, James III, 17, and Jamonique, who turned one last week.
When he's not helping others as an EMT, he plays softball with several different leagues.
He paused a bit when asked what was the most exciting thing that ever happened in his life.
"The most exciting thing is that I have life," he said. "And I thank the Lord above for that."