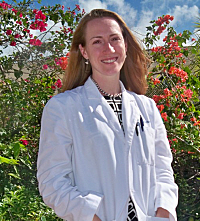 With the addition of orthopedic surgeon Dr. Deborah Appleyard, a spine specialist, to the staff of Gov. Juan F. Luis Hospital and Medical Center, those suffering back and neck pain will no longer have to leave St. Croix for back surgery.
Family members will not have to spend money off-island to be with their loved ones during the procedures. And recovery is easier for the patient with their loved ones close. Lengthy stays stateside for aftercare are eliminated because post-operative rehabilitation is done at JFL under physical therapist Venne Williams, D.P.T.
"I only do surgery when there aren't any other options," Appleyard said. She said the recovery time depends on the overall health of the patient. "Rehab is the final step to get stamina and strength back," she said. "The goal is for people to be able to have an active lifestyle and to be comfortable."
Appleyard moved to St. Croix from North Carolina with her husband and four children who are under the age of five. She also has an orthopedics practice on St. Croix called OrthoCaribbean.
Appleyard grew up in Falmouth, Mass., on Cape Cod. She received her medical degree from the University of Pennsylvania and she did an orthopedics residency and trauma fellowship at Brown University, and her spine fellowship was with OrthoCarolina, in Charlotte, N.C.
Just last week, Appleyard performed the first successful spinal surgeries for spinal stenosis at JFL, among them procedures for lumbar decompression and fusion. Stenosis is the narrowing of the spinal canal through which the spinal cord passes. The symptoms are a limited ability to walk, numbness and pain.
Appleyard said the patient who had surgery on Tuesday was in very severe pain because the stenosis had gone undiagnosed and untreated for a long time. That made the eight-hour surgery a bit more complicated.
Friendly and personable, Appleyard has been at JFL since August, preparing and training key operating room and recovery team members.
"This is an exciting time for change and transformation," Appleyard said. "We want the hospital to be a place that patients are referred into."
She said the professional caring staff came together to make sure the outcome was good. "I tell people you are better off here than you think you are," Appleyard said. "People underestimate what we have here. The resources in people at the hospital are impressive. People are inspired when they can help."
She said the best part of working on St. Croix is the patients; she has found Crucians to be stoic, and very grateful.
"The people here are phenomenal," Appleyard said.