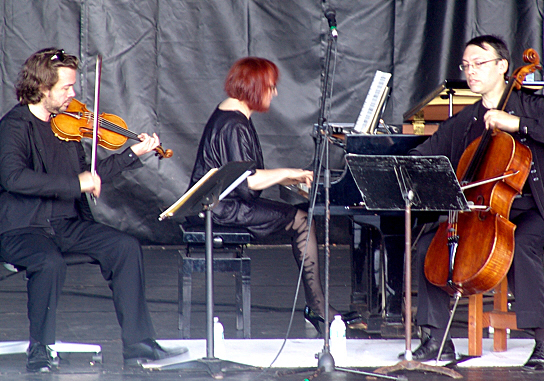 St. Croix students had a lot of questions for the visiting classical musicians at the Island Center Friday morning and covered a range of topics, but the answers kept coming back to one thing – practice.
The New York Empire Trio is on island to perform Friday and Saturday at the St. Croix Landmark Society's Candlelight Concert Series. Friday morning they took part in the Victor Borge Listen and Learn series, performing for about 200 students from public and private schools across the island. The students mostly ranged from about fourth to seventh grade, with a few older kids in the house.
The trio – Entcho Todorov, violin; Kalin Ivanov, cello; and Margrit Zimmermann, piano – performed pieces by Haydn and Dvorak, with Zimmermann talking a little about the artists and the works before they played. And though their English was a little labored – they are all originally from Eastern Europe – and the music not the usual island fare, they held the audience's rapt attention throughout the hour-long program.
The three met in New York City, where they now live, and have performed together since 2007, Zimmermann said. Playing together is a little like sitting and talking with friends, she said. There's a communication that takes place that transcends one person playing alone.
"It's like sitting at home alone or talking with friends," she said.
When the floor was opened to questions from the kids, more than two dozen came down front to take their turns at the mike. But though the questions were all over the board, the answers were usually pretty similar.
Does it hurt your neck to hold the violin under it so long? It did a little when he first started playing at the age of 5, Todorov said. But after years and years of practice it doesn't any more.
Do you get tired playing the piano so fast, one girl asked. Does it hurt, another child asked, No, Zimmermann said, because she practices so much. "But if I stop practicing I would probably get tired," she said.
How can you play so fast? "When I started I couldn't, it's like a baby can't run right away," Zimmermann said. "But I practice and practice and now I go fast."
In fact, as the children asked a variety of questions about all three, the answer often came back to the same issue. Each had been playing their instrument since about the age of 5, and through practice and hard work have become international stars.
"We've been almost everywhere," Todorov said. "From Europe to Asia and now the Caribbean. here we are! It's amazing. And on to South America. And we meet so many people."
But even though they now have careers performing and teaching their instruments, there's one thing that never changes. Practice. Eight hours a day and sometimes more, Todorov said. Because that's what you have to do to succeed.