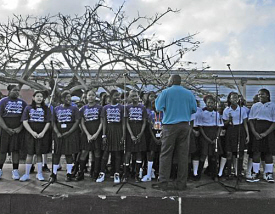 Hundreds of Addelita Cancryn Junior High School students gathered together Friday morning to honor the man who so vastly has influenced their lives that a national holiday was named in his honor, the only American besides George Washington to earn that distinction.
It's something many say the eloquent visionary and leader Martin Luther King could never have imagined.
Though the holiday will be observed with much pomp and fanfare over the nation on Monday, the official observance of his birthday, it would seem King might appreciate the simple, sweet celebration in words and song the Cancryn students performed in his memory, an annual observance.
Choir director Malvern Gumbs opened the sun-filled morning ceremony with his concert choir, who marched up to the small platform in their maroon and white school uniforms, socks pulled up smartly, posture correct, and whose voices rang out over the outdoor quad, in a robust rendition of the national anthem.
Their audience, some 600 strong, gathered under nearby shade trees joined in for a hearty burst of song, the traditional "V. I. March."
Eighth graders Imai Demming and Sean Hennesey shared the master of ceremonies duties like pros.
Demming, who said she had never been on stage before, was shy in an interview, but spoke with aplomb on the stage. After a trio of students sang a tribute to King, Demming said to her audience: "Now, wasn't that lovely? Give them a hand."
Principal Yvonne Pilgrim reminded the students of the days when blacks weren't even allowed to be in school with whites, when prejudice reigned, explaining King's significance in life today. She quoted from King's famous speech, "of the day when we will not be judged by the color of our skin, but by the content of our character."
"A part of showing our character," Pilgrim said, "is saying no to a C grade, yes to an A."
Students from Lorna Daniel's social studies class did a recitation about King's life. "Dr. King believed one day racial inequalities would be over," read one student. "This dream and promise were realized in the election of the first African-American president, Barack Obama," read another.
"What can young people do to help perpetuate Dr. King's dream?" asked the next. "As students we must live the dream and portray positive character traits such as honesty, trustworthiness, integrity and responsibility," concluded the last student.
The class followed with a display of banners they had made of selected quotes printed out on computer paper. "I asked each student to select a quote, make a banner and write a paper about it," Daniels said, holding up her favorite: "We must learn to live together as brothers, or perish like fools."
In what was likely the most moving moment of the morning, the choir took the stage, gathered closely together, swaying in rhythm to raise their young voices in a poignant rendition of the familiar cry, "Free at Last."
The choir has won the Moravian Choir Competition for the last three years under Gumbs' direction. Speaking later, Gumbs, who came to Cancryn four years ago from Dober Elementary School after it closed, said with a proud smile that he really couldn't reveal the secret of the choir's success. It's practice, he allowed, but school spirit must have something to do with it, too.
The morning concluded with all 600 some students forming a huge circle, holding hands, in a rousing rendition of, what else? "We Shall Overcome."
Art teacher Leba OlaNiyi announced a march and rally to be held Monday in King's honor. Students are to assemble at Market Square at 9 a.m. to march at 9:30 from there to Emancipation Garden for a 10 a.m. rally.
"Remember," he told the youngsters, "Dr. King was not only a dreamer, he was a doer. You have to be doer too."