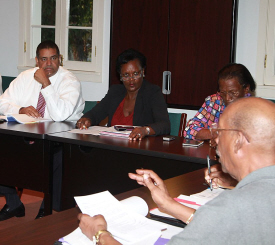 Civic group Our Town Frederiksted discussed economic development projects and revitalization initiatives for the historic St. Croix town with Gov. John deJongh Jr. and his cabinet Wednesday evening.
The follow-up meeting with OTF's members and board of directors was held at the Arthur Able Complex and focused on resolving several issues of concern that had been raised at their first meeting in November 2011, according to a Government House statement.
Discussion covered a wide swath of topics, including: economic development; expanding an enterprise zone in the town district; street and beach cleaning; garbage removal; public safety and fire protection; the status of the Paul E. Joseph stadium; the William and Punch hotel development project; repaving and resurfacing of roads in the town district and the overall development and implementation of a Frederiksted town plan.
"Frederiksted's unique attractions and charm are intricately linked with the history of St. Croix and the Virgin Islands, and preserving its beauty is key to our economic and social progress," deJongh said in a statement after the meeting. DeJongh praised OTF, calling it "a greatly respected organization that continues working with the government on a plan of action for Frederiksted in both the short and long terms."
To succeed, "we must make sure to maintain a collective approach, with non-profit and government agencies effectively coordinating on public safety, economic development, revenue generation, health, as well as historic, cultural and educational projects," deJongh told the group, according to Government House.
The governor was joined by officials from the Virgin Islands Police Department, the Economic Development Authority, Waste Management Authority, V.I. Fire Service and the Department of Housing, Parks and Recreation. Government officials met with OTF members Hugh Payne, George Flores, Al Franklin, George Suarez, Pacquito Melendez, Roy Rogers, Leana Schulterbrandt, Anesta Doward and Terry Vanterpool.