After a long tramp into Christiansted at the crack of dawn with the imitable Stanley and the Ten Sleepless Knights, hundreds feasted for free, laughed and joked with friends, and jumped to the music Thursday at the annual All Ah We Three Kings Day tramp and Cruzan-Rican Breakfast. The tramp, which is usually held on Jan. 6, was held a day early to avoid conflicting with the Children's Parade.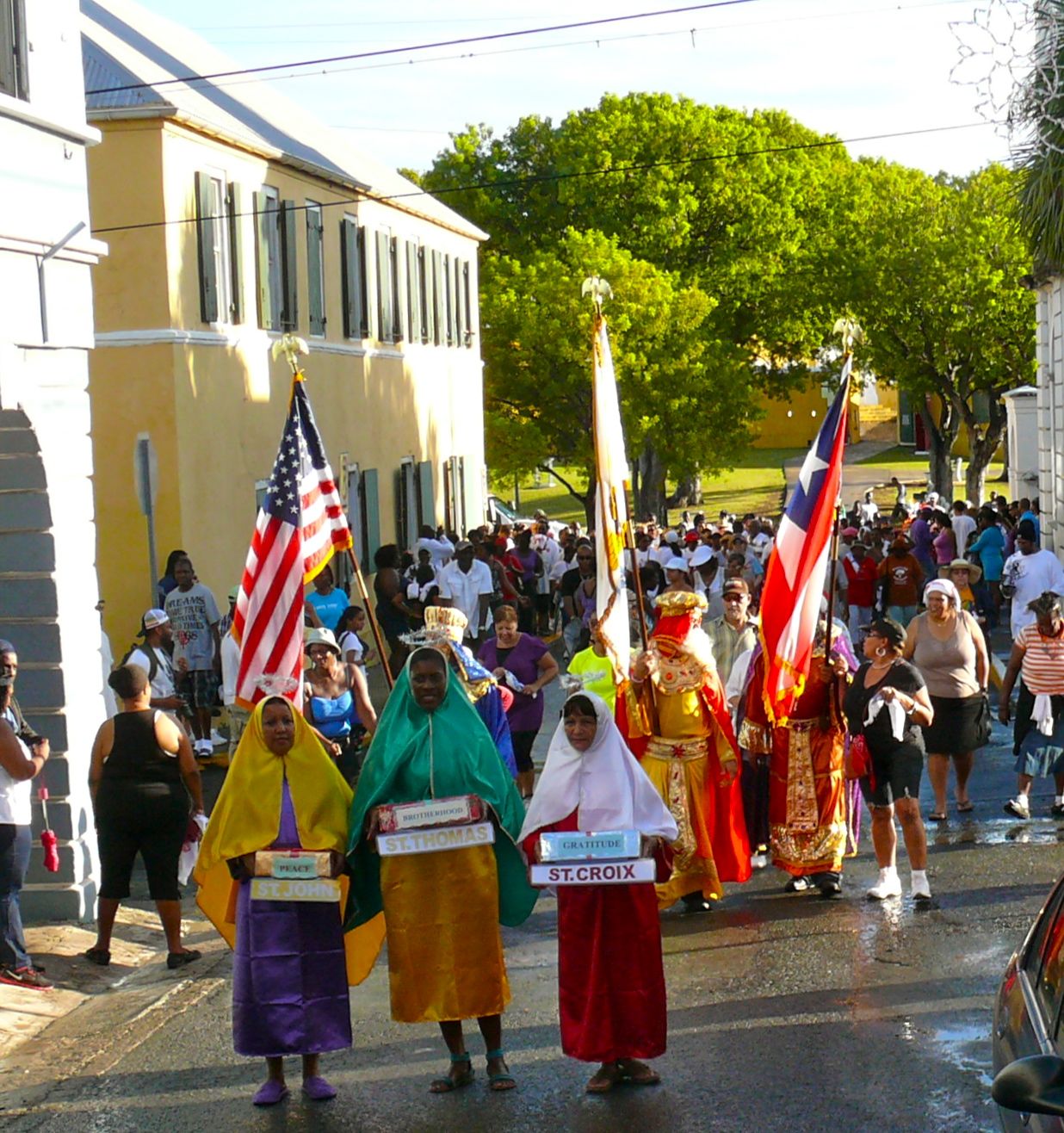 At 6:30 on the nose, the tramp started at Bassin Triangle, flowing through town behind Stanley and the band as they played quelbe Christmas carols, and arriving at the Christian "Shan" Hendricks Vegetable Market, where volunteers began serving up plates to the throng. Heading up the parade were three ladies with colored scarves over their heads, gifts in their hands, and signs saying St. John- Peace, St. Thomas – Brotherhood, and St. Croix – Gratitude.
"We are the three virgins, for the three islands," said Luz Sierra, representing St. Croix. Alicia Sykes was St. Thomas and Elizabeth Torruella portrayed St. John. This is the first time they have marched as the three virgins, Torruella said.
Next up were the Three Kings, of course, three men in beards and robes, wearing crowns and carrying flags. Sen. Sammuel Sanes, playing the middle king, said he and others had been marching as the three biblical kings for six years now; five times in the adult parade, twice for the Cruzan-Rican Breakfast Tramp, and three times as part of a Three Kings Day children's party in Estate Mathew Charles.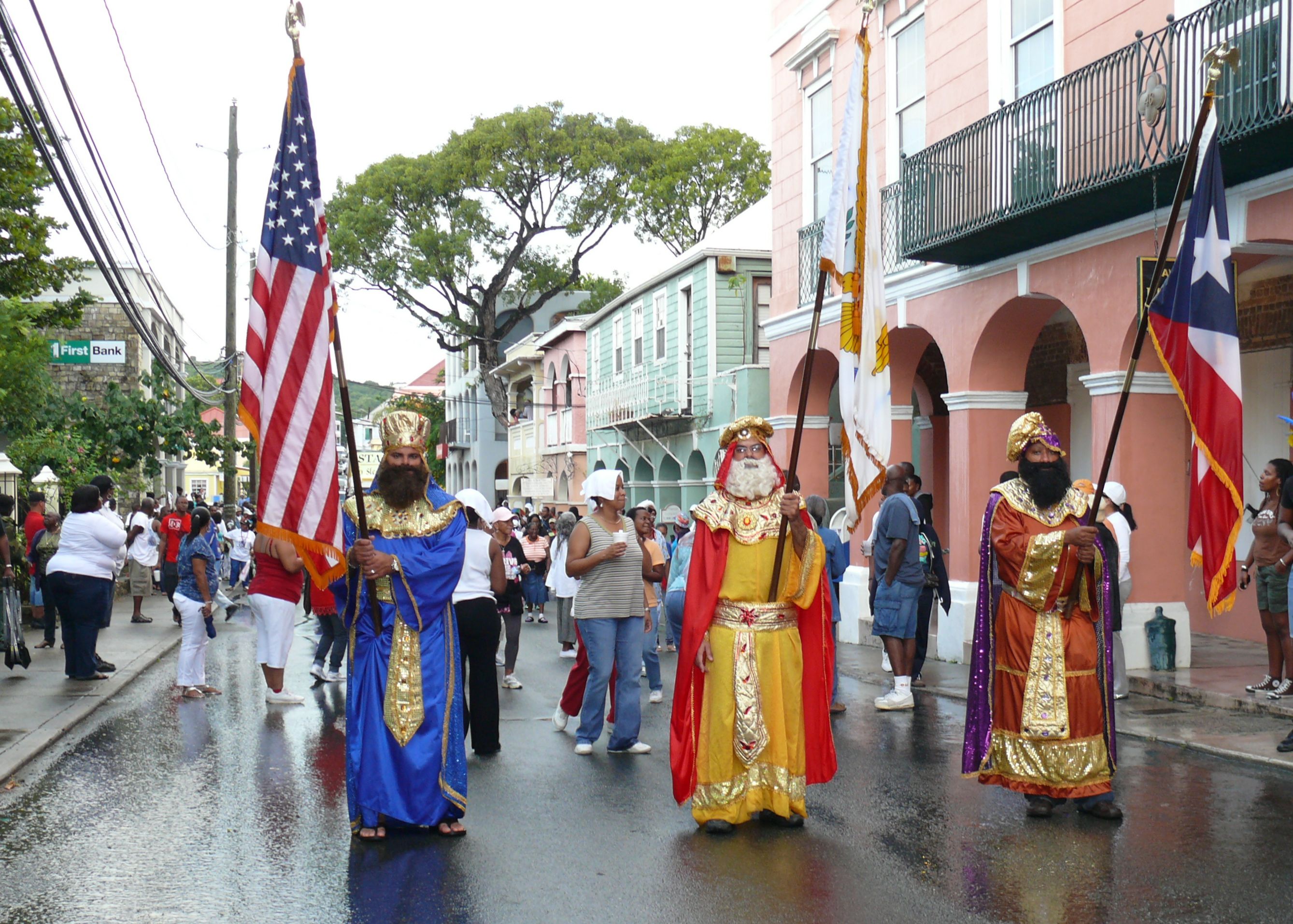 Behind the kings, Stanley and the Ten Sleepless Knights slowly worked their way through town on their parade truck, while a massive throng crowded all around, dancing and tramping to the music until they finally arrived at the Hendricks market around 8:30 a.m.
Many of the cooks and revelers come back again and again, forming their own traditions as the breakfast and tramp grows year by year. This was St. Croix resident Gloria Gordon's fourth breakfast. She donated food, frying up spicy baccalaito (saltfish cakes) for the throngs.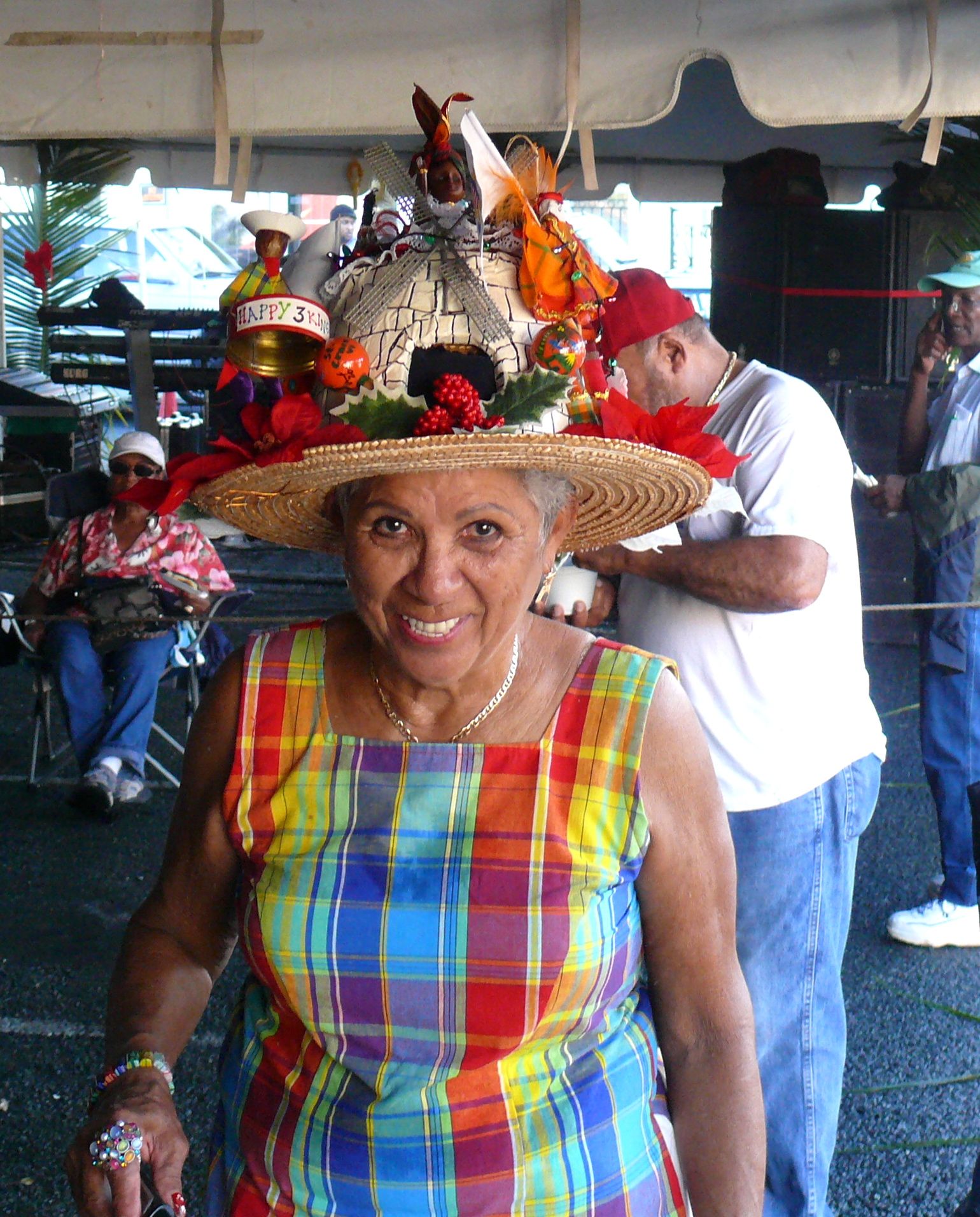 Gordon also likes to celebrate Three Kings Day by crafting and wearing a different festive hat with seasonal and cultural elements. Last year, her creation included the three kings, the baby Jesus, and horses. This year, a Danish windmill formed the centerpiece, with a flag-waving mocko jumbie and a madras-clad figure dancing amid holly sprigs, red poinsettia leaves and brightly colored Christmas tree bulbs around its base.
Wanda Belardo and her family have been cooking up food and serving it to the breakfast throngs since 2005. This year, she and her team brought roast turkey, peas and rice, green fig banana, kallaloo, a rich, seafood-packed "man soup, and a whole roast pig, carefully grilled over local charcoal by husband Gilberto "Jun" Belardo.
"Everything is donated by the people," Wanda Belardo said. "Everyone brings different dishes, all the food is free for everyone who comes and the bands are all playing for free. We have Stanley, Digital Band, and Image Band today, all performing at no charge as a gift to the community," she said.
For some, it was their first Cruzan-Rican breakfast tramp.
"I'm so glad we got to do this," said Irene Hedman, there with husband Les Hedman. They live in San Francisco, but Irene grew up on St. Croix and moved to New York, then California. Now, they are back, to build a home to retire to, she said. "this is my first festival in 25 years." This Latin-flavored breakfast had not yet begun when she was on St. Croix as a child, she said. With all the food being given away for free, the tramp was really in the spirit of the Christmas season, she said.
The sky unleashed heavy downpours on revelers not long after the tramp began, but high spirits returned minutes later as the skies cleared, and the somewhat dampened crowed resumed dancing to the beat of the band. With St. Croix's Digital Band and Image Band getting the market square crowd jumping, the street party and holiday feast kept rolling along until after noon, when, tired and full, the revelers began drifting off toward home.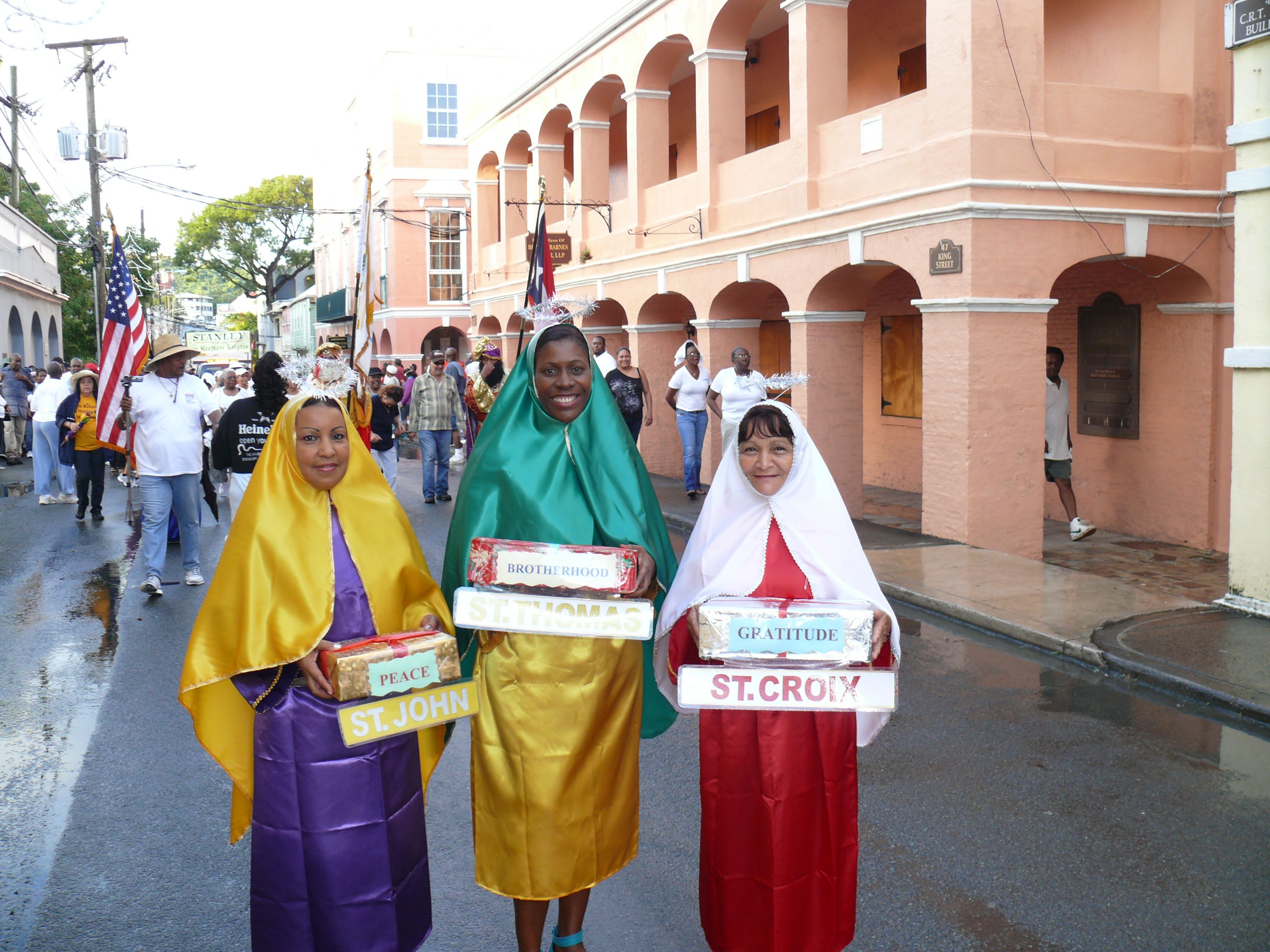 The Crucian Rican Breakfast and Three Kings Day March began in 2005. George "Bagoon" O'Reilly, a popular radio host and stalwart supporter of the St. Croix Christmas Festival who passed away in 2008, started the tradition and spearheaded it for its first three years, along with Lt. Gov. Greg Francis. O'Reilly and Francis, then the St. Croix administrator, decided to start a teetee bread bake-off and hold it on the first Tuesday of the year, which happened to be Three Kings Day in 2005.
Francis continued the tradition after O'Reilly's passing in 2008, and the festivity is now in its sixth year. Three Kings Day itself is Jan. 6, and represents the three magi from the East who gave gifts to the baby Jesus. It is a major part of Christmas celebrations in Puerto Rico. On the night of Jan. 5, the three kings visit children who have conveniently left a box with grass for the magi's camels under their beds, and the kings leave presents in return.