The Roman Catholic cathedral in downtown St. Thomas was filled to capacity Monday with a crowd spilling onto Lower Kronprindsens Gade as young and old, classmates, friends and family members of Kimberly Brin turned out to pay their final respects to the 17-year-old who all who spoke said had a love for life that overflowed onto everyone she met.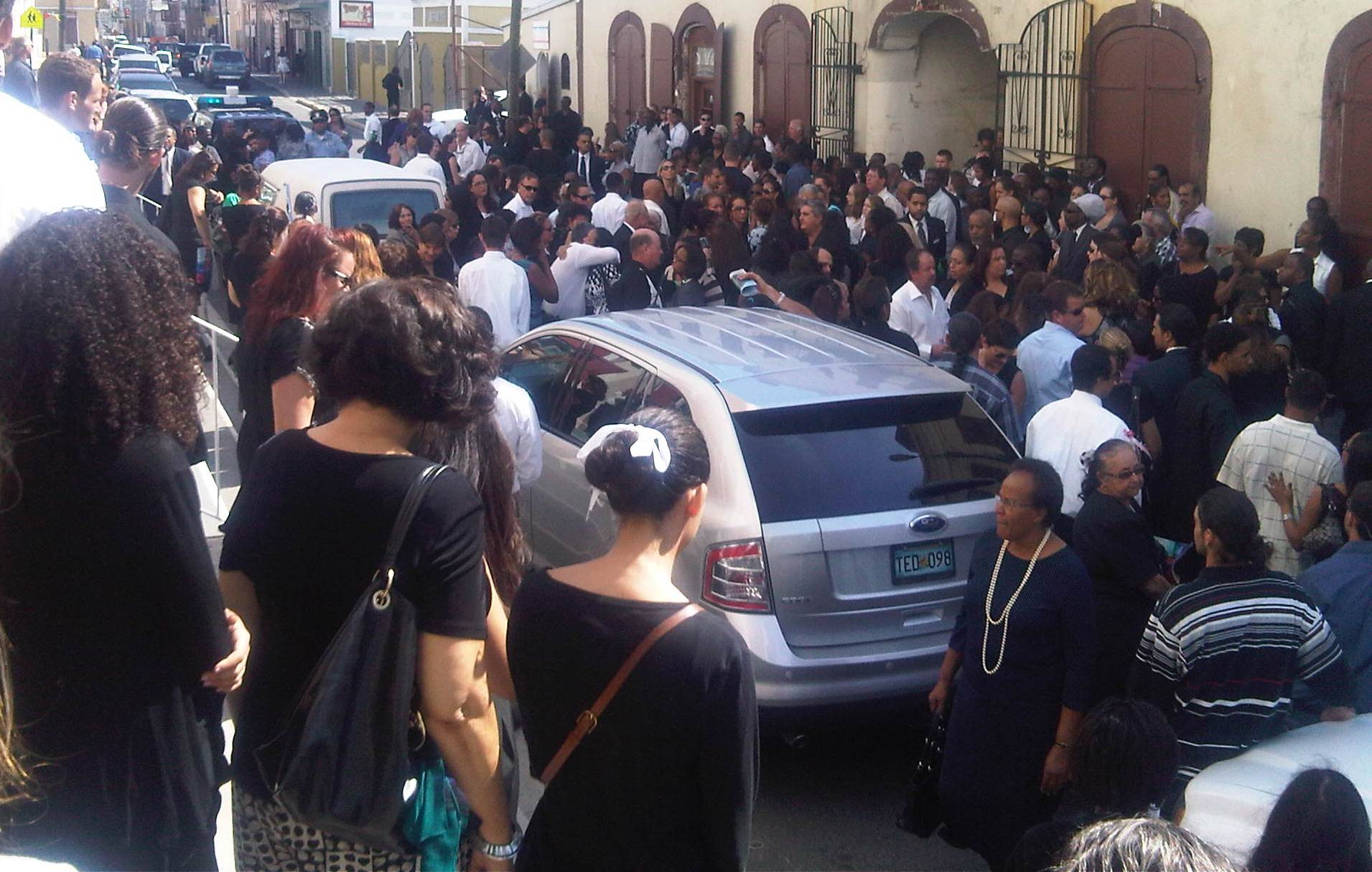 The mass, at Sts. Peter and Paul Cathedral, was held two weeks after the college freshman died from injuries sustained in a motor vehicle accident on Dec. 4 in Virginia. She was a student at Christopher Newport University.
News reports on the day of the accident, said that an alleged drunk driver going the wrong way on Interstate 64 collided head-on with the vehicle in which Brin was riding. At the time of the accident, the wrong-way driver was awaiting trial on pending driving under the influence charges dating back to September. Another passenger in the car was killed on impact and three others were injured. Brin died the morning after the accident.
"From an early age, this little girl made friends everywhere. She hugged everyone, and she had a big impish smile that almost made you overlook the fact that she was often in mischief," said her aunt, Gerianne Ledee, who offered the eulogy.
Brin was remembered for her two favorite places, the islands of St. Barts and Hans Lollick. "From the age of two, Kimberley and her family made annual trips to St. Barths. Kimberley made friends with everyone, young and old, English speaking or not. Kimberley seemed to know everyone in the neighborhood. She loved to wander, and even as a tiny little kid, when her parents couldn't find her in the house, they knew she'd be down the road keeping two little old ladies company," Ledee said, adding that,"Kim was in her glory," on trips to Hans Lollick with her family, where she loved to camp and fish. "Kimberley was a tough little kid, and nothing stopped her from doing the things she wanted to do."
Ledee recalled her niece's love for life. "Kimberley was a very loving young lady, and always gave from her heart. She had a delightful laugh and when she smiled it lit up her face because it came from inside.""We don't know why Kim was taken from us so young," Ledee said. "It's not fair, and it hurts.". But, Ledee said there was a message in Kimberly's life,"she loved deeply."
During his sermon, newly ordained priest, Rev. Eduardo Ortiz Santiago, urged the faithful to lean on the power of prayer to see themselves through the dark days of grief. "Many of us here today may question the Lord about why Kimberley was taken from us at such a young age, we grieve over the loss of this young and vibrant life yet we must turn to prayer."
The message was echoed by Bishop Herbert Bevard who concelebrated the funeral mass. "Like Kim's mom, I too wish that I had a magic wand that could remove this tragedy which has affected all our lives. But we don't have such a magic wand." He said those who loved Kimberly must rely upon God for comfort.
Before the funeral mass, several teary-eyed and at times, barely-composed members of the All Saints Cathedral School Class of 2011 spoke about how their classmate, Kimberley Rita Brin, touched their lives. Many reflected on experiences at school, at social events, as they communicated through social media, all said she will be sorely missed.
Through the almost ninety-minute funeral mass, tears flowed freely from the grief-stricken, many sobbing openly as prayers were offered and hymns were sung. One hymn, "On Eagle's Wings", set the tone for the funeral service, "And he will raise you up on eagle's wings, bear you on the breath of dawn, make you to shine like the sun and hold you in the palm of his hand."
An eerie silence filled the cathedral as the funeral director and six pallbearers escorted the casket of the St. Thomas teenager to a waiting hearse to begin the journey to her final resting place, Our Lady of Perpetual Help parish cemetery in Estate Mafolie. For more than 30 minutes after the service ended, hundreds remained on the lower Main Street roadway seeking an opportunity to personally extend condolences to Brin's parents, Albert and Celeste Brin and an older sister, Shanelle Brin.
One person in the crowd remarked on the turnout, "Kimberley was just an amazing person. At 17, she possessed an uncanny ability to fill this cathedral with mourners, many of us still in disbelief that this young and promising Virgin Islander is no longer in our midst."