Sustainable tourism in harmony with culture and heritage: this could be the perfect combination for economic growth on St. Croix, if a coalition of organizations and individuals committed to the cause has its way.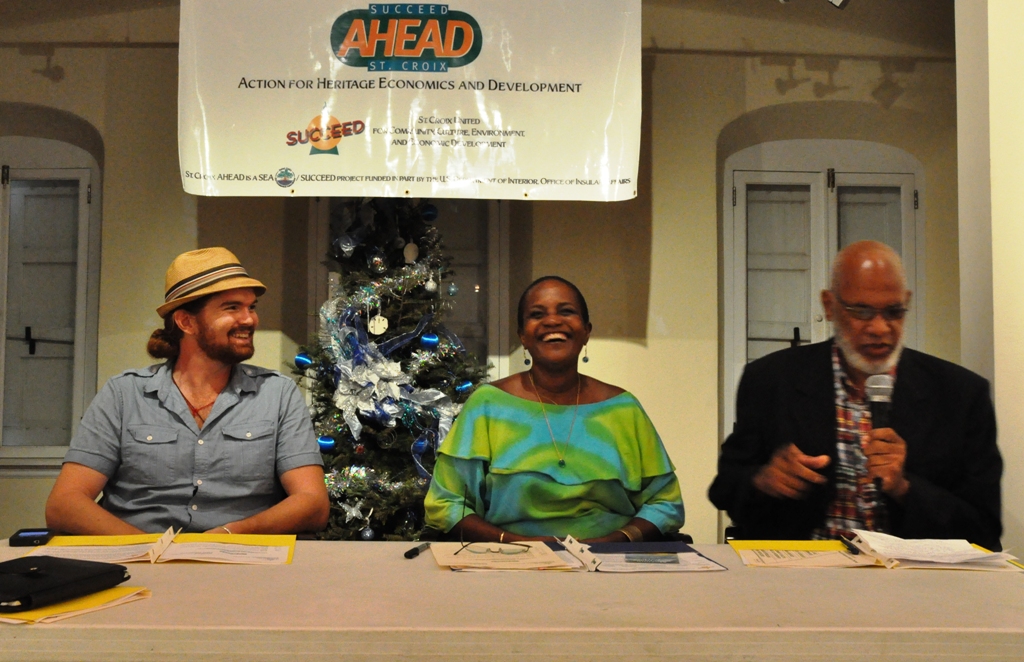 The St. Croix Unified for Community, Culture, Environment and Economic Development (SUCCEED), was formed in 2006 as a coalition committed to "smart growth" in finding ways to jump start the St. Croix economy and renew tourism on the big island. Monday, the coalition presented their ideas in a press conference held at the Caribbean Museum Center for the Arts in Frederiksted.
In September, the territory received $300,000 in technical assistance grants from the U.S. Interior Department's Office of Insular Affairs for cultural tourism development and environmental health and anti-gang projects.
Part of the funding will go toward two of SUCCEED's projects to improve cultural tourism development. The first, the "St. Croix Action for Heritage Economics and Development (St. Croix AHEAD)" will focus on laying the groundwork in trying to get St. Croix designated as a National Heritage Area, which needs Congressional approval.
In addition, St. Croix AHEAD, a joint project of SUCCEED and the St. Croix Environmental Association, plans to take steps in revitalizing the St. Croix Heritage Trail project, as well as focus on producing a booklet on migration of St. Croix's maroons – enslaved Africans who escaped from the plantations to find freedom in Puerto Rico and elsewhere.
In her opening remarks, Claudette Young-Hinds, SUCCEED's President, explained the importance of sustainable tourism as opposed to conventional tourism in relation to the project. To illustrate the difference, Young-Hinds pointed out that if conventional tourism actually worked, the employment rate on St. Thomas would be lower than that of St. Croix.
"We know that if conventional tourism was the way to go, than the unemployment rate on St. Thomas would be significantly better than on St. Croix, because virtually every beach is developed with a hotel: it's a conventional approach," Young-Hinds said. "You've got Main Street, which is duty free shopping – a conventional approach – but we don't see a difference in the quality of life or employment."
Sustainable tourism, on the other hand Young-Hinds said, is different because it truly benefits the community by focusing on culture and heritage.
The second project is a territory-wide USVI Heritage Tourism Survey, which will be conducted by Ph.D. candidate Nate Olive, who is the Director of St. Croix's Ridge to Reef at the V.I. Sustainable Farm Institute.
The extensive study, which will last for one year, will compare actual tourism market segments with the preferences and perceptions of local tourism stakeholders, and will address the distinct natural and cultural characteristics of St. Thomas, St. John, and St. Croix.
Olive has been working on his dissertation for the University of Georgia since 2006 examining geotourism in the V.I. He has also been designated a National Geographic Society Geotourism Ambassador.
"The territory-wide survey will let us do some really neat things. It will allow us to look at tourism profiles … to identify the markets that will link well with the product on St. Croix," Olive said. "Also it will be benefitting St. Thomas and St. John as it will provide information, basic demographic information, but also batteries on motivation – what is motivating people to come to the U.S. Virgin Islands?"
The study aims to distinguish the USVI as a unique destination from other Caribbean islands, and will provide a solid basis for development of public policy, business counseling, and public education.
Paul Chakroff, the Executive Director of the St. Croix Environmental Association, said that he never saw a conflict between environmental conservation and economic development and pointed out that both go hand in hand.
SUCCEED member Dr. Olaf Hendricks provided commentary on the impact of youth violence and gangs in the territory, and said that it's up to the adults to provide the morals and values to the youth of the future because they will be responsible for carrying the tourism of the future.
"We must find the common denominator that we all want to be able to live in a place that is best for us," Hendricks said. "We can never move tourism to the point where it belongs until these human resources on these islands become more intimately involved," he said referring to the youth.
Basil Ottley, from the Interior Department's Office of Insular Affairs, participated via phone. He thanked the audience and said how excited the office was to be able to provide funding for a project involving heritage and culture.
V.I. Delegate to Congress Donna Christensen has worked for years to get the study done, and is planning on introducing legislation to get St. Croix designated a National Heritage Area, which she feels confident will happen.
"We have every intention of seeing this mapped out. I have every confidence that we will receive a designation," Christensen said. "It's really just a matter of when because these things can take time."
Both projects will likely have a positive impact on aiding the process, but the coalition said, regardless of the designation, they plan to work intently over the next year towards achieving success.
SUCCEED's office and headquarters are located in The Caribbean Museum Center for the Arts, a non-profit 501 (c)(3) organization dedicated to the advancement of the arts and education in the U.S. Virgin Islands.
For more information about SUCCEED, contact them at 340-773-4990, or email them at stxahead.succeed@gmail.com.