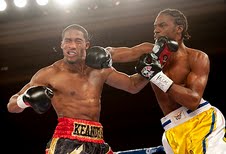 It was a little after 4:15 a.m. Saturday when the cell phone lit up with a text from V.I. boxer Julius "The Chef" Jackson.
"Both new champs!" the message said. Just a couple hours earlier, at the Mandalay Bay Resort and Casino, Jackson's brother John Jackson and cousin Samuel Rogers made their successful Las Vegas debut in bouts scheduled during the World Boxing Council's 49th Annual World Convention, both winning by knockouts.
Both boxers had been training for the past month for the bouts, including doubling up on their already intense workout routine and spending extra hours in the sparring ring and on the bags. Time was also spent carefully studying footage of their opponents, Keandre Leatherwood and Jamar Freeman, two similarly undefeated fighters that many said posed the biggest challenge for the V.I. boxers to date.
To sweeten the deal, John Jackson was fighting for a vacant Youth WBC super welterweight title, while Rogers was a contender for the vacant WBC FECARBOX belt. From the beginning, however, both boxers remained confident in their abilities to deliver a KO, and it seemed Saturday morning that all their hard work and dedication had paid off.
"We did it, we did it," John Jackson said in a phone interview after his fight with Leatherwood, whose record is now 9-1 with 6 KOs. "He came out boxing, but I caught him some good punches. The guy was aggressive, he was very tough, but when I landed a few punches, he backed off."
While the fight was scheduled to go 10 rounds, Jackson had predicted early on that his opponent would not last that long against him in the ring.
"At one point, my shoes were slipping and sliding, but I adjusted and started to sucker punch, and I was able to stop him in the sixth round," he said. The win brings Jackson's record up to 12-0, with 11 knockouts.
340 Boxing President Jose Rosario said that the convention's fight night was attended by 1,200 WBC delegates, including several former world champions that were all in the front row watching Jackson fight.
"And it was Marvelous Marvin Hagler that put the belt on John after he won," Rosario said Saturday, referring to the great middleweight champ of the 1980s.
Rogers got a similar nod from heavyweight boxing great Mike Tyson, who came up and congratulated him after his fight with Freeman.
"Man, it was amazing," Rogers said on the phone. "Tommy Hearns also came up to meet me, and it was an honor." Hearns, first fighter in history to win five world titles in five different divisions, is perhaps best known for a legendary 1981 showdown with Sugar Ray Leonard.
Rogers was initially scheduled to make his debut against a fighter out of Houston, Texas, but the fight card got changed about two weeks before the fight. At a press conference on Dec. 2, boxing officials announced that Rogers had also been booked for a title bout, making the stakes even higher for the V.I. contingent as they left for Las Vegas.
But Rogers also remained confident before heading out to the fight, and stuck to his strict eating and training routine.
"The fight was great," he said Saturday after going 10 rounds with Freeman. "In the first round, I went out there, executed my jab, and kept listening to my corner. In the fourth round, he caught me a little lucky punch and had me stumbling a little, but I caught myself and went back in.
"Toward the end, I could see that both of his eyes were closing, so I hit him with a couple of body shots. I was trying to get in my right hand, but he seemed to be avoiding it, so in the last round, I picked up the pace a little bit, and I knocked him out."
The win pushed Rogers' record up to 11-0 with six knockouts.
In the boxers' corner at the fights was three-time WBC champion Julian "The Hawk" Jackson, who was also honored at this year's convention. Speaking over the phone Saturday, Julian Jackson described the event as "tremendous," and said the boxers went into the ring calm and collected.
"It was just like any ordinary fight – they were treating it that way," Julian Jackson said. "This is a tremendous step up for them. They were hungry, they wanted it, and they were not nervous or overwhelmed. They were right where we wanted them to be, and I knew when they went in there, they would give it everything they got. This is really the beginning of bigger things for them."