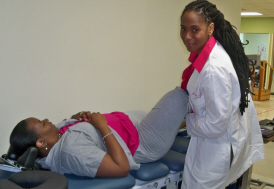 What could be better than outpatient rehabilitation in America's paradise? In addition to sun, sand, sea, St. Croix also boasts state-of-the-art rehabilitation services at Gov. Juan F. Luis Hospital and Medical Center (JFL).
The hospital, as a way of increasing revenues, is looking to promote the island hospital as a rehabilitation destination for outpatients.
Pamela Toussaint-Sanes, communications and community coordinator at JFL, said there have been discussions with the Department of Tourism to consider rehabilitation as being part of destination tourism.
According to Toussaint-Sanes, the goal of the caring and friendly rehabilitation staff is to help those they serve live the most active life possible.
Helping people to live active lives is Venné S. Williams, doctor of physical therapy, who is serving as the director of rehabilitation services.
Williams was born and raised on St. Croix and received her physical therapy degree at Florida A&M University and doctoral degree at Virginia Commonwealth University Medical College of Virginia. She has over 10 years of experience in health care in the field of physical therapy. Her experience encompasses acute care, orthopedic therapy, cardiac rehabilitation, women's health, physical therapy, sports medicine and outpatient therapy.
She said she always knew she would return to St. Croix. The soft-spoken woman has a genuine interest in helping the people close to her heart. She says there is a high level of trust that the patients have with her and that is important in the healing process emotionally and physically.
She came to JFL four years ago and totally revamped the rehabilitation services, introducing the latest scientifically proven equipment and practices.
"We have a very engaged staff with new treatment protocol," Williams said. "This isn't a shake and bake facility. We use evidence-based practices focusing on the overall wellness of the patients."
Williams said the staff empowers patients and gives them tools to continue healing on their own. She said sometimes the home-based therapy is hard for patients to do, but it is in their best interest to stay motivated for success.
Shermel Brown had hip replacement surgery done stateside recently and was in JFL Friday having her physical therapy session with Williams.
"The care has been top of the line here," Brown said. "I feel wonderful. I am able to do things I couldn't do before." She added it was great to have outpatient rehabilitation services on St. Croix.
Williams said she takes care of people who have lost limbs due to complications of diabetes. She says she sees a number of patients with neck and lower back pain and those with sports injuries as well as stroke patients.
Some of the services provided include manual therapy and therapeutic exercise with joint problems, pain management and rotator cuff problems. They work with ligament injury and repairs and do therapy on musculoskeletal injuries and postural weakness.
The professional team of therapists and clinicians include Sayamira Cordero- Fontaine, P.T., D.P.T. and Lynda Holmes, a physical therapist assistant. They are assisted by Ivy Turner-Alers a certified medical assistant. Williams said the team works well together and they leave lasting impressions on their patients.
Prior to returning to St. Croix, Williams garnered clinical experience in health care on the mainland. In addition to clinical experience, her academic and administrative skills were honed while serving on the faculty of Florida A&M University as an instructor and academic coordinator of clinical education at the University's School of Allied Health Sciences, Division of Physical Therapy.
Williams contributes to health care in the community through her work with various community organizations as well as her participation in health education, holistic health, wellness and prevention programs island-wide. Williams is a reiki master and teacher, a certified doula, and a Virtues Project facilitator.
The Virtues Project is an international initiative focused on building peaceful and caring communities aligned to 52 virtues – such as compassion, integrity, and respect.
Williams said she is taking on the challenge of helping to raise revenues for the patients' sake and the local hospital she cares deeply about.
The rehabilitation department is open 8 a.m. to 5 p.m. Monday through Friday by appointment only. The hospital accepts all insurance carriers and Medicare. JFL is located at 4007 Estate Diamond Ruby and the phone is 778-6311.