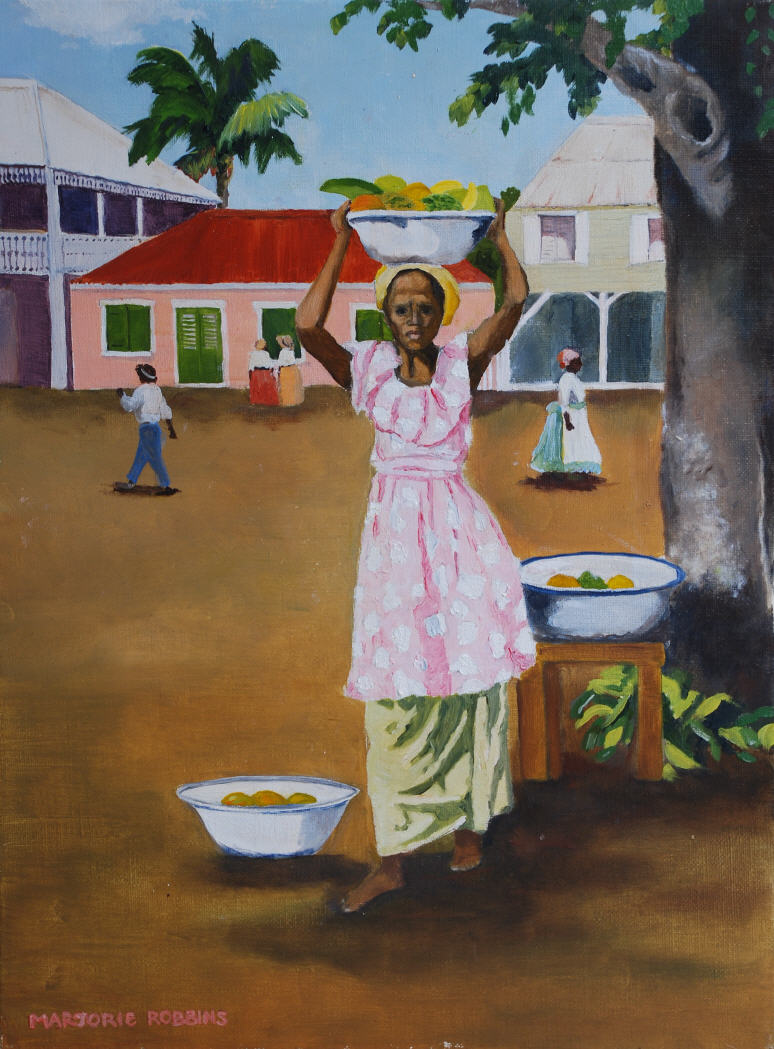 "Children of the Caribbean," an exhibit of the works of five talented St. Croix artists, will open on Friday, Dec. 16, at the Caribbean Museum Center for the Arts in Frederiksted in the main upstairs gallery.
Five noted women artists will celebrate their talent and share their artistic images of the children of our island in this special holiday season exhibit. Painters Sue Snow, Marjorie Robbins, Phyllis Biddle, and Cynthia Eichor and photographer Stephanie Schoyer share the exhibit, allowing museum patrons to experience a variety of mediums and styles.
"Children of the Caribbean" will be open to the public from 10 – 4 p.m., Thursdays through Sundays, and all other cruise ship days. Admission is free. The Caribbean Museum Center for the Arts is located on the waterfront at 10 Strand Street in Frederiksted.
An opening reception will be held from 5 – 8 p.m., and admission is free. Appetizers and a cash bar will be available. The exhibit will be displayed through Feb. 26 and is funded in part by the Virgin Islands Council on the Arts and the National Endowment for the Arts.
Marjorie Robbins was born in New York, is a graduate of the University of Pennsylvania, and studied art at the Pennsylvania Academy of Fine Arts and the National Academy of Design in New York. She is well known for her botanical paintings, local seascapes, and images of the peoples of the Caribbean in the naturalist tradition of Winslow Homer. Her work has been featured in the Good Hope Fine Art Exhibit poster.
Sue Snow studied graphic arts in Texas and worked as a graphic artist in California before moving to St. Croix. She is known for rich still life oil paintings, not unlike the old masters. Sue enjoys using pencil, conte crayons, and graphite in addition to working in oil. After moving to St. Croix, she taught art at Eulalie R. Rivera Elementary for several years. Her work is acclaimed for renditions of magnificent Caribbean faces and subtle historic Caribbean scenes that included lifelike children at play in fields of sugarcane.
Phyllis Biddle is an art teacher at the Good Hope School in St. Croix. She previously taught art and directed a children's museum in Richmond, Virginia. She has a combined BFA from Albertus Magnus and Yale University and an MFA from Virginia Commonwealth University. Phyllis's work in the exhibit is in oils and acrylics.
Stephanie Schoyer has lived on St. Croix since before the roads were paved. Her late father, St. Croix artist Toby Schoyer, would allow her to watch him paint in his studio and taught her how to "see" ordinary objects with an artist's eyes, how light & shadows created different images of the same thing. Stephanie's photography is in this year's CMCArts' Art & Soul Calendar. She had exhibited several times in St. Croix, St. Thomas, and St. John, and in 2002 took part in a group exhibit of Women in Photography in London. She also has installations at commercial establishments, most notably the renovated King's Alley Hotel.
Cynthia Eichor (professional name) has been a student of the arts since her beginnings in Ponca City, Oklahoma. Spending 30 years commuting between New York and Los Angeles as an actor only wet her appetite for expanding into other mediums. Now calling New York home (and luckily St. Croix during winter months), she has studied at The Woodstock School of Art.
Call the museum at
772-2622
or visit the Web site at
www.cmcarts.org
for additional information.