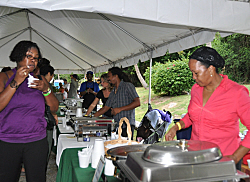 Rain, a slight chill in the air, and more than 30 different savory hot soups to taste made the "Soup du Cure" at Pirate's Tavern in Salt River Marina the perfect place to be Sunday night.
Hundreds of customers showed their support, crowding into the large outdoor tent, where soup vendors passed out their best gourmet soups. Scents of seasoned chowders and chilies, gumbos, and kalalloo wafted through the air, while customers used their 50-cent coupons to taste the plethora of choices.
For the third year, the fundraiser has given back to the community, to "cure" the benefactors they choose to help. This year, the Caribbean Education Initiative hosted the event to raise money for the non-profit organization to support intervention, delinquency prevention, and character-enhancing programs for youth. The entrance fee of $10 for adults and $5 for children goes directly to the cause.
"When I saw the list of schools that this was going to benefit, it was obvious that I wanted to help out," said Sue Lakos, who brought scrumptious seafood corn chowder.
Ramona Westerberg, who represented the "Heartbreakers" female traveling pool playing team, came with four separate soups because she felt the need to give back to the kids.
"We do fundraisers all the time to help out the kids and women, and this is an awesome cause and plus it's fun," Westerberg said.
Customer Roy James had a huge smile on his face as he walked around, trying out different soups.
"There's nothing like having a ton of soups to try on a day like this," James said. "This is a great collection of different cultures and recipes and lots of people having fun."
Even though it poured rain for most of the afternoon it didn't deter Ezequiel Monell from keeping a positive attitude as he stirred the soup he helped make for the Beachside Café, where he works. Monell wants to be an executive chef someday and is currently a culinary student at the St. Croix Career and Technical Center.
"I like cooking, and am planning to study in New York City," Monell said. When the soup made it to the finalist category, he grinned shyly. "I didn't make it, but I just helped, man."
Private vendors and restaurants alike competed for the top three prizes, which paid them hefty awards for their efforts. From 3:30 p.m. to 6:30 p.m., customers and chefs stuffed themselves trying to taste all the soups, and then event organizer and CEI Vice President Rashidi Clenance named the finalists for a panel of judges to taste, who narrowed it down to the top three winners.
The overall winner, who claimed $1,000, was Jonne's Man Soup from Betsy's Bar on St. Thomas. The $500 second-place prize went to St. Croix husband-and-wife team of Melissa and Andy Dunton for their Goat Water Soup. St. Croix's small Courtyard restaurant won the $250 third-place prize for its Veggie Soup.
This year CEI has invested almost $20,000 in the youth of the Virgin Islands with much of its funding coming from native Crucian and NBA star Tim Duncan. For more information about the Caribbean Education Initiative visit www.CaribbeanEducationInitiative.com.