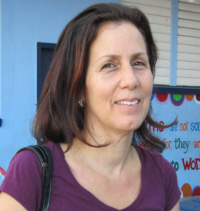 Any conversation with Julius E. Sprauve School Parent, Teacher and Student Association President Alice Krall somehow comes around to the issue of literacy and the work she and others are doing to improve things at the school.
"If you can read, you can do everything. It opens huge horizons," she said.
In her efforts to promote reading, she volunteered with Gov. John deJongh's Summer Reading Challenge program and is a member of a group put together by the governor to promote literacy.
Krall, 53, was the PTSA president several years ago, and took on the job again this school year because she has a group of committed people on her team. She said that Elvis Sprauve serves as vice-president, Shatik Stephens as treasurer and Johana Paris as secretary.
"Everyone is extremely involved," she said.
She got interested in the PTSA because her daughter, Khaleila Krall, 13, attends the school.
Krall has plenty of ideas for getting other parents involved with school activities. The PTSA meetings, held at 5:30 p.m. on the first Wednesday of the month, always include a meal and often a speaker.
And Krall said the PTSA members work hard to fund a scholarship available to any student who attended Sprauve School and is headed to college. The scholarship is named after Clarice Thomas, an educator whose name graces the school's annex building.
Krall is at the school nearly every day, popping in on some mission or another. However, she works full time at the family business, Coral Bay Jewelers. Drop in visits to the school are convenient since the store is located about a block away at Cruz Bay Park.
She is a goldsmith, creating fine jewelry for people like First Lady Michelle Obama, the Virgin Island's first lady, Cecile deJongh, and others who enjoy lovely handcrafted pieces.
"Frangipani, flamboyant, ginger thomas, bougainvillea, hibiscus," she said, ticking off the flowers represented on the piece presented by Cecile deJongh to Obama.
Krall and her husband, Tom, are closing Coral Bay Jewelers on Dec. 24 to concentrate on making jewelry to sell wholesale and to make time for other pursuits including Krall's focus on literacy. She reminded anyone with layaways or repairs they need to pick them up before that date.
She said jewelry crafted by she and her husband will be available at Verace, Caravan Gallery and Caneel Bay Resort's gift shop.
While she enjoyed making jewelry as a child, she honed her skills with a master of fine arts degree from Temple University.
The Ames, Ia., native went on to work at the long-closed Pegasus Jewelers on St. Croix before moving to St. John in 1987.
She also holds a bachelor's degree from Arizona State University, where she had a minor in Russian. The daughter of college professors – one born in Armenia and the other in Russia – she said she thought briefly of a career as a translator for the CIA.
"But I'm too talkative," she said with a laugh, before launching into more discussion about her literacy efforts.