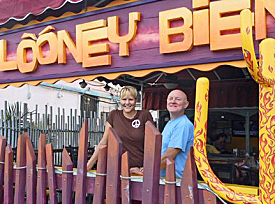 It's a bright, sunny morning in Frenchtown, just a few minutes before the Looney Bien opens for business at 11 a.m.
Tall, leggy blond Val Burnley chats on the porch of the new endeavor she and her business partner, Gigli Locatelli, opened in September. She talks about lots of things, but mainly, how she finds herself, a big city girl, running a Mexican restaurant on a Caribbean island.
It's in its way a typical story – tired of city life, seeks relaxed tropical paradise – but with a creative touch.
Burnley was working in the restaurant business in Manhattan, when one day she says "One day I realized that just about the same number of people lived on my city block 58th Street in Manhattan as on the whole island of St. Thomas."
Thinking it over, she decided to make a healthy move to a less dense environment. "I had a friend here who said to come on down for a bit. That was in 2006."
Burnley easily found a home in the Frenchtown community, but not without drawbacks. "I was working three jobs just to support myself, primarily at Hook, Line & Sinker. So, I decided if I was going to work like that, I'd work for myself, so I called my old business partner from Las Vegas to come down."
It turned out that the Frenchtown location of Margarita Phils, closed for about two years, was available. "We liked the location, and we decided to keep it Mexican," she said.
Burnley is from Las Vegas, as is Locatelli. A chef friend from Las Vegas came out to help create the recipes."
A few early customers stroll in as Burnley chats with a reporter, one for a bracing morning burrito and beer.
"Way to start the day," the customer says with a salute. "Great food, really good."
The burrito in question makes one taste buds sit up and take notice. It's smothered in red and green salsa, covered with cheese and baked. The green sauce is one that their Las Vegas chef friend conjured, with a tomatillo base, slightly sweet, a nice contrast to the hot red chili sauce.
Tall Tom from HL&S wanders in to borrow a couple of corn tortillas. "We're having a salad and we need a few tortilla strips," he says. Burnley complies with an admonition. "You better not let me see tacos on your menu today!"
The partners spent about a month cleaning and renovating the relatively small space. There's the outside porch with attractive tiled tables, a polished bar seating about 14 or so, and a cozy air-conditioned back dining room, covered in fanciful artwork by waitress Erika Romo.
The menu is extensive, and true to Burnley's policy, a good meal can be had for less than $10. A couple of tacos, for instance – shredded chicken and grilled shrimp – go for $8.
"At first, we'd put the day's specials on a white board – moles, tacos, enchiladas, guacamole. We'd see what sold, and we built our menu around that," Burnley says.
The special boards reflect the local nature of the restaurant. "No snapper til the winds change," reads today's board, along with a special, Sloppy Jose, a pork tostada with lettuce, pico de gallo and sour cream for $8. The menu features fajitas, enchiladas, mole dishes, taco salads and chicken tortilla and black bean soups.
A location just a few steps from the Frenchtown fishing fleet helps. "We get our fish from the bayside," Burnley says. "Everything is fresh. If we don't have fresh avocados, then there's no guacamole."
Local chef Belinda Davis has made her mark on Frenchtown – remember the southern dinners she used to make at HL&S on Sundays evenings? — has switched cuisines, bringing along her singular creativity
People don't usually flock to Mexican restaurants for desserts, but Davis has put that notion on the back burner, so to speak, with her Mexican version of a New Orleans biegnet. Davis fills the deep fried treats with apple or pear. If that doesn't get you, how about a homemade brownie with ice cream and ancho honey?
Now, about that name. "Gigli is my ex-brother-in-law," Burnley says. "My sister said if the two of us were going in business it should be called the Looney Bin, but we change it to Bien, (meaning crazy good in Spanish)."
The restaurant is open seven days, 11 a.m. to 10 p.m. It's closed Easter, Thanksgiving, Christmas, and as a nod to local culture, J'ouvert.