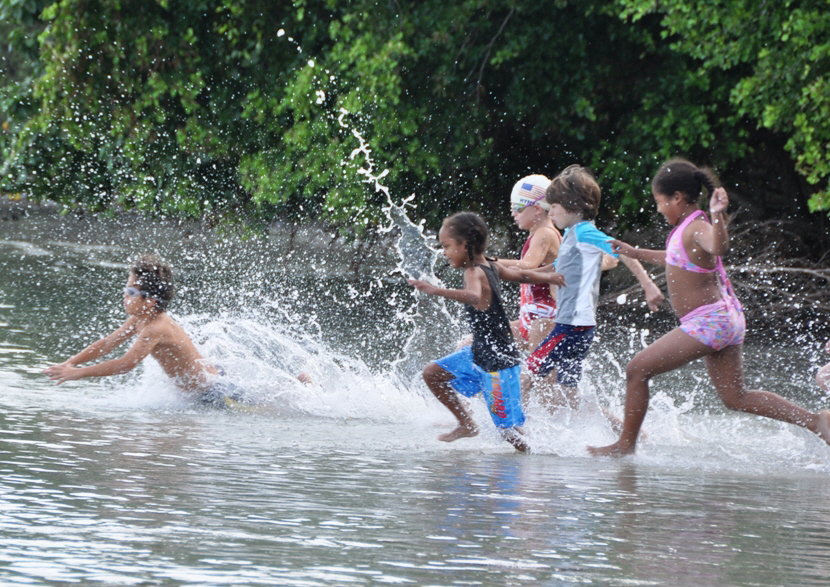 Despite a looming threat of rain that may have put a crimp in the turnout, 15 kids still showed up at Chenay Bay Sunday to push their hardest in the Splash N'Dash race in the Kids Tri VI series for youth ages 5 to 15.
The race was sponsored by the nonprofit Virgin Islands Triathlon Federation.
The rocky waves and damp road caused a slight course change for the racers, but it didn't deter the excitement or drive of the competitors, who readily dove into the ocean. The kids swam until they reached the pier, then ran barefooted in the soggy grass to the transition station where they put socks and shoes on to finish the second half of the race, running a lap or two on the paved road until they reached the finish line.
Some kids were so excited they tried to bypass the transition station until their parents yelled for them to put their shoes on. A few kids who showed up late even ran the course barefooted because they were in too big of a hurry to grab their running shoes before heading out the door.
The smallest competitors of the day were the two racers in the 5-6 year-old age group, who had to swim 25 meters and run a quarter-mile. Odin Andrews won with a time of 4:41 and Gabby Evora completed the race in 6:18. Andrews said he was tired, but said his favorite part of the race was the run, and Evora was just happy to have completed the race and win a medal.
The 7-8 year-old division was the largest group of the day with six racers and they had to swim 50 meters and run a quarter mile. Mikey Dizon-Bumann, who is already a star having won the Altona Park duathlon, came in first again with a speedy time of 4:01. Cooper Crowther was on his tail the whole time and finished shortly after.
Right behind the two boys was the first female finisher, Erin Andrews. Country Day student Ava Marie Patalidis was the second female finisher and newcomer Riseana Branker was third. Newcomer Meguel Thomas of Pearl B. Larson School came in third place for the boys.
Michelle Dizon, Mikey's mother, was extremely proud of her son, and followed him throughout the race, snapping pictures every chance she got.
"I'm just elated that he won –this is his second Splash N'Dash and he's just great," Dizon said.
The next largest group, the 9-11 year-olds, was dominated from the start by Good Hope student Gabriel Sanes, who swam 100 meters and ran a half-mile, blazing in at 7:56 for his first win in the category. Michael Adams was right behind Sanes and came in second, followed by third-place newcomer Ashton Patalidis.
Gabriel Sanes was pleased with his finish, even though he only considers himself a top swimmer. "I'm not technically a runner," he said, catching his breath. "I'm a swimmer, you know?"
The undefeated Adriel Sanes had a little competition during the 12-15 year-old division race, which involved a 200-meter swim and a mile run. Good Hope's Alex Lewit had the lead out of the water, but Sanes caught up during the second lap of the run and maintained his winning streak with a time of 9:41. After Lewit's second-place finish, his brother Antonio Lewit followed in third.
Despite getting hit by a car a few weeks ago during Halloween, which terrified Adriel Sanes' parents, he recovered well and said that he had no more pain after seeing a chiropractor. He also said he wasn't worried about losing the race.
"I wasn't worried because as soon as I started to pass him, he looked so tired and so I just kept pushing hard," he said.
After the race VITF President and Race Director Scott Fricks asked everyone to gather in a circle around him, where he told everyone how proud he was of them. Despite the low turnout, Fricks and VITF secretary Teresa Harper said they were happy for the number of volunteers who showed up to help.
"I think the number of volunteers who showed up was great – anytime you have more than 10 kids, to me is a success," Fricks said.
Harper agreed, but added, "When you put all of this effort into trying to get the kids out here, it's nice to see that we have more volunteers than kids."
The VITF is hopeful that more kids will want to participate in the next race, and is giving plenty of time to prepare. The next event of the Junior Tri VI schedule is a duathlon (run/bike/run) on Feb. 12 at Altoona Lagoon Park.
For more information about VITF and to see footage on the other races of the season, please visit www.vitf.org, or call Harper at 513-2707.