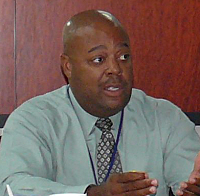 V.I. Water and Power Authority board members got right back to work the day after Thanksgiving, approving in an emergency meeting a temporary solution to St. Thomas-St. John water shortages.
The board approved an amendment to WAPA's contract with Seven Seas calling for the installation of a 1.5 million gallon per day reverse osmosis (RO) system at the Randolph Harley Power Plant. Seven Seas has been contracted to provide a permanent RO system but that would not come online for another nine months, so a short-term fix was needed to bridge the gap, WAPA's executive director Hugo Hodge Jr. explained.
Hodge said he approached Seven Seas to see if something could be done in the meantime and was able to negotiate the temporary fix, with the company providing water at a rate of $4.42 per thousand gallons, or 35 percent of the current cost of production. Hodge said that while the temporary system is pricey, WAPA would be able to spread the cost over the life of the 20-year contract with Seven Seas and still see savings.
A water conservation schedule has been in effect since Nov. 15, when a steam turbine went offline. Since then, WAPA has called on the V.I. National Guard to help distribute water; the Guard recently erected four mobile water plants in Sub Base.
Hodge said that along with stabilizing the water system on St. Thomas-St. John, WAPA would ask the Public Services Commission for as much as a $2 reduction in the water LEAC (Levelized Energy Adjustment Clause) for the next quarter once the temporary system is in place. He added that the first 500,000 gallons could be in and online within the next two weeks, with a full 1.5 million online within the next six weeks.
Hodge said that since WAPA's existing demand is 1.8 million gallons per day, the authority's existing desalinization units would still be used to help make up the difference.
WAPA currently has a similar setup on St. Croix that has kept the island's water system stable, Hodge said. The fast-tracked, ultra-pure water would also help prevent future damage to WAPA's equipment, he said.
"We have had water quality issues that have been giving some trouble to the boilers and other apparatuses within the plant," Hodge said.
Hodge said the temporary RO system would also help top off the water tanks on St. Thomas-St. John, increasing WAPA's storage capacity.
During the board meeting, WAPA board member and Department of Planning and Natural Resources Commissioner Alicia Barnes said she did not foresee any permitting or regulatory issues with the temporary plant.
Voting for the contract amendment were board members Barnes, Wayne Biggs, Donald Francois, Gerald Groner (by proxy) Cheryl Boynes-Jackson, Karl Knight and Noel Loftus. Board chairwoman Juanita Young abstained.