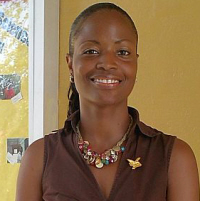 The V.I. Education Department named Charlotte Amalie High School advanced placement biology teacher and science department chairwoman Nneka Howard-Sibilly the territory's 2012 state teacher of the year, the department announced Friday.
"I am surprised, as well as ecstatic," Howard-Sibilly said in a statement from the department. "I am going to use this as a platform to instill in others that education is in fact a noble profession," she said.
Education Commissioner LaVerne Terry congratulated Howard-Sibilly.
"We commend her on her outstanding teaching achievements and we are honored that she will be representing the territory at the national conference and other upcoming events," Terry said in a statement.
After graduating from Charlotte Amalie High School herself in 1994, Howard-Sibilly went on to earn a bachelor's in biology and got her master's in science education from Nova Southeastern University in South Florida before coming back to the territory in 2000.
She immediately started working as a biology teacher at CAHS and rose up the ladder of the Science Department, which she now chairs. Howard-Sibilly has worked at CAHS for the past 11 years.
When accepting her award as district teacher of the year, Howard-Sibilly said her teaching philosophy centers on keeping students active. "Children should be doers, not just sitting in a classroom all day – they have to be active components in the teaching process. There has to be some kind of movement for true learning to take place," she said in a Nov. 1 statement.
Student teaching, integrating more technology-based instruction into her courses and teaching outside of the classroom are just a few of the methods Howard-Sibilly employs daily to keep students engaged. According to CAHS Principal Carmen Howell, Howard-Sibilly's methods have proven effective, with 60 percent of juniors showing proficiency in science on the V.I. Territorial Assessment of Learning exam for 2011.
Howard-Sibilly from St. Thomas-St. John and Margaret Burnett from St. Croix, the 2012 Teachers of the Year in their respective districts, were considered for the territory-wide award. Both were evaluated by a selection committee made up of Education Department officials, and representatives from agencies including the V.I. Board of Education and University of the Virgin Islands.
The selection committee ultimately makes a recommendation on the winner to the Education Commissioner. It uses standard criteria during the evaluation process, including a classroom observation component that was added this year, according to Education.
Howard-Sibilly will now go on to represent the territory at the National State Teacher of the Year Competition, run by the Council of Chief State School Officers.
State Teachers of the Year participate in a number of activities, beginning in January with the National State Teacher of the Year Conference in Dallas, Texas. Howard-Sibilly will also attend and participate in: the ECS National Forum on Education Policy in Atlanta, Ga.; International Space Camp in Huntsville, Ala.; the Next Steps Conference in Princeton, N.J.; and the Pearson Education Mobile Video Institute in New York, N.Y.
The national program will sponsor all major expenses for the state participants, with the exception of the 2012 National Teacher of the Year Recognition Week.