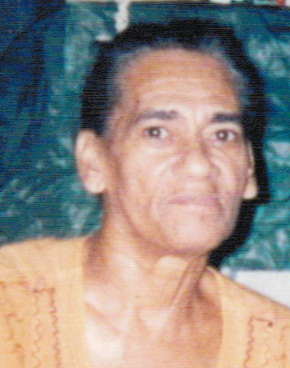 Polfiria Rhymer, also known as "Polfa," of Estate Work & Rest died on Nov. 1, in Ft. Lauderdale, Florida. She was 73 years old.
She is preceded in death by her granddaughter, Amaria Remie Williams (Marie). She is survived by her husband: Melvin Rhymer Sr.; daughters: Patricia A. Rhymer, Georgina Rhymer and Felicita Rhymer; sons: Melvin Rhymer Jr. (Baga), Miguel Rhymer (Mickey) and Marco Rhymer (Tony); grandchildren: Nattiel "Koma," Nattielia "Tia," Nyra, Syniaya Orande Gumbs, Azaria, Michael "Jun Jun," Ayanna, Alara Remie, Alexia Sargent, Marco Jr. Marquis Rhymer, Markasha Rhymer, Dion Rojas, Kiran, jaelan, Jaenivea and Jaenyva Rhymer; great-grandchildren: Khaliem and Khalieyah Tang-yuk and Naliayah Meade; daughters-in-law, Julie Rhymer, Kimberly Vanterpole and Malisha Milligan; son-in-law, Rusell Gumbs; sisters: Herminia Encarnacion and Inocencia Lebron; brothers: Pepe Solis Encarnacion and Cristobal Gomez; nieces: Antolina, Aracelis Encarnacion, Josefina, Maria Ramos, karen, margo, Faithy, Noemi Solis, milagro Solis; nephews: Gilberto, Miguel, Rafi, juan, jose Cheito Encarnacion, Raynaldo Solis and Maurice; great nieces: Munewa and Stella Tobin; great nephews; Gary, Chachi Acosta, Scott and Kwamie Tobin; sisters-in-law: Inez Rhymer and Kathleen Rhymer; brother-in-law, Eugene Rhymer; special friends: Cambell family, Patricia Lee, Gumbs family, Lopez family, Charriez family, Rojas family, Ms. Sackey, Dorothy Gumbs, Kelsie, Thor, Stanley family, Forest-Lopez family, Brookes family, Cerrano family, Celestina and Tina Solis; cousins and other relatives: Encarnacion family, Rhymer family and Solis family; as well as other relatives and friends too numerous to mention.
A viewing will be held at 9 a.m. followed by a funeral service at 10 a.m. on Friday, Nov. 11, at the Pentecostal Church. Interment will be at Kingshill Cemetery.
The family requests that those in attendance wear festive colors.
All arrangements are by James Memorial Funeral Home Inc.