For Margaret Burnett, learning doesn't stop when the textbook is closed. Burnett, who on Wednesday was named St. Croix District 2012 Teacher of the Year, believes in letting her students go beyond.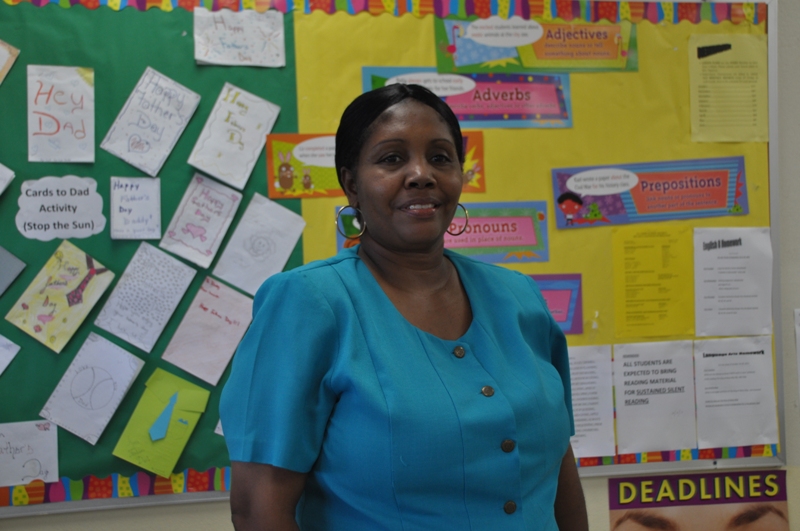 "I encourage students to examine concepts beyond what was addressed in class," Burnett said. "I firmly believe that students should be allowed to use their imagination and creativity skills because when they are allowed to explore new ideas learning becomes self-directed and enjoyable."
Burnett has worked at the Elena Christian Junior High School since 2008, and is the 8th grade English teacher and chairwoman of the Language Arts Department. She graduated from the University of the Virgin Islands with a bachelor's degree and master's degree in business administration. She is a certified English teacher, and has also been certified as an assistant principal.
Burnett, with over two decades of experience in the classroom, has a clear focus and passion in alternative education, particularly in dropout prevention.
"For 20 years, I worked full time in alternative education," Burnett said. "During that time, I had the opportunity to nurture and encourage children who, after going through a series of negative experiences, were on the brink of dropping out of school. The challenge was to redirect these at-risk youth so they could become productive, contributing members of our society, and it has been a real accomplishment to see many of those students turn their lives around."
Burnett believes schools should be safe havens for students, unaffected by gangs, bullying, or "negative peer influences."
Asked about what can be done to boost achievement in schools, Burnett said that making campuses safe havens, getting community stakeholders involved in positive activities, and providing more productive after school programs would go a long way in keeping students connected and engaged.
"A minimal investment in our students today will result in a better tomorrow for all members of our society," Burnett said.
Burnett's name, along with St. Thomas-St. John District winner Nneka Howard-Sibilly, who was announced last week, has been submitted to the State Teacher of the Year Selection Committee, which will make a final recommendation to Education Commissioner LaVerne Terry for the territorial award.
Terry and Insular Superintendent Gary Molloy were at Elena Christian Wednesday for the announcement, which was made during a meeting with Burnett, Elena Christian administrators, and representatives from the Insular Superintendents Office.
Burnett was among five other finalists competing for this year's honor, who included:
Rosann K. Forde, kindergarten-Alexander Henderson Elementary
Linda McFarlane, 3rd grade-Lew Muckle Elementary
Mario Thomas, music-John H. Woodson Junior High
Paulina Croskey, 6th grade-Ricardo Richards Elementary
Alma Ayala, 1st and 2nd grade-Charles Emanuel Elementary
Each teacher is nominated at the school level, with the superintendent's office making the final selection after the finalists go through the application process.
"Schools adhere to criteria set forth in the district's nomination packet, to include: rating, attendance, student/teacher relationship, innovative techniques/projects, commitment to teaching/student learning, extra-curricular participation, peer collaboration and professional development," Deputy Superintendent Maria Encarnacion explained.
"The schools then submit their respective teachers to the district, and the superintendent's office selects a panel to review the packets and pick the District Teacher of the Year," she said.