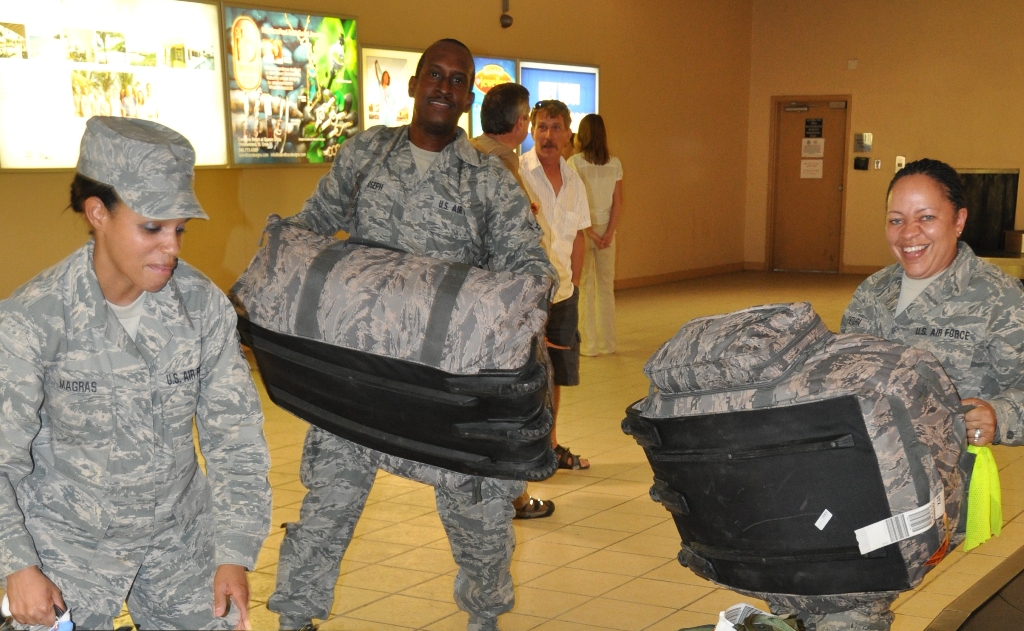 The V.I. Air National Guard is feeling the positive effects of President Barak Obama's decision to withdraw all troops from Iraq by the end of the year.
Four members of the 285th Communications Squadron on St. Croix returned last week ahead of schedule, thanks to the massive drawdown of Joint Base Balad in Iraq.
Unlike traditional V.I. Army Guard units, which collectively are made up of more than 800 troops, the VIANG only has a single squadron with 71 airmen. The squadron will likely not deploy; instead airmen volunteer for specific slots that need to be filled by the Air Force Expeditionary Force.
Which is what Master Sgt. Renee Samuel, Tech. Sgt. Aretha Ventura, Tech. Sgt. Michelle Magras, and Airman 1st Class Roy Joseph did – they volunteered for Operation New Dawn, to serve under the 332d Air Expeditionary Wing in Balad.
"I'm so happy to be home –it's been a long time coming," Samuel said.
Samuel returned last week and surprised her daughters at school – she was scheduled to return Nov. 7.
Ventura, Magras, and Joseph returned Friday. Ventura and Magras were supposed to come home Nov. 19, and Joseph sometime in December.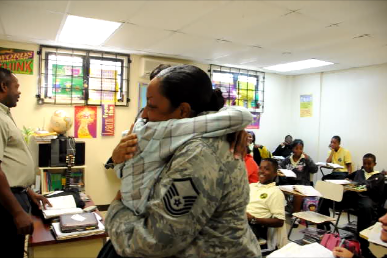 Ventura shared her experience with watching the drawdown take place since her arrival to Balad in April. There were 15,000 troops and civilians on the base when she arrived, but by the time she left the base on Oct. 22, there were only 3,000 people left.
"We were told constantly that this is the largest drawdown of the military since World War II, so we made history," Ventura said. "I was proud to be part of the Tuskagee heritage that contributed to the mission."
Ventura said that she slowly watched the transition of the base from being equipped with restaurants to being sparse with facilities. To keep from boredom she dedicated most of her spare time at the gym –she lost 23 pounds in the six months she was gone.
When the president gave the speech on Oct. 21 that all troops would be coming home by the end of the year, Ventura said there was elation throughout the base. The very next day, she, Magras, and Joseph got word they were to pack up and head out.
"Once the plane was in the air, everybody was screaming and clapping, knowing that were getting out of harm's way," Ventura said. "Then when we were told we entered into American territory, it was pure elation."
There were times the base was targeted, and Ventura and Samuel both agreed that those attacks were a little too close for comfort, so getting home was really a great feeling. However, Ventura said she won't be able to rest until everyone is home safely.
"My mind is still in Iraq somewhat because I left people behind," Ventura said. "Until I know everyone I served with comes home, my mind will be there."
Everyone traveled in uniform, and Ventura said the reception through the airports was amazing. First they stopped in Germany then Baltimore.
"Everyone thanked us for our service whenever we stopped, and to me it's just a great feeling to serve my country and I'm honored to be back home safely," she said.
Not everybody was happy to be back though. Joseph left in July, and he was disappointed to come home so early. He said he loved serving in Balad and hopes he can deploy again soon.
"When they gave us a date that we were going home, I was a little let down because I really wanted to stay until December," Joseph said. "I literally wanted to do more time because I loved it and won't hesitate to go again if I have a chance."
Even thought the airmen were lucky to return home early, V.I. Army Guardsmen are yet to get the word that they will return home. Nine members of the VING's Delta Company, 126th Aviation, Detachment 2, deployed from the territory in August.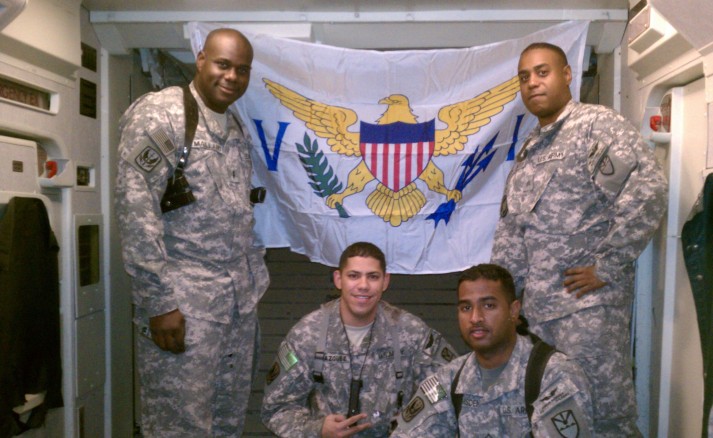 On Oct. 31 the detachment received a pre-flight briefing for its first official flight mission in Iraq together as a "VING Flight Crew." They fly the C-23C aircraft. The personnel fly around the clock on different teams and flight missions.
"We have not received any indication that the unit is heading back to the territory at this time," said Lt. Col. Edgardo Morales, State Army Aviation Officer for VING.
"Their mission is well under way, and the soldiers are executing the mission with precision," said Morales. He knows that family members and the citizens of the territory are aware of the President's directive to move the troops out of Iraq by the end of 2011. "We will share the good news, if our unit is selected to return early and in time for the holiday season," he said.
VING State Public Affairs Officer Master Sgt. Karen Williams echoed that statement on Wednesday afternoon.
"As President Obama indicated, U.S. military forces are poised to depart from Iraq by the end of 2011. The goal is to shift from an operational role to an advisory role," said VING State Public Affairs Officer Master Sergeant Karen Williams.
"That's great news for all families of deployed personnel especially as we approach the holiday season. Guard soldiers and airmen have made major contributions over the past 10 years of mobilizations in both operations in Iraq and Afghanistan."
The V.I. National Guard indicated they have deployed over 500 Guardsmen during that period.