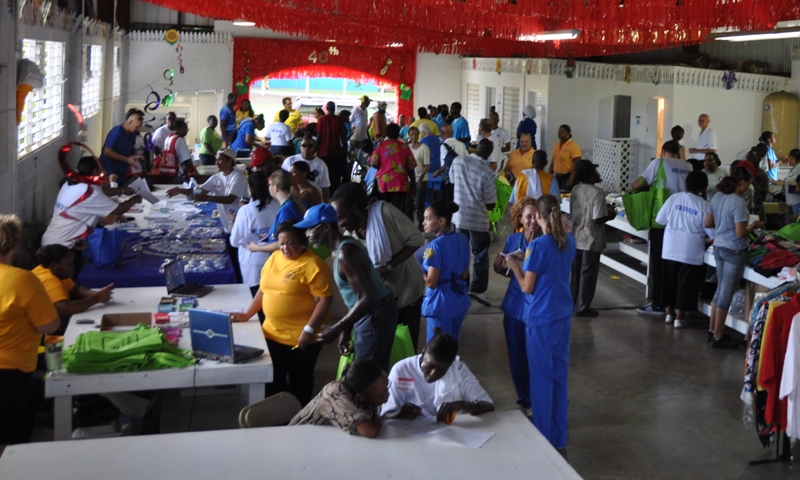 A homeless man named Charles wanted a pair of new shoes for his weathered feet, and he made sure he was the first customer through the doors at 9 a.m. for St. Croix's fifth annual Project Homeless Connect at the Agricultural Fairgrounds.
"I like the chance to get new shoes," said Charles, who didn't want to use his last name. "I think it's nice that they do this – maybe someday I can get an apartment and won't have to walk all over," he said, looking down at his beat-up sandals.
The six-hour day gave 143 homeless people on the island the opportunity to have a one-stop shop for all their basic health needs. In addition to offering diabetes screening, dental care, HIV testing, and prostate examinations, the homeless were given free lunches and a chance to pick up a shopping bag full of clothes.
"There are really two goals we want to accomplish with this event," Human Services Commissioner Christopher Finch said. "First, we want to be able to connect them with services that might help them medically with basic health services, and second, we want to give them soft services: haircuts, shoes, clothing, underwear, and spiritual care."
Project Homeless Connect got under way on St. Thomas Oct. 15, and for the first time ever was held on St. John Oct. 21, thanks to a partnership with United Way, the Department of Human Services, and Innovative.
Dozens of booths set up at the event provided services like dental cleanings, psychological counseling, substance abuse care, and prostate examinations, provided by the Department of Health.
Territorial Medical Director Dr. Lee Whitaker was there to help out, personally performing the exams.
"This is a group of people that don't get care and can't afford it," Whitaker said. "It's not business, this is personal for me. I know what it means to be healthy and to feel good – some of these people don't, and I wish I could just give them that chance."
The spiritual center was a popular booth this year – there were two bands, and a table set up with brochures, free Bibles, and a chance to pray with pastors and lay workers.
"It's amazing how many people appreciate just a simple prayer, it goes such a long way," Debbie Cullen, the director of the Lighthouse Mission, said. "What we do is not just a church on Sunday, but it's the fabric of our community and it's important to always maintain that."
One man named Javier, who also didn't want his last name used, said that he came for the health care. Javier said he liked the people so much that he kept coming back year after year.
Celia Victor coordinated the health care providers for all three islands. She said their goal is to make it easier for homeless people to get their care in one place – sometimes this is the only screening they may get all year.
"After the medical team debriefs them, it's important that they are accessed and followed up with because we also want to provide immediate care if it's needed," Victor said.
Nursing students from St. Croix Educational Complex and the University of the Virgin Islands took blood pressure checks, checked temperatures, and provided simple health screenings for the homeless.
Carol Scott, a co-instructor with Audrey Bachus for the high school students was amazed at the interest her seniors showed in giving care.
"It's so admirable – this is the first step into the type of career that they will be going into. It's a giving career and teaches them empathy and other important skills, and this is a perfect place for them to learn it," Scott said.
This year has surpassed all others territory wide for number of participants. While it's encouraging to Human Services spokeswoman Monife Stout that more people are getting help, it can also be a sign that homelessness is on the rise.
"Because of the [economic] crisis, we have more people here that are not just chronically homeless, but are on the brink of homelessness," Stout said.
According to the last count in January 2011, there are more than 400 homeless in the territory and 208 of those live on St. Croix. The number slowly rose from last year; the economy likely being the biggest cause.
"There are a lot of families having difficulties this year," United Way's Executive Director Cherise Creque-Quain. "That combined with the economy makes it harder; we've even seen a lot more children this year."
As if on cue, a mother and father with a small child and an infant walked through the door, with their heads down.
"It takes a lot of courage for people to walk in here like that, it's a big step and I'm so grateful for the community, the donors and the volunteers, who made it possible for them," Creque-Quain said.