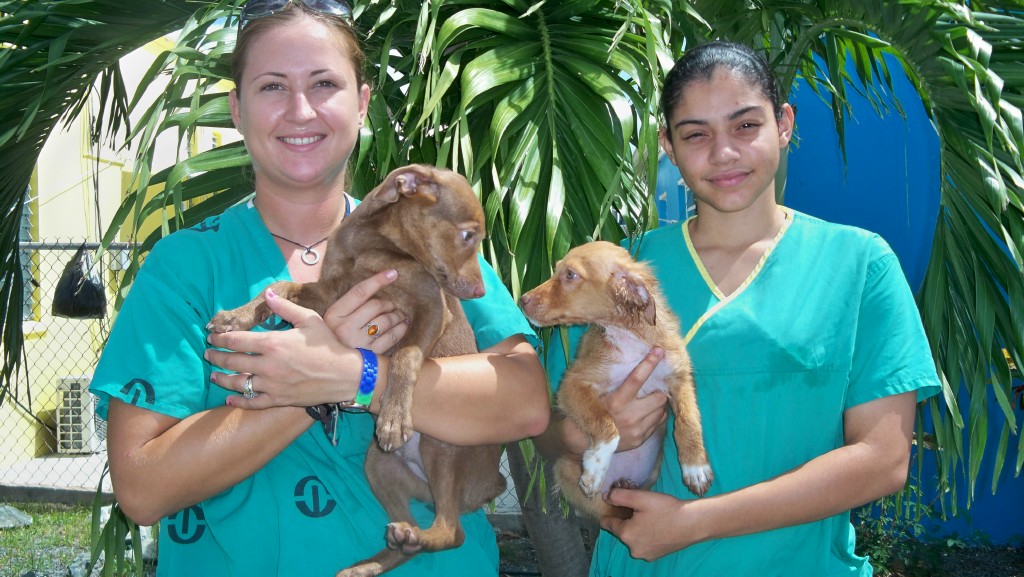 Adoption technicians Stephany DeJesus and Melissa Pieffer say the best part of their job is seeing dogs and cats leave the St. Croix Animal Welfare Center bound for new homes.
Those companion animals leaving the shelter are lucky to have been adopted by locals or sent off island in the Pets From Paradise program with the assistance of the two technicians.
DeJesus, who lives in the neighborhood near the center in Clifton Hill, started her career at the center volunteering there three years ago. She says she loves all animals, and they are drawn to her, so working at the center is perfect. In an interview recently, she told how she hand-raised two wild, gray kingbirds that have even followed her to work.
"I have had people call me Dr. Doolittle," DeJesus said.
"We call her the 'bird whisperer,'" Pieffer said with a big smile.
DeJesus does the paperwork and intake procedures for the strays that are picked up or pets dropped off by their owners. The animals are vaccinated, examined, dewormed and given heartworm medicine.
"We are never bored here and we are constantly on the go," DeJesus said. "There is always something new to do."
Both ladies spend time with the animals getting to know their temperament.
"We give them a lot of attention, play with them, and really get to know them," Pieffer said.
Pieffer moved to St. Croix from Colorado four years ago, and it broke her heart to see the starving strays around, so she started volunteering a year ago. "I wanted to make a part of their lives better," Pieffer said.
"We recruit employees from the great volunteers we have here," said AWC Executive Director Gretchen Sherrill. "All of the staff members are caring and concerned professionals."
Pieffer works on the Pets From Paradise program in which animals are flown to areas in the Northeast and upper Midwest where pet overpopulation is not an issue (thanks to strict spay and neuter programs) and there exists a need for companion animals. A network of rescue groups and shelters place the V.I. animals in foster care or adoption.
Pieffer, who takes care of social media and marketing efforts regarding pet adoptions, encourages folks to help by making donations to pay for airfare for the animals or take one along on a trip to the states. She.
DeJesus and Pieffer said they recently had what they consider a good day: finding homes for five animals.
So far this year, 200 pets have been adopted.
AWC is one of 49 shelters nationwide competing for $300,000 in grant awards from the ASPCA in a challenge. AWC will be judged on the number of adoptions, reunions of lost pets to owners, and transfers to other rescues that takes place during the review period of Aug. 1 to Oct. 31, 2011. Sherrill said there is going to be another internet voting challenge coming up for the grant awards.
Challenge finalists are eligible to compete for $300,000 worth of grant funds including the grand prize of $100,000 to a single shelter.
Founded in 1973, the St. Croix Animal Welfare Center promotes the humane treatment of animals in the St. Croix community through humane education, animal protection and community service.
To learn more about programs and services visit www.StCroixAWC.org