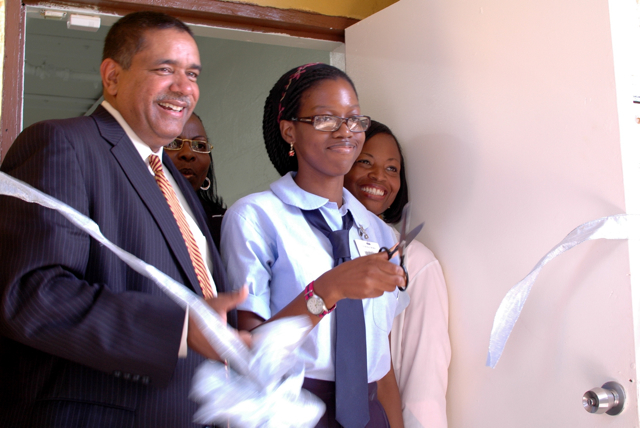 Uchenna Ofoha's heart fluttered when she stepped into Charlotte Amalie High School's gleaming new science labs, two of 18 across the territory that are being modernized with federal stimulus funds.
"I felt a burst of enthusiasm," the CAHS senior said Thursday before a ribbon-cutting ceremony at her school. "It was like, 'Wow – I can't wait to get into the next lab!'"
Ofoha and her fellow students, teachers and administrators gathered to celebrate the improvements. Paid for by almost $3 million in State Fiscal Stabilization funds from the American Recovery and Reinvestment Act, the renovations brought much-needed furniture, counter tops and equipment to the territory's science departments.
Wayne Nichols, chief executive operator of LOC Scientific, the project's main contractor, said many of the labs are finished and the rest are "90 percent" done. Based in the Atlanta area, LOC Scientific hired local plumbers, electricians and other subcontractors at each site, Nichols said.
On St. Thomas, Addelita Cancryn Junior High School, Bertha C. Boschulte Middle School and Ivanna Eudora Kean High School also have labs being renovated through the program. The labs at St. John's Julius Sprauve School are being improved, as are those at Arthur A. Richards Junior High School, Central High School, Educational Complex, Elena Christian Junior High School and John H. Woodson Junior High School on St. Croix.
Teacher Nneka Howard-Sibilly, chairwoman of Charlotte Amalie High School's science department, said her school's labs had not changed since she was a student there 20 ago.
"It had the feeling of being old and outdated then," Howard-Sibilly said.
Nichols said the district had been using tables, desks, cabinets and chairs that were cutting-edge when he started his business three decades ago. Now the schools' labs are outfitted with the industry's best available furnishings, Nichols said.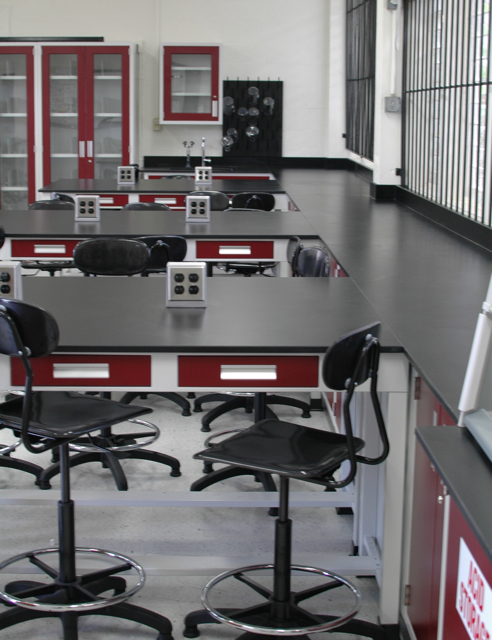 As Gov. John deJongh Jr. and other visitors marveled at Charlotte Amalie High School's chemical-resistant counter tops, locking cabinets and high-tech fume hoods, a half-dozen sophomores huddled at the back of the room.
Landiz Feliz translated for her Spanish-speaking classmate, Victor Báez, who said it had been difficult to learn in the old space.
"Now we have the equipment do every experiment," Báez said.
Ofoha, one of the project's biggest cheerleaders, stepped forward. The AP biology student plans to major in pre-medicine and animation when she starts college next year.
Ofoha's dreams for success go far beyond the territory, but they are rooted in the experiences she will gain in her high school's new-and-improved laboratory.
"I definitely think that this lab is preparing me to be competitive on an international level," Ofoha said.