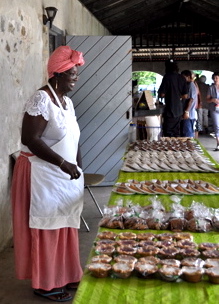 The heritage of the Virgin Islands will be explored through the real stories of enslaved Africans, remembrances from the early 20th century, traditional V.I. music, dance, herb lore, food and more this Sunday at St. George Village Botanical Garden's Fall Heritage Festival.
Juni Bomba Allick will blow the conch shell at noon, signaling the beginning of the fun. To set the mood, Bully and the Musical Kafooners will strike up the quelbe music for the next few hours. There will be traditional games such as marbles for children to play.
Those looking for a glimpse into St. Croix history can listen as Michelle Moore reads some tearful lines of her grandmother Frances Christensen's memories of life on Estate St. George in the early part of the 20th century. The real lives of seven slaves who lived on the property will be dramatized in performance by the Per Ankh Dance Troupe, led by ChenziRa "Dr. Chen" Kahina, and historian George Tyson will talk about his historical research, upon which the dramatizations are based.
Coming from a different perspective, Robert Merwin will present personal reflections on the history of Estate St. George.
Per Ankh will also demonstrate Bamboula dance. Veronica Gordon, a seventh-generation herbalist on St. Croix, will lead informative tours of St. Georges' medicinal herb garden, discussing what plants were historically used for which purposes and demonstrating how to make crafts from calabash shells.
Sparks will fly as Richard Waugh demonstrates blacksmithing and the true meaning of striking while the iron is hot. Judy Bain will weave baskets and make dolls. Stephen O'Dea and his donkey Eeyore will offer donkey cart rides.
Admission is $5 for adults, $2 for children For more information, contact the office at the St. George Village Botanical Garden at 692-2874 or infoatthegarden@gmail.com.