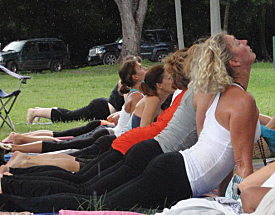 Neither heat, nor rain, nor biting ants could deter a few dozen local yogis and would-be yogis from being part of a chain of peace surrounding the earth Sunday.
The Global Mala Yoga for Peace Day is in its fifth year in venues around the world, but Sunday's event at Magens Bay was the first for St. Thomas.
"We will never achieve world peace if we don't achieve peace within ourselves," Jennie Alvarez, coordinator for the event, said.
Alvarez asked participants to find forgiveness in their hearts by "releasing the stories we have created," adding, "When we stick to our stories there is no choice for peace."
Mala refers to prayer beads or garlands with 108 beads. Japa Mala beads are from the Hindu religion, which has 108 names for God.
Participants in the global peace day are asked to do some form of worship or prayer that involves the sacred number. It could be, according to the group's website, 108 rounds of mantra, 108 minutes of meditation, or as the St. Thomas group decided, 108 sun salutations.
Nine local yoga teachers were asked to lead 12 rounds each.
Accompanied by chanting and drumming, the stalwart group wore on through the heat, intermittent– sometimes torrential – rain, thunder and angry ground ants to complete the nine rounds. It took about three hours.
Reiki master Lisa Pearl-Edwards, who participated Sunday, said the rain got to be a bit much, and she almost left. Though most of the participants were covered by a tent, Pearl-Edwards said the mud was coming up through her mat.
"But then I thought about that we were doing this for – peace in the world," she said. "Here I am on a beautiful tropical island in a little bit of rain – and it's warm – while people across the world are struggling for their basic rights."
She stayed.
"I thought it was brilliant," yoga teacher Julian Yeates said later. "And the chanting and drumming really added to the atmosphere."
Drummer Jon Euwema was effusive in his praise of the organizers of the event, Laura Nagi and Alvarez. "Those women were stellar," he said, adding that he wished more men had participated.
"If more men came to these events, there would be peace in the world," he said.
Nagi said in a phone interview Sunday she definitely plans to organize the event again next year. The money raised from a $20 donation will be split after expenses between the Going Against the Grain Peace Coalition founded by Dutchie Robinson, an anti-violence activist; and Ananda Nilayam, Center for Conscious Living.