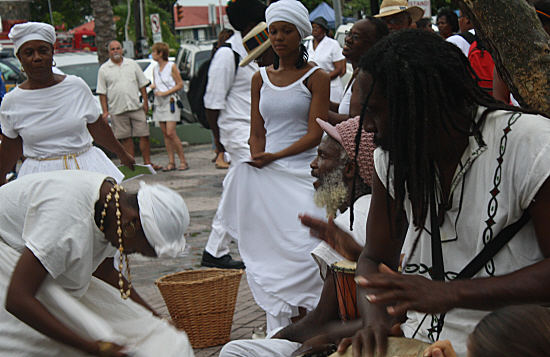 History became a living, breathing, dancing and drumming thing Saturday as the 6th annual Dollar Fo' Dollar Culture and History Tour wound its way through Charlotte Amalie in remembrance of a historic 1892 strike by coal workers.
More than 100 people came along for the re-enactment, which also included a modest coaling exhibit.
"This is important as it is vital to our culture and our history," Ayesha Morris said before performing traditional bamboula dances with other women at the event. "Many people don't know that there was a coaling industry here."
In the latter part of the 19th century, St. Thomas had evolved into a major coaling station for steamships, and coal was transported in baskets by black women. It was exhausting labor, and when the West Indian Company sought to exploit its monopoly by short-changing the labor force, the workers had had enough.
"They were being cheated [of their] wages," Morris said. "So they filled the streets and went on strike to demand their right to get paid a dollar for each day they worked instead of the lower wage of 65 cents they were offered."
The protest was led by Queen Coziah, who on Sept. 12, 1892, emerged as the leader and backbone of the strike. She walked the streets urging others to join her to demand better wages for all who worked in the coaling industry.
The reenactment included traditional dances, songs, drummers and culture bearers depicting Queen Coziah.
Mary Ann Christopher honored the memory of Queen Coziah by dancing and walking the same steps she did in 1892, while residents followed her through the streets.
"The basket on my head is a symbol of the one she carried, which was filled with coal and weighed up to 100 pounds," said Christopher, adding that each woman who carried a basket was paid a penny per load.
Christopher wore a "kata," a headdress that helped her carry the basket.
"These women were strong – they led this strike," Christopher added. "We must always remember that. I hope people understand that women are and were the backbone of our culture."
People of all ages followed in her footsteps. Justin Smith, a sophomore at UVI, came along as part of an assignment for a social science class.
"I came here to observe, learn and to educate myself," said Smith. "These people worked hard and this is a lesson that you should be paid what you're worth."
Myron Jackson, former director of the V.I. Cultural Heritage Institute and V.I. State Historic Preservation Office, guided the group through the streets of Charlotte Amalie.
"This is important to us as a community because it is vital to our cultural and social history," said Jackson. "We have to recall our heroes and 'she-roes' and preserve our history, ancestry and the contribution they made, not only here in the Virgin Islands but in world history."