Here is where you will find what's new at St. Thomas's well-known Dockside Bookshop at Havensight Mall. Every week you will find new titles to peruse. Look for updates of our
"picks" for fiction and non-fiction.
"Your Complete Caribbean Bookshop"
Monday thru Friday – 9 a.m. to 6 p.m.
Saturday – 9 a.m. to 5 p.m.
Sunday – 11 a.m. to 3 p.m.
Dockside Book List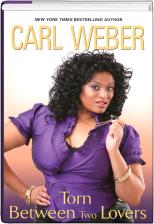 Fiction
"Torn Between Two Lovers"
Carl Weber
$15.00
From the New York Timesbestselling author of Big Girls Do Cry comes a deliciously provocative new page-turner starring plus-sized diva Loraine Farrow, and the two men in her life…
One of Richmond, Virginia's hottest, most successful women, Loraine Farrow is finally putting the relationship drama behind her. There's nothing she wants more than to settle down with her husband, Leon, and focus on her marriage. Trouble is, her ex-lover, Michael, isn't about to let her go so easily.
But things aren't so simple with Leon either. He's dealing with painful issues from his childhood—and some of them are starting to surface in the bedroom. Leon's seeing a therapist, but what he's uncovering could destroy their marriage for good—unless Michael does it first.
The short time Michael spent with Loraine was the happiest he's ever known, and he's fired up about winning her back—until he discovers a secret Leon's been hiding. Now he's faced with a wrenching choice: either sacrifice what he wants most, or cause the woman he loves unbearable heartbreak.
"Date Cute, Marry Rich"
Alexis Nicole
$14.95
Twenty-one-year-old college student Alexis Nicole proves once again a talent and insight beyond her years, with an intriguing story of three best friends trying to make their dreams come true in New York City. Fashion editor Skye's living the life, but she's got more than she can handle when a wealthy businessman and a romantic artist both vie for her affections. Hairdresser Devin works at the hottest salon in the city, but life gets complicated when he becomes infatuated with a lover keeping dangerous secrets. And Cheyenne's been dating her boss for the past four years, but she doesn't know he's married…until she gets pregnant. It's a good thing these friends have each other to get them through!
Nonfiction – Cooking and Wine
"Exploring Wine"
Steven Kolpan
$65.00
Why another wine book? First, this one is by wine educators from the Culinary Institute of America, whose other fine works (The New Professional Chef, LJ 8/91) and outstanding reputation lend it gastronomical authority. Second, Exploring Wine has an unfettered clarity, whether explaining formulas to calculate a reasonable price range or steps to produce the most beneficial wine-tasting experience or ways to select from the deluge of international choices. Third, there is a superb chapter on matching food and wine, full of tables and menus, which simultaneously honors classical principles of experimentation and personal preference. If these reasons aren't sufficient, there's the concise background information on wine-making, the world tour of producers, the coffee-table-book photographs, the section devoted to collecting, appendixes of American appellations and official classifications of Bordeaux, and a 12-page glossary. Copyright 1996 Reed Business Information Inc.
Children's Fiction
"The Adventurous Boys Handbook"
Stephen and Finn Brennan
$12.95
Grade 4 Up—Here's another book for boys (and for nostalgic males of all ages), following in the wake of Conn Iggulden and Hal Iggulden's The Dangerous Book for Boys (Collins, 2007). The Brennans have collected passages and segments of "boys' guides" from the early 20th century on topics that include camping in the wilderness, building a fire without matches, firing a rifle or using a longbow, fishing, and how to treat a snakebite or a bee sting. Unfortunately, this handbook is a bit too much of mishmash to work well. Quotes from various sources aren't clearly identified or given publication dates or other bibliographic information, only a few of the authors quoted are identified by name, the tone of the prose changes from one paragraph to the next, and the quality of the black-and-white illustrations ranges from mediocre to poor. Stick with The Dangerous Book or any of the Boy Scout manuals for a better integrated "boy-friendly" experience.—Walter Minkel, Austin Public Library, TX
Copyright © Reed Business Information, a division of Reed Elsevier Inc.
"Everyday a Friday: How to be Happier 7 Days a Week"
Joel Osteen
$16.00
The title comes from research that shows people are happiest on Fridays. Pastor Joel Osteen writes how we can generate this level of contentment and joy every day of the week. Known as a man who maintains a constant positive outlook in spite of circumstances, Osteen has described this message as a core theme of his ministry. Combining his personal experiences with scriptural insights and principles for true happiness, he shows readers how every day can hold the same promise and opportunities for pure joy that they experience at five o'clock on Friday.
Top Sellers
Fiction
THE HELP–$7.99
by Kathryn Stockett
AN ECHO IN THE BONE–$9.99
by Diana Gabaldon
PAINTED LADIES–$7.99
by Robert Parker
AMERICAN ASSASSIN–$9.99
by Vince Flynn
THE GIRL WITH THE DRAGON TATTOO–$7.99
by Steig Larsson